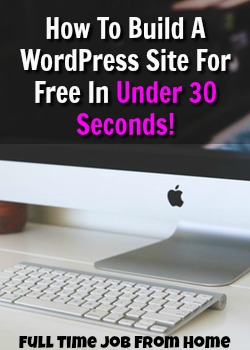 Here at Full-Time Job From Home, the way I highly recommend making money online is blogging/creating websites. If you check out My #1 Recommendation, you'll learn about a training program that I used when I first started out to learn the ropes. Along with the impressive training, there're some awesome free tools included.
One of these tools is a WordPress Website Builder called SiteRubix. This is a free WordPress Website Builder that can build a website in under 30 seconds.
Today I'd like to show you exactly how you can build your own free website fast, using the SiteRubix Tool. If you're interested in creating your own website or blogging this is a must use tool!
Here's how it works and how you can create your first website in under 30 seconds.
---
How To Create A WordPress Website Fast
Step 1: Use SiteRubix Tool To Create Domain Name
The first step in the process is using the tool below to create your domain name. Type in whatever you'd like your website domain to be. For my example, I'll just use my name, Brok. The tool will tell you if the domain name is available. If it is, just click "Build It Now."
I strongly recommend using a domain name that makes sense and does not have any misspelled words. If a domain name is already taken, you may have to come up with other ideas, or get creative! Once you find a domain name that works click "Build It Now" and move on to step two!
Step 2) Create Free Account
Once you've found an excellent domain name, it's time to set up a free account so you can quickly log in and access your website. I've included a screenshot below. All you need to do is enter your first/last name, email address, password, and desired username.
Once you've filled out this information, you can click on "create an account & continue" to start building your website.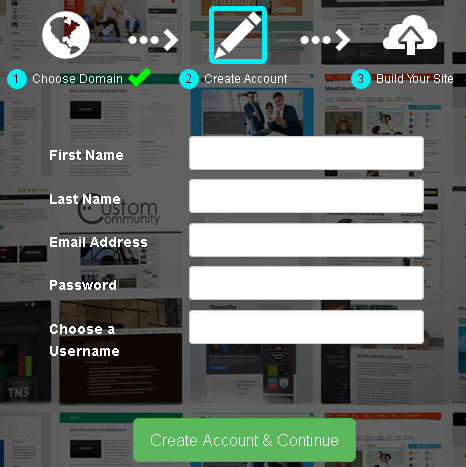 Step 3) Build Your Website
Once you've created an account, it's time to build your site. You'll be taken to a screen just like the one pictured below. There're four steps to creating your website.
Choose Your Domain Name: If you found a domain that is available, it should automatically fill this in for you. If not you can play around until you find a Free website that is available.
Name Your Website: The second step is to name your website. My personal preference, and what most others do, is just call their website the same as their domain name.
Choose A Look: There's 1,000s of free WordPress themes to choose from, find one that has a simple design and a lot of white space to get started. (This can be changed later)
Build Your Site: All you need to do is click on "I'm Ready, Build My Website Now." SiteRubix will do a little background work, and you'll be set up in no time!
Step 4) Log into Your Website
It will take a few seconds for your new website to build. Once it's done, it's time to log in. The awesome thing about the builder is that all the behind the scenes work is done for you. No need to install WordPress on your domain, just click build now, and you're ready to log in and access your site.
Click the "Login Now" button, and you'll be taken to your very own free website!
---
Wait There's More
Once you have your very own free website, you'll also have access to a site called Wealthy Affiliate. If you're looking to create a free website, you're probably interested in learning how to make money with that site. Lucky you, Wealthy Affiliate teaches you exactly how. If you're new to creating websites, you're probably not that familiar with WordPress. Wealthy Affiliate also shows you the ins and outs of WordPress!
Here's what you'll get when creating your free website:
Free Website
Free Website Hosting
Access To Getting Started Making Money Course
Access To Huge Community Of Other Helpful Members
I know you came here to learn how to build you very own website in a few seconds, but you'll also get some excellent free bonuses. Make sure to check out the Wealthy Affiliate training after creating your free website; you'll probably learn a lot about WordPress, Driving Traffic To Your Site, and How To Monetize Your Site to Make Money!
To learn more just use the website builder at the top of this page, or visit SiteRubix.com!