Dollar Deal Reviews: Scam Free Way To Get Free Amazon Products!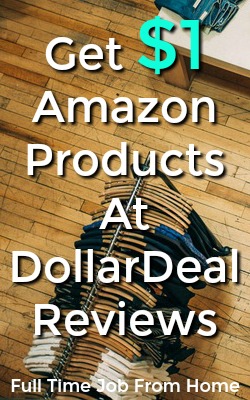 Dollar Deal Reviews is a site that gives you discounted Amazon products for $1 in exchange for a detailed Amazon review. I've reviewed a few other similar sites, and this is the only place I've found that has a set dollar amount per product. Honestly, I kind of like that idea, because most sites don't have many free products. You'll usually pay a $1-$5, so making each a set amount isn't too bad.
Dollar Deal Reviews doesn't have a huge variety of products available, but they do have a few options if you're looking for electronics or health and beauty products. You'll occasionally see other products available, but not too often.
If you'd like to learn more about getting free products to keep. Check out this awesome e-book.
In this "Dollar Deal Reviews" Review, I'll cover how it works, what products are available, the complaints, and prove it's scam free and legitimate.
---
DollarDealReviews.com Review
Site: Dollar Deal Reviews
Price: Free to Join, $1 a Product
Score: 83 Out Of 100
Verdict: Legit 
I gave Dollar Deal Reviews a good score and marked it legitimate. It's a good way to get $1 Amazon products in exchange for a review. I'll cover everything in more detail later on, but just know you'll need to purchase "Deal Tickets" for products up front.
The product selection is a bit limited, and not all items have free shipping. Overall it's a pretty good site, but I feel that some people may shy away because you have to pay up front before using any coupon codes.
Last Month I Made

$13,841 Online
I Bet You're Tired Of Making Pennies Online. No More BS. If You're Serious About Making A Full-Time Income Online You Need To See The TRUTH. Stop Wasting Your Time With The Next Big Thing When There's Already A Proven Method That Works!
---
How Does Dollar Deal Reviews Work
1) Buy DealTickets
DealTickets are the currency on the site. You'll buy 500 Dealtickets for $5 to get started. Each product cost 100 DealTickets or $1
2) Find A Product You'd Like To Buy
Once you purchase your DealTickets, browse the list of available products until you find one you like. Click on the "Redeem" button to get started. You'll have to agree to the TOS and enter your email before receiving your discount code. You'll be given the discount code, link to the product on Amazon, and any special instructions.
3) Purchase The Product on Amazon
Click the link to the product on Amazon. Add the item to your cart and begin the check out process. All you need to do is enter the coupon code in during check out to bring the balance to $1. Note that if you're not an Amazon Prime member you may be charge additional shipping costs.
4) Use the Product and Write A Review
Once you receive the product make sure to use it. DO NOT write the review before receiving the product. Use the product and make sure to leave a detailed review with the pros and cons of the item. Then give Dollar Deal Reviews the link to your Amazon Review to complete the process. After your review is approved you can request additional products.
---
What Are DealTickets and Slots
I've already covered DealTickets a bit, but it's basically the currency on the site. 100 Deal Tickets is equal to $1. Each product on the site cost $1 or 100 deal tickets. To get started you have to purchase 500 deal tickets or $5 worth.
Slots are how many products you can have out at one time. Each member starts out with two slots, meaning you can have two products on order at once without reviews written and confirmed. Once a review is approved your slot will open back up, and you can request more products. You can earn additional slots, but you have to refer your friends.
---
What Products Are Available
There seems to be 15-25 products available all the time at Dollar Deal Reviews. Most products have to do with electronics such as phone and tablet cases. You'll also find some health and beauty products such as anti-aging cream and weight loss pills.
There're a few clothing items on there at this time and a few other products. The selection isn't that great, and I'd say a third of the selection is phone and tablet cases. But new products are added all the time, so there may be additional products available when you join. Luckily you do get to see what products are available before purchasing any Deal Tickets.
---
Dollar Deal Reviews Referral Program
Dollar Deal Reviews does have a refer a friend program, but it won't earn you any money. It does give you additional slots so you can have more products out at one time. They give you a link to post on social media, email, and your website.
It looks like you'll earn one extra slot for every ten friends that you refer.
---
Dollar Deal Reviews Complaints
Paying $5 Up Front
Dollar Deal Reviews is the first site that I've seen that makes you pay for products up front, but at least you know that you'll get all products for $1. The problem is you might not ever find five products that you want. I wish that you could just purchase $1 worth of DealTickets to try out the site first.
Most people can probably find five products that they're interested in, but if you don't, you'll be losing out on some money.
Free Shipping? Not Always!
Most of the items available have free two-day shipping if you're an Amazon Prime Member, but if you're not a Prime member you may have to pay for shipping. Also, some products make you pay for shipping even if you're a prime member.
I guess it's not a huge deal; most products are small, and the shipping is just a few bucks. But it can be misleading and cut into the discount that you'll receive.
---
Is Dollar Deal Reviews A Scam?
Dollar Deal Reviews is not a scam; it's a legitimate way to get Amazon products for $1 plus shipping sometimes. My only real complaint is that you have to pay for five products worth of Deal Tickets up front. You get to see what products are available before hand, but that doesn't mean there will be products you want in the future.
Other than that it's good to know that all products are $1. If you'd like to join for free, visit DollarDealReviews.com. Make sure to check out this e-book to learn more ways you can get free products to keep!
I'm a huge fan of making an extra income and discounted Amazon products is great, but here're some other ways to get paid to shop. My two favorite options are Ibotta and Ebates.
Are you looking for a larger income? Have you thought about starting your own profitable blog? My #1 Recommendation will show you how to start a site, drive traffic, and make money for free!
Have you tried Dollar Deal Reviews Before? Let me hear your thoughts in the comments below!
Summary
Reviewer
Review Date
Reviewed Item
Author Rating