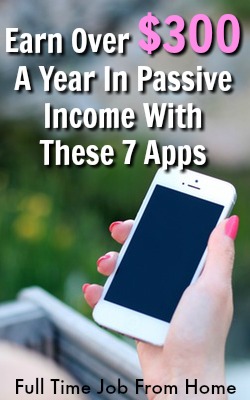 One of my favorite ways to make money online is through passive income opportunities, such as blogging. But there're many other ways to make passive income, and you can even make a passive income on your phone.
Today I'd like to share with you seven legitimate passive income apps that you can install on your smartphone to make money. The best thing about these apps is it requires a few minutes to download the apps up front, after that there's nothing you need to do to keep earning.
All of these apps do some sort of "tracking," whether it be location or browsing history, you'll be giving out information in exchange for some extra cash.
If you're not comfortable with the tracking, I recommend checking out other ways to earn an extra income.
These passive income apps are a great way to earn a small income each month, but if you're looking for a full-time income these apps won't give you that. If you want a large online income, check out My #1 Recommendation, it's how I made over $13,000 online last month!
Let's get started here's 7 passive income apps that actually pay!
---
Scam Free Passive Income Apps That Pay
Panel App
I've used the Panel App for about a year now, and although it's not a huge money maker I installed it once and haven't touched it since. The Panel App pays you points leaving the app installed on your mobile device. You can earn extra points by answering surveys about where you were at a specific time, but it's not required.
You can redeem your points for Amazon Gift Cards starting at $1 or purchase sweepstakes entries for gift cards and PayPal payments.
The Panel App is available on Apple and Android mobile devices. This app does track your location.
To learn more, you can visit my Panel App Review.
Savvy Connect
Savvy Connect is part of a well-known survey site called Survey Savvy. It's a browser extension and app that can be installed on your computer or mobile devices. Installing Savvy Connect earns you higher paying surveys and unlocks projects that pay much more than surveys.
For example, all US members are invited to a Gold Project that pays $60, all you need to do is leave the app installed on your device for 90 days.
Savvy Connect pays via check and has no minimum cash out amount!
To learn more or to join, visit SavvyConnect.com to get started!
Nielsen Mobile
Nielsen Mobile will pay you to download their app on your phone. It tracks how you use your browser and how you interact with videos on your mobile device.
Depending on your demographics you can earn around $50 a year by keeping this app installed.
You can learn more by visiting Nielsen Mobile.
Media Insiders
Media Insiders is a company that will pay you $5 a month for having the app installed on your device. You can install the app on up to 3 devices earning you a maximum of $15 a month.
The app tracks information about how you use the browser on your phone and also has a feature that can track what TV programs you're watching for extra cash.
After you earn $5, you can cash out for rewards like PayPal and Amazon gift cards.
You can learn more or join by visiting my Media Insiders Review.
Screenwise Trends  Now Cross Media Panel
Screenwise Trends is a browser extension that also lets you download an app on your smartphone and tablet to earn more.
If you connect all three devices, you'll earn $6 your first week and $1 per device each week after.
You can cash out your earnings once you reach $25. Amazon gift cards are available plus a few other charity donations.
You can learn more or join at CrossMediaPanel.com.
SmartphoneMate
SmartphoneMate pays $3 for smartphones and $5 for each tablet per month. The app pays via e-gift cards to Amazon.
You do need to make sure that the app is communicating at least twice a day for 20 days out of the month to get paid.
You can learn more or join at SmartphoneMate.com. (The website looks a bit sketchy, but it's legitimate)
DataCoup
DataCoup is a relatively new company that offers an app that you can get paid to download but also pays you to link social networks.
The amount you'll earn per week is based on how many profiles you connect. If you link all your accounts, you can earn $50-$100 a year.
The app pays via direct deposit after you earn $5.
To learn more or to join, visit DataCoup.com.
---
More Ways To Make Passive Income
As most of you know, the way I make passive income is through blogging. It's My #1 Recommendation when it comes to building a substantial online income. To learn more check out How To Start A Profitable Blog.
If you're looking for other ways to make an income online, check out the Extra Income Sites I Recommend.
Have you used any of these passive income apps? Think they're scams? I'd love to hear your thoughts in the comments below! 🙂