UPDATE: Click Start Mobile Is No Longer Available
Here's some helpful links: 
Extra Income Sites I Recommend
How To Start A Profitable Blog
Click Star Mobile is a relatively new company that offers you to make money online by filling out forms, watching videos, cutting coupons and website visiting.
Clickstarmobile.com offers a few different payment options and claims  its self as one of the easiest sites to reach the minimum payout amount within a few hours of earning.
In this review I will talk a bit more about what Click Start Mobile is, how you earn, how you get paid, and my experiences so far with the company!
---
What Is Click Star Mobile
UPDATE: Click Start Mobile Is No Longer Available
Click Star Mobile is what I consider a rewards site. You can earn money by completing activities that give you points. As a new company they only have a few ways to earn and a few cash out prizes. It reminds me a bit like SwagBucks or Cashcrate, but the company is still small with plenty room for growth.
---
Ways To Earn With Click Star
UPDATE: Click Start Mobile Is No Longer Available
Like mentioned above Click Star Mobile is a new company and lacks a varieties of way to earn. Still there are some ways to earn points quickly.
Filling Out Forms: These forms are pretty much offers. You fill out a form that usually ask personal information and an email address. Most of these forms reward you 700-1500 points.
Watching Videos: Videos are usually pretty short and you don't have to watch the video. Just open the video and you get rewarded 50 points
Clipping Coupons: Download the coupon clipping software on your computer and earn points every time you clip coupons.

ChaCha

Galleries: This is the website visiting part of the site. You visit a page on

ChaCha

and receive 30 points
Referring Others: When you refer your friends to Click Star Mobile you earn 30% of what they earn!
There is no limit to how many times you can do each task everyday giving you endless earning potential
---
Redeeming Points & Rewards Options
UPDATE: Click Start Mobile Is No Longer Available
This section in a nutshell is how do you get paid by Click Star Mobile.
Click Star Mobile uses a points system for redeeming points. Basically 50,000 points equals $5, 100,000 equals $10. You get the system.
Now for each dollar amount there is only one cash out prize. Let me explain, the $5 prize is a PayPal Credit, $10 prize is an Amazon Gift Card, $20 is a Best Buy Gift Card, and $100 is a Southwest Airlines Gift Card.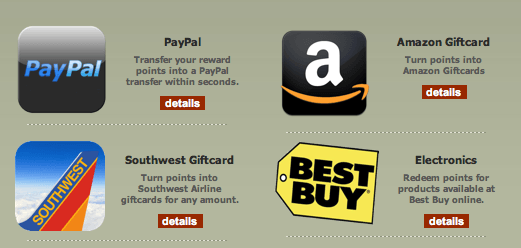 It seems that Click Star Mobile is really lacking in rewards, but at least they offer a $5 PayPal credit, which most people will choose out of the other options!
---
My Experiences
UPDATE: Click Start Mobile Is No Longer Available
As I said Click Star Mobile is a relatively new company and I have only been with them for a few months. So far it seems like a pretty decent site. I have tried earning in all the different ways that they have available and I have had a few problems.
Sometimes I was not getting credit for filling out forms and viewing websites. This has only happened a few times, but still it is frustrating when you spend the time to do something and don't get credit for it.
Also the design of the site is pretty mediocre. I understand that it is a new company, but it doesn't look professional in my opinion.
Advantages:
New Company Room to Grow Your Referrals without much competition
All the activities to make money are not time-consuming
Disadvantages:
New company
Few problems with not getting credit
Poor Design
Only a few Cash Out Options
---
Click Star Mobile Verdict
Website: Click Star Mobile
Price: Free
Score: 50 out of 100
Verdict: Legit
UPDATE: Click Start Mobile Is No Longer Available
I gave Click Star Mobile a 50 out of 100, because it's really lacking multiple ways for you to make money. I have also seen a few problems with not getting full credit for the forms that I have filled out. I've been told they plan on updating their cash out options in the near future so I feel like there is room for improvement.
Hopefully soon they will make improvements to the site and I can give it a higher rating.
For now it's still a good join, especially if you plan on promoting and getting referrals. With new sites there is not much competition which makes it extremely easy to get referrals!
If you would like to see some of the other survey sites that I rank higher then Click Start Mobile visit All Scam Free Jobs. 
If you would like to make a full time income online visit Start Your Own Online Business. 
Thank you for reading this Click Star Mobile Review. We have taken a look and found that this program is not a scam, but still is not my highest rated product. If you have used this company I would love to hear your experiences within the comments section below!