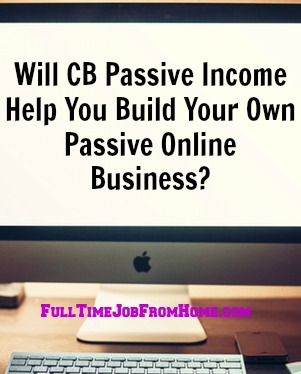 I know what a lot of you are thinking. Does CB Passive Income Really Work? Well honestly for me it did not and I will tell you exactly why I think CB Passive Income is a scam in this review.
There are tons of companies on the internet promising you what CB Passive Income does. A complete autopilot system for you to generate leads and grow your online income with little to no work.
Sounds to good to be true, right? Well it is just not how it works. To make money online you have to put in the time and work just like a job offline. I bet your boss isn't still paying just because you did 10 minutes of work your first day!
In this CB Passive Income Scam Review I will cover the system in-depth and show you exactly what you will be paying for!
---
Short CB Passive Income Review
CB Passive income may earn you some money, but the expectations given to you by the sales pitch will be unreachable. Believe me when I say you can not make money online by putting in an hour up front and then letting the system be on auto pilot. It just doesn't work.
The system which I cover in the next system will not work effectively long-term with what CB Passive Income teaches you to do.
I would not recommend buying this product or trying to make money online using this method. Here is a list of all the systems and products that I believe are much better than CB Passive Income.
---
How Does CB Passive Income Work
CB Passive Income works like this. You receive a pre made landing page website which you try to drive traffic to. When visitors sign up for your email list CB Passive Income begins to email them offers based on Click Bank Products. If an email subscriber buys a product through the email then you make a cut.
That really is all there is to the process. You get people to sign up for an email list and you may get a commission on a sale. If it seems to good to be true, it usually is. I won't go into exactly why yet, but check the next section to learn more.
---
CB Passive Income Review
Website: CBPassiveIncome.com
Owner: Patrick Chan
Price: $47.00 + Up Sells
Score: 10 out of 100
Verdict: SCAM!
I gave CB Passive Income a score of 10 out of 100, because the techniques taught in this program will not work effectively. The only reason I gave them a 10 is because in the training section I enjoyed some of the material on social network marketing and video marketing. But that is not what you're paying $47 for!
CB Passive Income is a scam and won't work for a few very simple reasons. One you can not make money online with an auto pilot system that only requires a few hours up front. Two which is the big reason why this system will fail is because the website or landing page that your given has no content on it. Only a video and an email sign up page.
This is a problem because the only way to get email subscribers is to draw traffic to your website. If your website does not have any content on it, Google will not rank your website high which leaves you very little traffic, leading to very few sales.
---
What You Get When Purchasing
When you purchase CB Passive Income for $47 you will receive the following:
Access to the CB Passive Income Members Panel
Your Own Website/Landing Page
Training covering Setting Up Your Website & Marketing Your Website
---
CB Passive Income Up Sells
CB Passive Income includes two different up sells within the basic system I will cover these below!
CB Passive Income Pro
The CB Passive Income Pro Version is a $97 up sell and only gives you one main advantage to the basic version. With Pro you can sync your AWeber Account (an email auto responder service) with you CB Passive Income account which will give you access to all the emails that you collect through your website. This is an advantage, because now you can email your leads as well.
One thing to mention here is that you will also need an AWeber account. I believe the cheapest account is $19 a month.
I am not a huge fan of the CB Passive Income system, but if you do decide to give it a try I would recommend upgrading just because not having access to the emails you receive is pointless if you decide to leave CB Passive Income.
CB Passive Income Fast Cash Series
The Fast Cash Series is $47 a month or $197 for a lifetime membership. Basically joining the Fast Cash Series gives you access to a new way to make money online each month. Patrick Chan has promised that he will be giving you a brand new way to make money online fast with a new system each and every month.
Personally this sounds like BS I would stay away from up sell!
---
Training
When purchasing the CB Passive Income System you will gain access to some training there is 2 parts to the training
Setting Up Your Website
Promoting Your Website
Setting Up Your Website Training
I was a bit confused by this training, because from the beginning Chan has told us we would receive a unique website, but all unique means is that it has your affiliate link in it. There is not customization of the website which means there really is no training other than him telling you to fill out your profile to make sure your affiliate link works!
Promoting Your Website Training
Now this section of the training is actually real and is much better than the setting up your website training. In this section it covers things like video marketing and social media marketing to drive traffic to your website.
I was extremely impressed with both aspects of the training. I actually learned a lot from both the video and social media marketing training. Who knows that might even be worth $47 to you!
---
Final Verdict
I do not recommend the CB Passive Income system. I really find that the system they teach will not work and that their sales page gives you unrealistic hopes on what you can accomplish with just a bit of work up front.
---
What To Do Now?
You have figured out that I don't think CB Passive Income is a good program to join but, if you're looking to make money online I can show you exactly how I make money online every single day with affiliate marketing here.
Affiliate Marketing with a website is the best way to make money online and is how I earn an online income. Make sure to check it out through the link above.
Thank you for reading the CB Passive Income Scam Review. Hopefully you enjoyed your time here and will let me help you make money online!
Summary
Reviewer
Review Date
Reviewed Item
Author Rating