CashSurveys.net Review: Is Cash Surveys A Scam?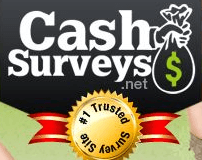 If you're reading this you are probably interested in purchasing CashSurveys.net, well I am here to tell you exactly why you should NOT in this CashSurveys.net Review.
CashSurveys.net is a complete scam and lately I have run into a lot of products just like it. These products promise you a way to earn more with paid surveys, surveys that pay $25-$30 each, and other bonuses that can help you make money online.
Truth is all of these products can't live up to their promises because there is no secret to making money with survey sites and honestly they are just taking advantage of you and making you pay for things that are all over the internet for free.
Continue reading my CashSurveys.net Review to learn exactly why this company is a scam and how they are scamming you out of your money.
---
What is CashSurveys.net
CashSurveys.net is a company that promises you a secret way to start earning more with survey sites. They tell you that they can give you access to this secret method and give you surveys that pay on average $25 a survey. Along with this method they have some free bonuses that they will give you that teach you how to make tons of money other ways. Sounds to good to be true. Well it is.
---
How Does CashSurveys.net Work
I wanted to include this section because a lot of people are confused on what exactly CashSurveys.net is. They do not actually pay you or give you surveys to take. CashSurveys.net is going to give you a list of survey sites to sign up for. These survey sites will actually be the sites paying you and sending you surveys. All Cashsurveys.net does is take your money gives you a few tips and gives you the list of sites to sign up for.
Another thing people don't realize is not only do you have to pay money to get access to their list of survey sites, but you also become their referral on every site you sign up for. Which means they will earn a commission on all the earnings you make with those sites.
---
CashSurveys.net Review
Website: CashSurveys.net
Price: $39.50
Score: 5 out of 100
Verdict:
SCAM!
I gave CashSurveys.net a 5 out of 100 because it's a complete scam. The company uses sales tactics to give you unrealistic expectations with survey earnings. They also make you pay for information that can be found for free all over the internet. Along with this the big selling point is the secret system to making more with survey sites, which is just a few tips not anything that will actually help you make more.
Now I am not against survey sites. I get paid by a few each and every month. I am just against sites like CashSurveys.net that make you pay for a secret system and list of survey sites. You can see some of the survey site I recommend on my All Scam Free Jobs Page.
---
CashSurveys.net Concerns
Secret System:
Well there is no secret system. Basically all the secret system is the three tips listed below:
Last Month I Made

$13,841 Online
I Bet You're Tired Of Making Pennies Online. No More BS. If You're Serious About Making A Full-Time Income Online You Need To See The TRUTH. Stop Wasting Your Time With The Next Big Thing When There's Already A Proven Method That Works!
Sign up For A New Email
Download Robo-Form
Sign Up For All The Sites On Their List
Now tips 1 & 2 are two things I recommend if you are going to be taking surveys online, but this is not a secret to making more just a way to keep organized. Tip 3 is just so they can make more money off of you and have you as a referral on all the sites they list.
Survey List:
The survey list does have a lot of survey sites I recommend on it like Paid Viewpoint, CashCrate, & Survey Savvy. But it also includes a lot of sites that are scams. Also on the sales page they say they have survey sites that will pay you $25 per survey. There are no sites on the list that are like this they all have normal paying surveys.
Also, you should not pay for a list of survey sites ever! List of legit survey sites are free all over the internet. Here is a good place to start, 30 Best Free Survey Sites.
Bonuses:
The bonuses are basically garbage. The bonuses are E-books on other ways to make money online. These E-books give you an overview of how it works and then just refers you to other sites where you will become their referral and you will be earning them more money. Some of the bonuses are listed below.
Make Money Opening Emails: You can do this with Inbox Dollars
Make Money Viewing Websites: You can do this at ClixSense.
Make Money With Your Own Website: You can learn how to do this at Wealthy Affiliate
---
Final Verdict:
I do not recommend purchasing Cashsurveys.net. This program is a complete scam. Now please remember I am not against survey sites. I make money with survey sites and get paid each month. But I am against companies that make you pay for a fake system and list of survey sites.
---
What To Do Now?
Thanks for reading my CashSurveys.net Review. You know that I do not recommend this product, but I wanted to include some options that I do recommend for making money online.
If you would like to see the survey sites that I make money with and highly recommend visit All Scam Free Survey Sites.
If you don't think taking surveys is the income you are looking for online, check out my #1 Recommendation for making money online. This is the way I make 95% of my online income and really is the best way to build an online income!
Thank you again for reading this CashSurveys.net Review. We figured out that Cash Surveys really is a scam and you should stay away. I hope you allow me to help you make money online by taking advantage of the links above. If you have dealt with this company or any other scams in the past I'd love to hear about it in the comments section below!
Summary
Reviewer
Review Date
Reviewed Item
Author Rating