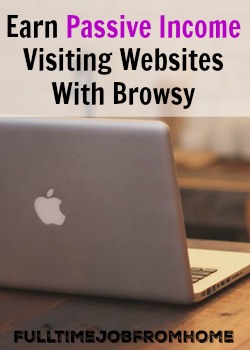 NO LONGER AVAILABLE Check out these extra income sites
Browsy is a new traffic exchange website that pays you to visit websites. One thing about this site is that you can just leave it running and get paid for viewing websites all day long.
I decided to write a review of Browsy because I've seen a lot of hype about the site. Today I'll see if Browsy is a scam and cover how it works, how you're paid, and the complaints I have with this traffic exchange website.
---
Browsy Review

Site: Browsy.co  NO LONGER AVAILABLE
Price: Free To Join + Paid Memberships
Score: 65 out 100
Verdict: Legit
In this Browsy Review, I gave them an okay score and marked it legitimate. Viewing ads is a legitimate way to make money online, but you should know that the site is going to be a very small income.
When you look at how many points you earn per website view and how much you can cash your points out for, it's pennies. But if you do use this site it seems you can just set the computer and leave. No need to verify you're viewing the website, so it can be passive income, but I'm not sure it's enough to even pay for your computer running.
Either way, it's a legitimate site, but not a real money maker or recommended way to "make money online."
---
How To Earn At Browsy
You earn points that can be exchanged for cash by viewing websites. You'll just click on view websites, a new tab will open, and websites will start to appear. Once you view the site for 15-30 seconds, you'll earn a few points, and a new website will load.
It looks like there's no task to complete like other paid to click sites. You should be able to open the new tab and let the websites keep coming without actually being in front of the computer.
---
How Does Browsy Pay
Browsy Pays via PayPal once your account reaches $1 or 8000 points. It looks like you'll just be earning a few points per website view, so it's going to take a long time to reach the cashout amount. But if you just open viewing websites and let it run you could reach the cashout amount in a few days.
It looks like they do take a fee out of the PayPal payment. Most of the time it's 3% of the payment amount, so don't expect to get the full $1 if you cash out at the minimum.
---
Browsy Referral Program
Browsy does have a referral program that's open to all members. Everyone gets a unique referral link to share with your friends. For every friend that you refer, you'll get 500 points for them joining.
But there's a catch, even though they pay you the 500 points up front, but when you go to cash out they need to be an active member. So if you refer people and cash out, there's a chance you won't receive the full cash out amount, because some of your referrals aren't active, pretty crappy if you ask me.
---
Browsy Paid Accounts
Browsy does offer a few paid account versions of the site, like most other pay per click sites do. There's not much advantage to the paid accounts if you're just looking to view ads. The paid versions are more for people who are looking to get traffic to their website (I highly recommend staying far way from traffic exchange sites for traffic).
But if you're looking for a paid account it gives you the ability to add more websites to send traffic to, lets you earn points visiting websites on multiple devices and gives you some bonus points.
Once again no reason to upgrade if you're just looking to view websites.
---
Browsy Complaints
Earning Pennies
Most likely Browsy uses a point system to make it seem that you're earning more than you are. You'll usually earn 1-2 points for every website you visit. Well, when you break that down you're earning .00125 per website visit or less.
Set it and Leave
I know most of you think this is a huge positive and I mean it is while it lasts. I've seen many Pay Per Click sites, and they all require you to complete a task to make sure you're viewing the site. With Browsy you can just set it and leave it, without actually viewing the sites.
The problem I see here is that traffic exchange traffic is already very very low-quality traffic. Add in that most members won't even actually look at your site and you don't have a very good business plan. The only way this site works is if website owners want to send traffic to their site. I don't see why website owners would go along with this idea, which means this site will eventually have no websites to view.
Traffic Exchange Traffic
Now this is just a concern for actual website owners. I highly recommend NOT using traffic exchange sites. The traffic they send you is not targeted. Almost all members will look at your site for the required time limit earn their cents and move on. Not to mention that Browsy is even worse than other sites since members don't have to look at your site.
Traffic Exchange websites are not a good source of traffic.
---
Is Browsy A Scam?
In my opinion, Browsy is not a scam. It's a legitimate way to make money online viewing websites. But it's not a site I recommend. I guess if you just opened the viewing websites tab and left it you could make $8-$10 a month, but how much will it cost to keep your computer running that whole time? For that small of a dollar amount, I don't think it's worth it, but I guess it's passive income and some people might feel like it is.
If you feel like Browsy is worth it, you can join at Browsy.co. If you're like me and don't see a $10 income worth it, here's some much better ways to make an extra income online.
Of course, extra income is great, but a larger income is always better! Here's how I make a full-time income from home with My #1 Recommendation!
Do you think Browsy is a scam or is it worth the time?