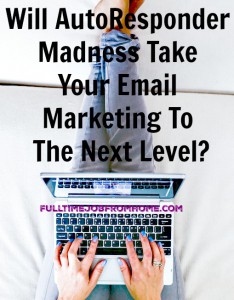 Email marketing is one of the most effective ways to make money online, but without the correct technique and tools it's almost worthless. One of the #1 one ways to become a great email marketer is by first having and autoresponder program and second by having the correct training to optimize your emails for better conversions.
Luckily Autoresponder Madness does both of these. Auto Responder madness will teach you exactly how to effectively use an autoresponder system and how to optimize your emails for greater conversions.
In this Autoresponder Madness review I will be giving you a look inside the product and what I liked and disliked.
---
What Is Autoresponder Madness?
AutoResponder Madness is a training program set up by a very well-known email marketer named Andre Chaperon. He is one of the most respected and well-known email marketers in the world and when he gives advice you should be listening!
The Autoresponder Madness course will take you through how to effectively use email marketing and how to set up campaigns. Andre will take you through some of the exact techniques he used to become one of the best email marketers in the world.
---
Short AutoResponder Madness Review
Andre's AutoResponder Madness is one of the best programs to become highly educated in email marketing. As I review the product I read through all the material and learned a ton about email marketing and have started seeing great results applying the techniques to my email campaigns.
You will not be disappointed in the amount of valuable information you receive in this course and I recommend it to anyone looking to improve their email marketing.
---
AutoResponder Madness Review
Website: AutoResponderMadness.com
Owner: Andre Chaperon
Price: $299
Score: 91 out of 100
Verdict: Legit
I gave AutoResponder Madness a 91 out of 100 because of the high quality training it provides on email marketing. It would have received a higher, but based on price and a few other complaint you will read below I had to knock a few points off. 91 is still a very high score and I believe that you will be very satisfied buying this product if you're looking to improve your email marketing.
---
What I liked
1) Training
I know I have already said it more than once, but the training in this program is top-notch. Andre really does know what he is talking about and I consider myself a novice email marketer and I learned about techniques that I never even knew about. The training will help any level email marketer improve!
You can see a list of some of the training provided below!
Understanding Your Audience
Using A Hook To Gain Attention
Open & Nested Loops
Story Boarding
List Segmentation
Product Launch
If you're like me you may have no idea what some of these are which is okay! You will learn advanced and useful techniques with Autoresponder Madness.
2) It Really Works
One thing that had me worried from the beginning of this review was the sales page from this product Andre claims to be a well-known email marketer, but really he can claim whatever he wants its his sales page.
Luckily for me this turned out to be true. He teaches you techniques that he used to become successful. It worked for me and I know it can work for you. Since starting applying the techniques learned my open rate has gone up 25% and my click rate has gone up 18%!
---
What I didn't Like
1) Teaching Style
One thing I didn't like about the course is that mostly all the teaching is down in text format. There are a few videos that you get, but are basically supplement content. Nothing that really has to do with the main course itself. A lot of people learn better by listening and watching. This being the case with me I wished that there was videos of Andre at least talking about the text just so it would be more useful to everyone.
He seems to have everything planned out and the course flows well content wise, but the arrangement of the content leads into the 2nd thing I really disliked.
2) Appearance Of The Course
The 2nd thing I didn't like about AutoResponder Madness is the arrangement of the content. Instead of being in paragraphs and grouped ideas its short sentences as you would in an effective email or almost like a messenger chat.
I found this very distracting and hard to follow sometimes. Like I said I learn better visually, but still the content could be arranged much better than how it is.
You would think that multiple people have complained about this and no chances have been made. Which makes me questions support and if they are ever updating the training. The version has been updated to 3.0 but who knows how many changes were really made.
---
Final Verdict
Autoresponder Madness is one of the best programs out there for email marketing training. Andre does a great job of teaching you his techniques and gives us tons of great information. I would say this is a must buy to improve your email marketing.
But not everyone is to the point of email marketing or may not have any interest in email marketing at all. If not don't worry read the next section to learn more about making money with affiliate marketing. You can learn all about it with my #1 recommendation Wealthy Affiliate

---
What To Do Now?
If you're interested in improving your email marketing you can purchase AutoResponder Madness through the link below. Believe me you won't be disappointed.
But maybe email marketing is not for you. You can see a list of highly rated products right below that focus on other methods of making money online. You can learn about my #1 Recommended product here!
Other Highly Rated Products
Wealthy Affiliate (Affiliate Marketing, Building A Website, and a bit of everything else) TOP RATED
Traffic Maverick (Increase Traffic)
Niche Flipper (Niche Website, Affiliate Marketing)
Thank you for reading my AutoResponder Madness Review. This is a great product to learn the in and outs of email marketing and is a great way to get started and learn advanced techniques. I hope you enjoyed this review and if you've had any experiences with this product I'd love to hear about it in the comments section!
Summary
Reviewer
Review Date
Reviewed Item
Author Rating