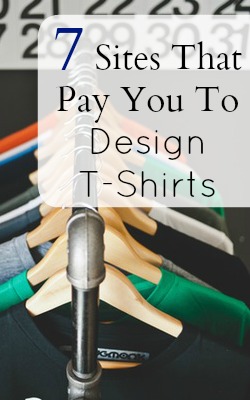 One legitimate way to make money online is by designing t-shirts. It isn't for everyone; you'll need creative ideas and need the ability to design the shirt (or pay someone else to do it.)
Below I've listed seven legitimate sites that let you submit t-shirt designs; you'll either get an upfront cash prize or earn a commission on your orders. Most of the sites listed let you set your markup. From what I've seen a $5-$12 base price markup is realistic.
If you're new to this idea, here's a cheap/free e-book about how to make money selling t-shirts online.
Earning an income designing t-shirts is awesome but I prefer another way of making a passive income online. Make sure to check out My #1 Recommendation, it's how I made over $13,000 online last month!
If you don't think designing t-shirts is your thing, make sure to check out my WAH jobs directory for other ways to make money.
Let's get started, here're seven sites that pay you to design t-shirts.
---
7 Ways To Get Paid To Design T-Shirts
CafePress is one of the most popular sites that lets you upload your design and add it to t-shirts, other types of clothing, stickers, phone cases, and more. When you join, you'll have your own store that they help promote your products. They give you the base price to create the item, and you choose the markup. Earn the total markup price of each sale and receive bonuses based on volume.
Zazzle is similar to CafePress because they let you create a design and add it clothing and a wide variety of other items. Just like CafePress, they let you open a store and tell you the base price of each item. You have control of the markup and get to keep the whole markup price.
Anyone can sign up for free and create t-shirts using their editor. You can add text or upload your own artwork to add to your shirt. You can set your own price and your pre-order goal, as long as you reach your pre-order goal, they will print and ship your t-shirts for you. You get to keep the profits on all the shirts you sell.
You can also design long sleeve shirts, v-necks, sweatshirts, stickers, and coffee mugs.
I've used this site before because you can also create a shirt (or any other available product,) and buy as many as you'd like.
Threadless lets you open a store with your own designs. Similar to CafePress, they tell you the base price, and you set the markup.
They also have themed design challenges where you submit a design and the community votes on it. The top design usually receives over $1,000 cash plus commission on sales. Even if you don't win first, they may choose to print your design, and you'll earn commissions.
Skreened – No Longer Available/Recommended
Skreened lets you upload your own designs on t-shirts and a few other products. They give you a base price, and you set the markup.
You earn the total markup price on each sale, and they handle the rest!
Allows you to upload your designs on t-shirts and other products. You can choose to sell your designs to their marketplace, or open a branded store (branded stores are for people who already have a large audience, for example, a popular Youtube channel or blog).
They tell you the base price, and you set the markup.
Upload your t-shirt design and it immediately goes up for sale. It's sold for $14 for the first 72 hours after the price goes up.
Earn a commission of $2-$8 on each sale based on the type of shirt and price.
---
Other Ways To Make Money Online
I hope you enjoyed this list of sites that pay you to design t-shirts. Please keep in mind that your products need to sell to make money, but if you put out quality products you can easily make an extra $100-$1000 a month. There're even people using the sites on this list as a full-time income.
If you're a creative person, you might be interested in selling on Fiverr. Categories like graphic design and logo creation are extremely popular!
If selling t-shirts isn't for you check out these other ways that I recommend to make money online:
Know of any other sites that pay you to design t-shirts? Have experience with these sites? I'd love to hear your thoughts in the comments below!