As an entrepreneur, your time is valuable. Each minute you waste searching for your to-do list is a minute you aren't earning money and building your business.
Luckily, we don't need to hire an assistant to keep us on track.
Out of the hundreds of time management apps available, I've narrowed the list down to the five apps that help entrepreneurs get things done. These apps aren't overly complicated to use or set up. Plus, they integrate easily into your day to day without adding lots of extra steps.
Ready to take back control of your day?
---
5 Apps To Increase Productivity
todoist – Focus on what matters (Free, Premium version $28.99/year)
todoist is a to-do list app that recognizes that not every task in your life is equally important.
First, create multiple projects for different areas of your life and business. I have Home, New Client Acquisition, Freelancing, and Blogging. Then, add tasks to your lists. As you add items, you can set a priority level and due date. This lets todoist show you the essential things with the nearest due date first.
With todoist, you'll always remember to invoice your clients before ordering the dog a new toy.
Because of how often I use this app, I opted for the Premium version. It adds a few features, including automatic notifications when a task is coming up or overdue across all devices. I like getting the alert on my phone in the morning, highlighting just the things that need to be tackled that day.
Toggl – Track your time with ease (Free, Premium versions starting at $10/month)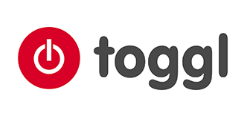 Toggl is the perfect time tracking app for entrepreneurs and small businesses. To optimize our rates and profitability, we have to know how much time different projects and tasks take from our day.
Toggl allows you to start tracking different activities with the touch of a button. Then it adds up how much time you spend each day, week, and month in each category.
I use this every day to track time spent on different freelancing projects. This way I always know my average hourly profitability for every client. It helps to continue to advance my business by focusing on the most profitable clients.
Test it out, and you might find that your loudest and most demanding client is least worth your time!
RescueTime – Stop distractions once and for all (Free, Premium version $9/month)

RescueTime is one app on this list you may be too afraid to download.
Running securely in the background of your devices, this app tracks how much time you spend on different applications and websites throughout the day. For the first time, you get an accurate picture of how much time you are spending on email, Facebook, and other distractions. You'll get detailed reports on your productivity so you can see where you need to improve.
There are two features of this app I absolutely love. The first allows you to block distracting websites for specific periods of time. Need to get something done before picking your daughter up at school? Block social media and email for 2 hours and get it done!
The second alerts you when you've spent a certain amount of time in an application or on a website. If you only want to spend 30 minutes in your email inbox today, RescueTime will let you know when you need to move on.
Letterspace – A notetaking app for the disorganized mind (App – $4.99, Desktop – $9.99)
I have probably tried a dozen notetaking apps over the years, and none have worked like Letterspace.
Before Letterspace, notes would get lost. I would jot something down in the wrong notebook or not want to deal with sorting through multiple lists in an app just to record a quick idea. Not with Letterspace.
Letterspace allows you to use #hashtags and @mentions anywhere in your notes. Then, it organizes all your thoughts in the sidebar by those tags. Forget to tag? The app has full-text search capabilities to help you find what you are looking for.
Instapaper – Read it later (Free)

How many times a day are you distracted by an interesting article or video? Wouldn't it be great to save it with the click of a button to check out later?
Instapaper sends whatever you come across while browsing the internet to the app. Then, you can read it later on any device – desktop, iPhone, Android, tablet, or Kindle. You can even see it offline! Also, you can highlight and comment on text in any article. This makes it easy to save and retrieve information, as well as share quotes via social media.
Don't let your day be interrupted. Save it to Instapaper and get back to work.
---
Make the Most of Your Time
These 5 apps will help you stay focused on what matters, so you can grow your business without dropping the ball on everything else in life. Incorporate your favorites into your routine and see how much you can accomplish!
Thanks for reading about the time saving and productivity apps we use to run out business. Make sure to check out these helpful links if you're interested in starting your own online business or working from home!
Work From Home Jobs Hiring Now
Why & How You Should Start A Blog
Extra Income Sites That Pay Me Each Month
Are there any apps that you use to help you make it through your workday? We'd love to hear your thoughts in the comments section below!