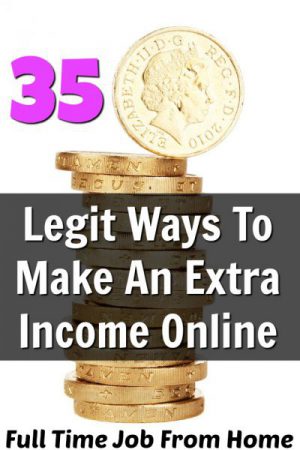 I know why you're here, you're looking for legitimate ways to make extra money online. I'll cut to the chase; I've been making extra cash online since 2009, and I've used so many sites it's hard to keep track. I've been scammed by some and have made lots of money over the years on others.
Today I've put together a list of extra income sites I've used and have been paid by. Instead of just listing a bunch of survey sites, I decided to break it down into some of the awesome ways you can make money with each site, but I'll include a shortlist of survey sites too! lol.
You're in the right place if you're looking to make extra money online, find a few sites you like on this list and get to it!
Here're the legitimate ways I've made money online over the last few years.
---
Paid To Search The Internet
By far my favorite way and easiest way to make an extra income online is by searching the internet. If you're like me, you do it every time you get online, so you might as well get paid for it! The best part is you don't have to do anything different than what you already do! I've used all of the site listed below and been paid by each.
CashCrate No Longer Available
Paid To Watch Videos
One of the best ways to kill time on the internet is by watching videos. It seems like every time I visit YouTube I end up watching videos for hours. Might as well get paid for watching those videos. I've listed a few different sites that all pay you to watch popular and trending videos on their site.
Earning Station – No Longer Available
Paid To Listen To Music
I've never met anybody that hates music, have you? There're a few ways you can get paid to listen to music online. I've listed a few different sites I've used over the years to get paid to listen to the music/radio online.
Paid To Shop
You shop, and I shop, truth is we all shop. Might as well get paid for your shopping. There's a few different paid to shop sites that I've been using for a while. One is for online shopping, and the other is an app for in-store shopping. Over the last few years, I've been able to make over $200 a year with both, just from shopping.
Ibotta (In-Store)
Rakuten (Online)
Pei (Automatic Cashback)
Dosh (Automatic Cashback)
Drop (Automatic Cashback)
Paribus (Price Match App)
Paid To Open Emails
Do you receive hundreds of emails every day? I know I do, more like thousands. Did you know you can get paid to receive emails? Below I've listed a site that I've been using for five years now. They'll send you emails, and you'll get paid every time you open one of their emails!
InboxDollars (US)
InboxPounds (UK)
Paid To Visit Websites
We all visit a ton of websites every day, did you know you could get paid to visit websites? There're a few different sites I've used over the years that pay you to visit websites. The ones I'll list below are all scam free but make sure to be careful when joining sites that promise to pay you per click; there's a ton of scams!
Paid To Use Your SmartPhone
I can't make a list of ways to make extra income online without including that handy little device we all carry around every day. There're tons of ways to make money online, and it's the same with your phone. I'll include a few apps that pay you to do things like taking surveys and offers and even an app that pays you to receive text messages!
1Q (Paid To Receive Texts)
Swagbucks (Reward Site)
InboxDollars (Reward Site)
Paid To Complete Offers
One awesome way to make some extra cash online is by completing offers. There're tons of sites that say they pay you to join websites and try different services, but most are scams. Here's a list of legitimate sites that will pay you to complete free offers.
CashCrate – No Longer Available
Earning Station  No Longer Available
Paid To Take Online Surveys
Okay, I had to include Paid Online Surveys on this list because I've pretty much tried them all. Taking Surveys is one of the most popular ways to make money online. Most sites work about the same, sign up, wait for surveys, complete surveys and get paid.
Some survey sites pay cash and others pay with gift cards; it just depends on the site. Here're some of the online survey sites I've tried and been paid by.
CashCrate No Longer Available
---
How To Make A Larger Income Online
Hopefully, you enjoyed my list of legitimate extra income sites that I've used since 2009. Hopefully, you found an awesome new extra income site that you can join and make money with.
Since 2009 I've found another awesome way to make a much larger income online, it's blogging. I know you've probably seen it before and thought, man sounds like a lot of hard work. The truth is it is, but the income potential is well worth it.
If you're interested in learning more, I'd like to show you how to build your first website, drive traffic to that site, and make money with the website for free. You can learn more about the process and what you'll learn at Start Your First Profitable Blog.
Have you used any of these extra income sites? I'd love to hear your thoughts on the sites I've used and any recommendations of ways you make extra income online in the comments below.