2
Daily Transcription Transcriber Job Review: Is It A Scam?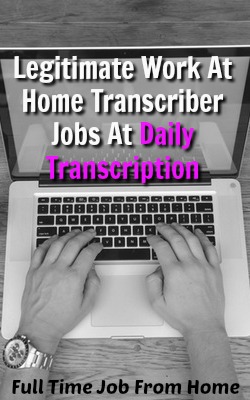 Daily Transcription is a company that deals with entertainment industry transcription and does hire a work at home transcriber job that accepts beginners. If you're interested in becoming a transcriber, Daily Transcription might be a good company to look into.
The Transcriber Job at Daily Transcription is not a scam if you can get accepted you'll have the ability to get work on a flexible schedule.
In this Daily Transcription Transcriber Job Review I'll cover the requirements, application process, how it works, how much you're paid, and how to get started with this transcription company.
---
Daily Transcription Requirements

The Daily Transcription requirements aren't laid out on their website like most sites, but it does say that novice transcribers are completely fine. Some other things you'll need is a computer with high-speed internet, quality headset*, and foot pedal*.
Pretty much as long as you have an interest in transcription and have a computer you can apply to work at Daily Transcription.
*It does not say that a headset and foot pedal are required, but most professional transcribers use these, and it makes the work much easier. Here's the Foot Pedal I highly recommend.
---
Daily Transcription Application
To start the application you'll need to fill out a form on their website. It does say that you need to attach a resume. If you've never held a position in a transcription company, don't worry, but if you've done any transcription work in the past on freelance sites, make sure to have that on your resume.
After filling out the form, you're redirected to a testing area, where you'll have to take a transcription test, just to measure your transcription skills.
Once you finish the test, they'll get in contact with you via email if you're accepted.
---
How Does Daily Transcription Work?
Working as a Daily Transcription Transcriber is on a when needed basis. There's no guarantee you'll get work, but when your help is needed you'll have the ability to accept transcription work. All work has deadlines. So although this is a flexible schedule job, you have to make sure that you're meeting deadlines.
Once your work is submitted and approved your earnings will be available, it looks like payments are made every two weeks via PayPal.
---
How Much Does Daily Transcription Pay?
Unfortunately, there's no exact amount you're paid, from what I can find. It seems that different types of files pay different amounts. From what I've seen from current workers the pay is fair.
Daily Transcription pays it's workers every two weeks via PayPal.
---
Daily Transcription Transcriber Schedule
Transcribing at Daily Transcription offers a flexible schedule, but keep in mind that all work has deadlines. You can work whenever you want once you receive work, but it needs to be done before the deadline date.
Also, there's no guarantee you'll receive work. This job is basically when needed, especially when starting out. It's smart not to rely on this as a full-time job and have some other transcription work to back up the down time.
---
Is Transcribing at Daily Transcription A Scam?
Daily Transcription is not a scam. They do pay their transcribers from what I can see.
All I can say is that this site is legitimate if you'd like to try and get a job here you can apply at DailyTranscription.com.
If you're interested in transcription, I have a few helpful links for you. Make sure to check out my WAH Jobs Directory for more transcription job leads, and there's a pretty awesome free 7 lesson course that you can take to learn more about transcribing at Transcribe Anywhere.
If transcription isn't for you, here's some other ways to make an extra income online.
Extra income is great, but I've been making a much larger income online building websites. Learn how you can start your first profitable blog for free at My #1 Recommendation.
Are you already a transcriber at Daily Transcription? Think Daily Transcription is a scam? Let me hear your thoughts on this review in the comments below!