I recently came across a site called Writing Jobs Online, so I figured I'd write a review to let you know you should stay away from this site. The URL of the site is writing-jobs.net, but the product that is sold on the page is called Writing Jobs Online.
Writing Jobs Online isn't really a scam, but it's a site you don't need to pay for.
All of the information provided in this course is covered on several blogs and articles around the internet.
In no way will this course help you land a writing gig or improve your writing, it's just going to give you lists of places you can go to find writing jobs.
If you're looking to make a full-time income online writing, check out My #1 Recommendation, it's how I made over $13,000 online last month!
Continue reading this Writing Jobs Online Review to learn more about what you get and the complaints I have.
---
Writing Jobs Online Review
Product: Writing Jobs Online
Price: $1 7-Day Trial, $27 Monthly
Verdict: Not Recommended 
In this Writing Jobs Online Review, I marked them not recommended. The site is not really a scam, they promise you freelance writing leads, and that's what they give you, but there's no reason to pay for this information.
It would be different if they have a very detailed training course that taught you how to be successful but that's not the case.
In my opinion, paying to access the information at Writing Jobs Online is not worth it.
---
What You Get With Writing Jobs Online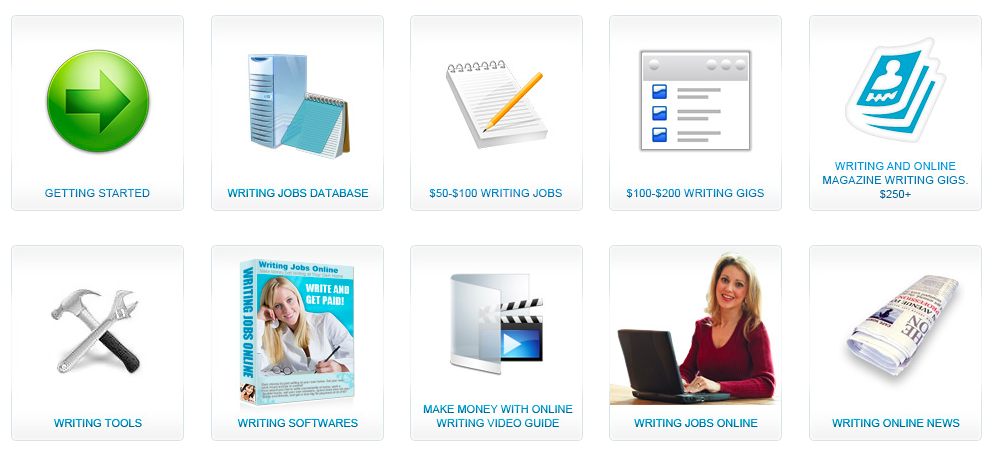 Getting Started: In this section, there are a few ebooks about where to find writing gigs and tips on how to be a freelancer. It's the information that's covered in the rest of the member's area but in ebook form.
Writing Jobs Database: On this page, you'll see a long list of databases and sites that you can join to find freelance writing gigs. No jobs are posted here, just links to other sites you can join and try to find writing gigs.
The list is good and mentions several sites I recommend, but you can find a list that's almost exactly the same for free with a simple Google search of freelance writing sites.
$50-$100 Writing Jobs: A list of blogs that pay writers for content. These sites pay $50-$100 per article. Here's an excellent free resource of over 92 sites.
$100-$200 Writing Jobs: A list of blogs that pay writers $100-$200 per post. Again just a list you'd still have to get your work accepted.
Magazine Writing Gigs: List of online magazines that occasionally pay writers for content.
Writing Tools: Oddly this is a list of tools for bloggers. No tools that really make sense for freelance writers.
Writing Softwares: List of wordprocessors you could use to write, for example, Google Docs.
Video Guide: A few videos and a text guide to looking for writing gigs on the sites they link to. Not really tips more of how to navigate a few of the sites they recommend.
Writing Jobs Online: A list of writing jobs they took right off a free to use job site called Just Jobs.
Writing Online News: Links to blog posts from "freelance writing" niche sites.
Extra Income: This is not in the picture above, but they do have a list of survey sites, other extra income sites, and a list of extra income sites that offer a signup bonus.
---
My Writing Jobs Online Complaints
It's Just A List Of Other Sites
Besides the fact you can find all this information for free, all that's in the member's area is a list of other sites. They don't have any exclusive writing gigs; they just send you to other sites where you can try to find writing work.
There's nothing that gives you an advantage when it comes to landing jobs, just a list of where to start your search.
Paying For Free Information
As mentioned, Writing Jobs Online is basically compiling a list of writing jobs and freelance sites inside the member's area.
Which is completely fine, but all the information can be found pretty easily online for free.
Writing Jobs Online does not have special writing gigs that are exclusive to them. They just take job postings off of other freelance sites, which you can join for completely free and see the job postings directly.
Immediate Upsell
One thing that I hate about internet marketing products is the Upsells. If you're not familiar, this is when you purchase the product, and immediately after you're shown a sales page that says here's some more training/information that you need and can get if you pay more.
This is basically saying, great that you bought our product but to actually be successful you need to buy our other product too!
When it comes to internet marketing products, you should pay one fee and get all the information that you need to be successful.
Here's a screenshot of the Upsell when you purchase Writing Jobs Online.
As you can see it's an upsell for $27, where they explain you could get this one-time extra product which will in return help you pay your bills.
---
Is Writing Jobs Online a Scam?
Writing Jobs Online is not a scam. It promises you writing job leads, and that's what it gives you. With that being said, all the information inside the member's area comes from other writing jobs lead sites. They are basically compiling information that you can find for free pretty easily.
For that reason, I can't call Writing Jobs Online a scam, but it's not a product that I recommend paying for especially the recurring monthly fee.
If you have zero knowledge of freelance website and how to get paid to write you'd probably learn of new sites you're not aware of, but again free options are out there that gives you, even more, writing gig options.
To see all of the legitimate freelance writing jobs available for free click here.
If you're interested in making a full-time income writing, check out My #1 Recommendation, it's how I made over $13,000 online last month!
If freelance writing isn't for you, make sure to check out these other helpful links:
Work From Home Jobs Hiring Now
How To Start A Blog and Make Passive Income
Extra Income Sites That Pay Me!
Do you think Writing Jobs Online is a scam? I'd love to hear your thoughts on this review in the comments below!
Summary
Reviewer
Review Date
Reviewed Item
Author Rating