WordsRU Review: Is Proofreading for WordsRU Legit?

WordsRU was established in Australia in 2002 to help writers, students, and professionals around the world with editing, proofreading, and writing services.
They do require experience and at least a masters degree, so this won't be for everyone. Make sure to check out Proofread Anywhere to learn how you can make a full-time income proofreading with no requirements!
Working at home editing is a great way to make money, but I prefer a much more passive way to work from home, check out My #1 Recommendation, it's how I made over $13,000 online last month!
In this review, I will tell you about the opportunity with WordsRU and tell you how to apply.
---
WordsRU Requirements
If you want to apply to WordsRU, you need to meet the following requirements:
You should have a Master's degree, Ph.D., or have the equivalent professional experience in any academic field
You need to have at least two years of professional experience as an editor, copy editor, or proofreader
You must be skilled in Microsoft Word, and the track changes feature
You should have experience in efficiently managing documents
You must be familiar with a minimum of two of the following:

Academic documentation citation and formatting styles (APA, MLA, Chicago Manual of Style, Turabian, and Harvard style)
Business documents (marketing, corporate communications, speeches, multimedia presentations, training guides, user guides, e-learning, and online help)
Manuscripts in all categories (novels, screenplays, short stories, poetry, biographies, and so on)
Familiarity with web content (website editing and analysis in terms of effective design, 508 accessibility, navigational ease, and SEO)

You should have the ability in at least one of the following applications (they list these as optional, but if you do know these applications, then this opportunity is probably a good fit for your skills):

Adobe Acrobat Vs 8 (Professional) for editing PDFs
Adobe InDesign
Adobe Framemaker
DITA and Arbortext Editor
QuarkXPress
Final Draft
Movie Magic Screenwriter
LATEX

You need to have reliable access to the Internet throughout the day
You should be committed to high-quality editing
You must be responsible
You should have a flexible attitude
Able to work well under pressure
Ability to adhere to deadlines
You should be able to consistently provide superior work
Must be willing to work as an independent contractor
You must have reliable high-speed Internet
Before sending your resume to WordsRU, please make sure you meet the requirements listed above.
---
WordsRU Application Process
WordsRU is currently accepting resumes from qualified applicants. They are looking for editors from any country. They specifically state a need for editors who can work on weekends.
If you meet the qualifications listed above, and you want to apply to be an editor for WordsRU, send your resume or CV to jobs@wordsru.com. Be sure to include a cover letter with your email.
They claim to receive many job interest emails, and they say they won't give personal responses to everyone. Unfortunately, they also ask that you don't follow up once you've submitted your email. If they are interested in your resume, they will contact you to continue the application process.
---
How Much Does WordsRU Pay?
They claim that payment rates will only be discussed personally with successful applicants.
Last Month I Made

$13,841 Online
I Bet You're Tired Of Making Pennies Online. No More BS. If You're Serious About Making A Full-Time Income Online You Need To See The TRUTH. Stop Wasting Your Time With The Next Big Thing When There's Already A Proven Method That Works!
---
What Kind of Jobs Will You do for WordsRU?
WordsRU provides editing services for academics, writers, and professionals.
You will correct grammatical, spelling, punctuation, tense, and typographical errors. You'll also review word choice, as well as sentence and paragraph structure, to ensure proper flow and that the topic advances to a conclusion.
You will NOT do research, write, add or alter content. But you can make recommendations for improvement. You'll be expected to be available to the client for follow up questions, in case they want to review your edit suggestions.  You might be asked to do a second review of certain passages after the client has looked at your suggestions.
If you're editing for a writer, you might get more into some actual writing. WordsRU claims to help with everything from light proofreading to a major overhaul.
You could also edit and provide writing and proofreading services for businesses. You might review a client's website for clarity and quality. Or you might proofread training manuals or presentations.
---
WordsRU Schedule
WordsRU offers editing and related services with a deadline.
As with most independent contractor positions, your schedule will be what you make it. As already stated, they need people to work weekends, so you can probably get more work if you can work some weekend hours.
When a client submits a project, an editor is assigned to them who is most suitable for the job. The amount of time you are given depends on the length and condition of the piece. WordsRU claims they can return a 2000 word piece in 24 hours.
They do suggest to the clients to allow an extra day so that they can collaborate with the editor to ask or answer questions. You aren't necessarily returning a completed paper.
---
WordsRU Feedback
I scoured the internet for job reviews for WordsRU. Unfortunately, I didn't find much of anything. I did find many reviews of users, though, which tells me that people are using WordsRU for their editing services. And as long as people are using their services, the jobs will be there.
---
Is Writing for WordsRU a Legit Opportunity?
Based on my research, I believe that WordsRU is a legitimate opportunity. If you want to be an editor and you meet the qualification requirements listed above, make a cover letter and send that along with your resume to jobs@wordsru.com.
Again, WordsRU has some strict requirements which doesn't make it an option for beginners. We highly recommend checking out the course at Proofread Anywhere. They will teach you how to find high-paying clients and you don't need to meet any requirements!
If you're not interested in this opportunity, check out these helpful links for some other ideas:
How I Made Over $13,000 Online Last Month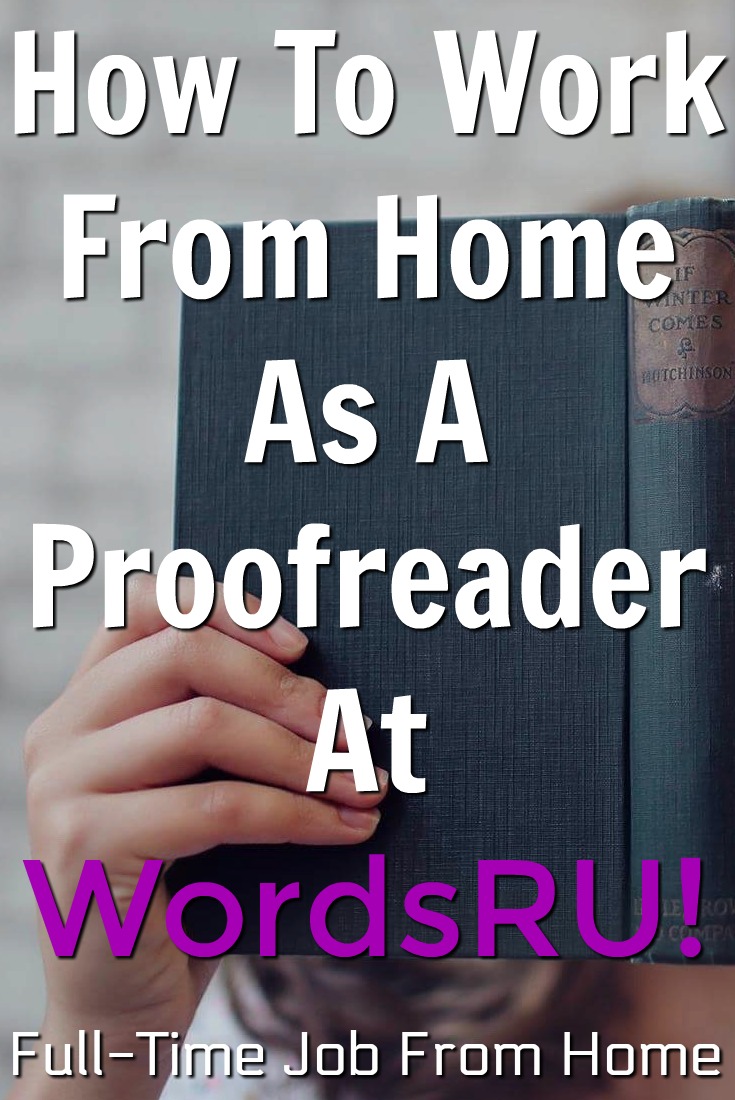 Summary
Reviewer
Review Date
Reviewed Item
Author Rating