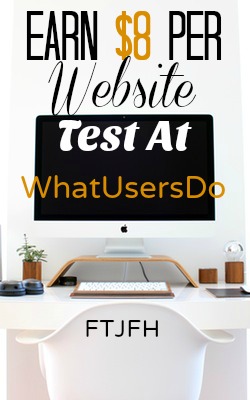 Most of you already know I've been reviewing a lot of usability testing sites lately. Today I have another called WhatUsersDo and will show why this site is not a scam.
If you've read some of my other usability testing reviews there isn't much new here, but What Users Do is a good site to combine with others.
Please understand that testing websites won't make you rich, even though you get paid $8 per test there are only a few tests per week, which limits how much you can earn. If you're looking to make a large online income, check out My #1 Recommendation, it's how I made over $13,000 online last month!
In today's review, I will cover the requirements, what a typical test is like, how much you get paid, and how to apply.
Let's go ahead and get started. Here is why WhatUsersDo is not a scam.
---
WhatUsersDo Requirement & Application
WhatUsersDo accepts US and UK applications. The requirements are pretty simple. For US members, a PayPal account is the only form of payment. You must speak/read English and have access to a computer with microphone and webcam. Aftermarket webcams are fine, I recommend this high-quality webcam.
To start the application process you'll need to fill out a form on their website. This has basic demographic and payment information. After you submit the form you'll need to complete a sample test. This is a super easy test, they lay out exactly what they expect and have a guide to give you an idea of what to expect. If you pass the sample test you'll be accepted.
After you're accepted you'll need to complete your demographics profile, another 20 questions of basic information. Once complete you should start receiving tests as soon as they're available.
---
How Does WhatUsersDo Work?
If you've done any usability testing in the past, WhatUsersDo is very similar. Once your accepted you'll begin to receive tests straight to your email. Click on the link and you'll see the information about the test.
You'll be required to visit a company's website and complete a series of tasks. This could be adding items to your shopping cart, navigating to a certain page of the website, or choosing sizes and colors of certain items.
WhatUsersDo will record you through this process via webcam. As you complete the tasks provide what you liked, what's confusing for you, and any recommendations on what should be changed to improve the website.
When you're done with the test, usually take 10-20 minutes, submit your response. After they approve your response funds will be added to your account.
Like I said nothing new here if you're familiar with usability testing and if not, it's an extremely simple process.
---
How Much Does WhatUsersDo Pay?
WhatUsersDo pays $8 per test you complete, which is a bit less then most usability sites that pay $10. They do have some shorter tests that pay less then $8, but they do inform you of this before hand.
What Users Do pays with PayPal. They pay monthly on the 25th of the month with no minimum cash out amount.
I mentioned What Users Do is available in the UK. UK members also have direct deposit as an option for payments.
---
How Many Tests Will You Receive?
There is no exact answer to this question, but it seems like most members are receiving 1-4 tests each month. It all depends on your demographics and what the company is looking for. I'm a member of a few usability testing sites and I usually receive 1-2 a month.
For this reason What Users Do and other usability testing sites need to be combined to make a decent income. Even if you join all 11 usability sites I recommend you won't have enough tests to make a full-time income.
With that being said, if you combine a few of these sites you can make an extra $100+ a month, which is a decent online income taking tests that take 20 minutes or less to complete.
---
Is WhatUsersDo A Scam?
WhatUsersDo is not a scam. They actually hire people to complete usability tests and pay. They don't pay the highest rate in the industry, but as I mentioned above, you'll need to combine a few of these sites to make as much money possible taking tests.
Personally, I don't use WhatUsersDo, mainly because I don't have time to take all the tests so I choose to be a member a few of the higher paying sites on this list.
If usability testing sounds like something you're interested in then WhatUsersDo is a good option even though it has a lower pay rate.
To learn more or to start the application visit their website.
To see the extra income sites that I recommend combining with WhatUsersDo to build a decent online income, visit all scam free jobs. If you're looking to ditch your 9-5 job and work at home with no boss visit Start Your Own Online Business.
Thanks for checking out my review on WhatUsersDo! Have you done usability testing in the past? Have something to add about What Users Do? Let me hear your thoughts below in the comments!
Summary
Reviewer
Review Date
Reviewed Item
Author Rating