The Instant Payday Network opportunity has been around for a while and it is growing rapidly. Tons of people are promoting it all over the internet. From social media sites, classified sites, and blogs. In this article I will be going over what is instant payday network and come to a verdict on is instant payday network legit.
Before I go any further I did use the instant payday network system for about 3 months. I did make money with the system and I did use all training provided. I say this just because there are tons of reviews on the internet that claim that a product works, when really the reviewer just joined today and are looking to make their first $1 with the program. And even more reviews by people who tried the system for 3 days, didn't make any money and then bash the crap out of the thing.
Now that we got that out-of-the-way let's take a look at what is instant payday network and see if this company is legit!

---
What Is Instant Payday Network
Instant Payday network is a multilevel sales funnel. It consists of 4 main steps. You can see these listed below. The key to this "system" is people completing all the steps in the system. When signing up for the instant payday network system you receive your own email capture page that leads into the four step system page, where visitors are directed to sign up for all four steps for free.
1)  Instant Pay Day Network Email Capture

2) Express My Cash Freebies
3) Double My Cash Freebies
4) Empowerment Network
Instant Payday network tells you if you complete all 4 of these steps for free you will be able to make money, but really that is not the case. I will touch more on this in the next section.
---
How You Get Paid With Instant Payday Network

The way you make money is very simple, all you need to do is refer people to join the programs Express and Double my cash freebies (step 2 & 3) and you receive credits. Here is the catch, before your eligible to make any money, you must complete at least one Free* credit card offer. Sometimes it takes 2 different offers to make up enough points to enable you start making money.
You probably saw that I put * next to Free above. Well that is because all the offers say they are "Free Credit Card Offers", but I have found that most of them do need some sort of payment. Some are greatly discounted payments from the regular service charge, but still its advertised as a FREE Credit Card Trial.
Once you have completed your offers you can start making money. They give you your own landing page and do give you some training on how to customize it and market the program, but still I have a few problems with this system that I will mention below!
---
My Experiences
In this section I am going to give you my honest opinion on all four steps in the Instant Payday Network System. Keep in mind that I did try this program for 3 Months and made $60.00.
Step 1) Instant Payday Network: This part of the 4 step system includes the email capture system and has the bit of training they offer. Honestly this part of the system is not bad. It actually is free and gives you a landing page.
The only thing I don't like about this part is the landing page includes BS! If you have read my article on How To Avoid Online Scams I touch on some things that most scams say. This program tells you its easy, only takes a few minutes of your day, and of course you can make $1000s of dollars a week.
Not to say that could not be done, but for a beginning online marketer or someone who doesn't have a great way to generate traffic would never get this program off the ground.
Step 2 & 3) Express & Double Cash Freebies: I touched on this before, but it bothers me so much that I decided to leave the program. You can't tell people all you have to do is sign up for a Free Credit Card offer and then expect them to pay for the offers (I guess you can, as long as you won't lose any sleep over it). Once people get lied to and don't trust you, your pretty much as good as a pile of crap!
This is the main reason I left the instant Payday Network system. I was looking for a legitimate online job, not something where you have to lie to earn $20 from a gullible person on the other side of the computer screen!
Step 4) Empowerment Network: DON'T join! I have done a review on the Empowerment Network in the past and if you read it, you know that I am not a fan. After reading this review if you still feel like the Instant Payday Network System is right for you please stay away from step 4!
First off it is going to cost you a minimum of $45 to start, once you get inside get ready to be bombarded with tons of up sales to get secret information that you need to be successful. Let me tell you its all BS and none of it is worth paying for!
Another Misleading Portion of This System
I mention above that the intro video says it is easy and you can make tons of money. The video actually shows the owner of the systems PayPal account with all of his earnings. I am not going to say that it is impossible to become as successful as him, but it is very unlikely.
See the key to this system is driving traffic to your landing page. Without any online marketing knowledge you will probably start by just posting ads on Craigslist, which isn't going to make you much money.
To be successful at this you will need a website or blog that receives tons of traffic. On that website or blog you would then promote the instant payday network. Here is where it gets misleading to have a website in place that gains tons of traffic and to really make money with this system will require tons of work and tons of your time. If you remember correctly the intro video promised you the exact opposite….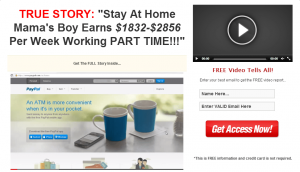 ---
Instant Pay Day Network Review
Website: Instant Payday Network
Price: Step 2) around $10, Step 3) around $20, Step 4) Lowest Price $45 with major up sales! Total beginning Price: $75
Score: 65 out of 100
Verdict:
Scamish

!

I know I made up a new word, Scamish. But I can not say that this program is a complete scam. I did make $60 with this program and the free instant payday network email capture system does run correctly. But if you're looking to be honest and really help others make money online this is not the correct program for you. Plus if you want to use the whole system it will cost you some money.

My recommendation is stay away from this program. It is not worth your time, effort, and money!
---
How It Compares To My #1 Recommendation
Although I did make some money with this system I really don't recommend it. I really didn't make that much money for the work I put in plus you pretty much have to use people and lie for it to be effective. So it was something I was not interested in.
Now I make money online the honest and correct way with Wealthy Affiliate. You can see how Instant Pay Day Network compares to Wealthy Affiliate below.
---
What To Do Now?
I am no longer affiliated with Instant PayDay Network, but if you would like to join visit instantpaydaynetwork.com. I don't recommend it because there are better ways to make money online, but the choice is yours. If you agree with me and don't want to scam people you can check out my All Scam Free Jobs post. This is a list of all the small supplemental income jobs that I have marked scam free.
If you're more interested in a full-time income online, there is no better way to do it then my #1 recommendation. On that page I will show you how I started my online business and how you can do it too.
Thank you for reading my post on what is instant payday network. In my eyes Instant PayDay Network is not legit and I have shown you why in this review. If you have experience with this company I'd love to hear more about it in the comments section below!
Summary
Reviewer
Review Date
Reviewed Item
Author Rating