The VOIQ App, pronounced V-O-I-Q, is an app that pays you to make calls from your smartphone. You'll make calls for companies; it will be your job to ask a few questions and collect information from each contact.
The VOIQ app pays you $.30 for every call minute, so it's a decent rate for a very flexible position. There're some requirements that you'll need to meet to become a VOIQ Call Agent, so this is not for everyone, but if you have some calling experience you should get accepted.
Please understand that this doesn't seem like it's possible to do as a full-time job. If you're serious about making a full-time income online, check out My #1 Recommendation, it's how I made over $13,000 online last month!
In this review, I'll cover how the VOIQ app works, how much you earn, the requirements/application process, and if this is a legitimate work at home opportunity.
---
VOIQ Call Agent Requirements
To become a VOIQ call agent, there're a few requirements. The main requirement is 2-5 years of call center experience, they say that they prefer it is sales or lead generation, but any call experience will work.
Calls will need to be made from your smartphone so you'll obviously need an iPhone or some smartphone that has access to the Google Play Store. They also recommend a pair of headphones, so you won't have to talk on speakerphone (you need to look at your screen during calls).
---
VOIQ Call Agent Application Process
If you meet the VOIQ requirements, you can apply online or inside the mobile app. You'll receive an email with further instructions. Inside that email, you'll be prompted to describe and prove your call center work history.
It seems that most people who have call center experience do get accepted, but if they have no need for more agents, you may be put on an agent list to be contacted in the future. If they're currently hiring, they'll contact you and get your started making calls.
---
How VOIQ Works
1) Choose A Campaign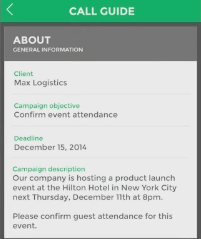 Once you're accepted as a VOIQ call agent, you'll see a list of campaigns available inside the app. Campaigns are the different lists of contact that are available for calling. A Campaign can have different amounts of contacts, but you'll be paid by call minute, so it doesn't matter how many contacts are in a campaign.
2) Review Call Guide & Script
Once you find a campaign, you'll see a call guide and script. On this page, you'll see why you're calling the contacts and what information you'll need to collect to get
paid. Most Campaigns have exact scripts that they'd like you to follow that can make it much easier to obtain the required information.
If you're happy with the guide and script you can accept the campaign and begin to make calls.
3) Make Calls & Collect Information
Once you accept a campaign, you'll start to make calls to collect information; again you'll need to see your screen, so you'll need to talk on speaker phone or get a pair of headphones. There're a few different ways to mark calls, so I've covered them all below:
Answered and Collected Information: If the contact answers, you'll go through the list of questions and record their answer directly inside the app.
Busy Signal: If you get a busy tone
Bad Number: If you get invalid number error
No Answer: If no one answers and they do not have a voicemail
Left Voicemail: No one answered, and campaign wants you to leave voicemail
Not Contacts Number: Someone else answers the phone (not the contact)
Contact Asked to be Removed: They probably weren't happy and weren't very nice
Asked to be called back later: Asked to call back later
After making a call, you'll select from one of these options, then move on the next contact until every contact in the campaigns been reached.
---
How Much Do VOIQ Agents Make?
As a VOIQ Call Agent, you'll get paid $.30 for every minute of active call time. Since you only get paid for active call time, you won't be making $18 an hour. I'd say if you worked for an hour, after taking out the downtime you'll earn $8-$12 per hour. Your rate of pay will all depend on how many people answer and how long those conversations take. Each hour you work will probably pay you a different rate but should fall somewhere in that range.
Once you earn $1 you can request a payout. Once you request a payout, the Quality Assurance team will listen to all of your calls and approve your work. If all goes well, you should have money in your PayPal account within 72 hours of cashing out.
They do say to contact them if you do not receive payment within 72 hours because there's probably an issue.
---
VOIQ Call Agents Schedule
VOIQ is one of those work at home jobs that has an extremely flexible schedule; you can pretty much open the app and make calls at any time during the day. There's no minimum or maximum time you must work.
One thing to keep in mind is that you'll be calling real people, so calls need to be made during the day, not 2 am. There also needs to be campaigns available; you may open the app and have no work available.
---
VOIQ Review: Is It A Scam?
I have to say that the VOIQ Call Agent job seems to be completely legitimate. They refer to this as a work at home job, but it seems to be more of an extra income time filler. You do need to have experience to get accepted, but I don't think there's enough work to make this a full-time work at home job.
As long as you're not relying on this opportunity as your main source of income, it should be a pretty flexible job. If you'd like to get started, visit VOIQ .com and apply!
As I mentioned, this seems to be more of an extra income app, here're some other legitimate extra income sites that I highly recommend.
Extra income is great, but have you learned how to make a larger income by starting your own website/blog? Here's My #1 Recommendation for starting your very own website for completely free.
Have you applied to be a VOIQ Agent? Have some experience with this Work At Home Calling Job? I'd love to hear your thoughts in the comments below!
Summary
Reviewer
Review Date
Reviewed Item
Author Rating