2
The Beginners Guide To Finding A Work At Home Job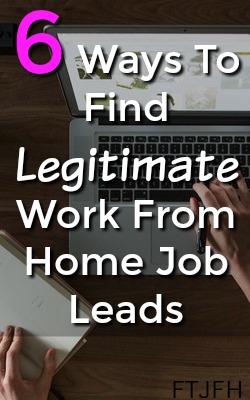 Finding a job from home seems like a dream right? Not having to wake up to the beeping of an alarm clock every morning, laying around in your PJs all day, do a little work on the computer.
Sounds great, right?
Those reasons all sound great, but in reality, you are probably looking for a work at home job because you want to stay home with your kids, you already stay home with your kids but the budget of one income is tight, or some other reasons like health or paying off debt.
Finding a legitimate work at home job seems like a needle in a haystack with screenshots of PayPal accounts showing significant deposits with promises like "I only work 15 minutes a day."
Let's be real: you know it's fake, but it's hard not to get suckered in when your searches for work at home jobs are turning up less than stellar results.
But it doesn't have to be this way.
Today, I'm going to show you how you can search out those elusive work from home jobs and be confident that you are finding reputable companies to work for.
Make sure to check out the Work From Home E-Course We Recommend.
---
6 Ways To Find Legitimate Work From Home Jobs
Flexjobs
Flexjobs is a site that has job listings for remote jobs. This is a great way to search for jobs in your industry making it an easy switch from your day job to a work from home job. In order to see these listings, however, you do have to sign up for an account which has a couple of different membership options, the lowest starting at $14.95 a month.
This can definitely be worth the membership if you have specific job experience you are hoping to use when you find a work at home job. It is easy to cancel your membership if you aren't able to find anything or you do find something quickly and are no longer job searching.
Last Month I Made

$13,841 Online
I Bet You're Tired Of Making Pennies Online. No More BS. If You're Serious About Making A Full-Time Income Online You Need To See The TRUTH. Stop Wasting Your Time With The Next Big Thing When There's Already A Proven Method That Works!
LinkedIn
Linkedin is probably one of the most overlooked social media platforms, but if you are looking for a new job, this is where you want to be.
First of all, it's a great way to promote your experience. Again, this will come in handy if you are hoping to use your current experience to find a work at home position.
Fill out the profile, work experience, and start applying to jobs on the platform by using the search feature of the site.
Linkedin also allows people to endorse your job skills. This is a great way to have social proof that you can do what you say you can. Reach out to employers and colleagues who are happy with your work.
Company Website
Do you have a favorite brand or company whose products or services you love? If you've never made it to the bottom of their website before, check it out now.
Most have a careers section on their website which will list current openings. If you love the brand and love to sing their praises, you may make a good customer service rep. The is one of the most common remote jobs you will find from big companies.
There are usually looking for telephone, email, and chat reps to help their customers. If you like talking with people, this could be a great position with a company you love
Check out our Work At Home Job Directory to see big companies you love hiring now!
We Work Remotely
We Work Remotely is a free job board that lists remote positions from many different companies. Companies pay to have their jobs listed on the site. Jobs that will be found here usually developers, technical support, marketing, copywriting, plus more.
This would be a great site to use if you are looking for a specific job in those areas. They seem to get a few new listings a day so check back often to make sure you are one of the first to contact them if you find something you are interested in.
Job sites
Jobs sites such as Indeed, CareerBuilder, ZipRecruiter and more allow you to search for remote jobs. Simply type in the industry and type in remote for the location to see what they pull up.
If you don't narrow down what you are searching for you will have a lot of jobs to sift through. It could give you an idea as to what's out there, but if you are looking for something specific or trying to avoid certain types of jobs, it's best to have something to search for.
Use the form below to get daily targeted work from home job leads!
Liveops
Liveops hires call center representatives in multiple industries. One thing to keep in mind is that they require telephone and other technology requirements. You have to be able to have a quiet space to work and receive calls from. This probably won't be a good fit if you have children at home during the day.
---
Finding a legitimate work at home job is becoming easier due to the popularity for both employers and employees. Many companies are seeing the value in hiring people to work from home especially in regards to customer support.
It's important to keep in mind your limitations and expectations when you begin your search for a work from home job. Knowing when you are available to work and what your workspace is like will help you determine the right fit for you.
Many large companies are hiring work from home agents, check out their websites as most will list job openings. Having an idea of what you are looking for or what you are trying to avoid will help you narrow down your options and find the right position.
Have you had any luck with job search on the following sites? We'd love to hear about them in the comments!
New here? Make sure to check out these helpful links to other ways to make money from home:
Extra Income Sites That Pay Me
How To Start A Profitable Blog