9
TestingTime Usability Testing Review: Is It A Scam?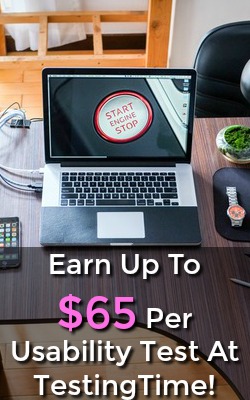 I recently came across another site that pays you to give your feedback on websites called TestingTime.
It's a UK company, but it looks like it's available in most countries. With that being said, each usability test does have requirements, even though you can join does not mean you can qualify for tests.
If you're new to usability testing, check out this list of usability testing sites where I give a detailed explanation.
TestingTime is what I consider an extra income, there're just aren't enough tests to make a full-time income. If you're interested in a full-time online income, check out My #1 Recommendation, it's how I make over $13,000 a month online!
In this TestingTime Review, I'll cover the requirements, how to sign up, what taking tests are like, and make sure it's not a scam.
---
TestingTime Review
Site: TestingTime

Type: Usability Testing
Verdict: Legitimate
In this Testing Time Review, I marked them legitimate. Just like taking surveys, the key to making money is qualifying for studies. If you're not what they're looking for you won't be able to take a test and earn.
Last Month I Made

$13,841 Online
I Bet You're Tired Of Making Pennies Online. No More BS. If You're Serious About Making A Full-Time Income Online You Need To See The TRUTH. Stop Wasting Your Time With The Next Big Thing When There's Already A Proven Method That Works!
With that being said, this seems to be a site that offers a wide variety of tests that vary in length and pay.
Overall it's a pretty good site as long as you can qualify for the studies.
During tests, your voice and face are recorded. If you're not comfortable with that usability testing is not for you!
---
TestingTime Requirements and Joining
The requirements for Testing Time are very simple. They're looking for ordinary consumers you do not have to have any particular skills or knowledge. You will need a computer with internet connection, Skype, a headset, and webcam.
If you can meet the requirements, you can join at TestingTime.com. Just enter your email and fill out your profile. The whole process should take less than 5 minutes to complete. Once you sign up, TestingTime will send you study notifications via email when they're available.
---
TestingTime Usability Tests
Once you sign up, TestingTime will send you study invitations via email. Just because you get invited does not mean you get to complete the study. When you get an email invitation, you'll see how much it pays, how long it will take, the requirements, and a link to the usability test.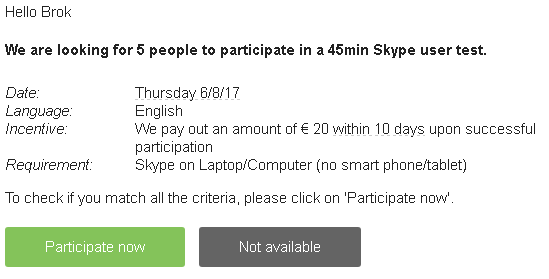 If you click on the link, you'll be asked a few screening questions. If you qualify, you'll be able to complete the test and give feedback.
Tests vary a lot on this site, but most take 30-90 minutes and pay $25-$65. Most of the tests will require you to answer specific questions about a website/product. They usually give you specific tasks to complete and give your feedback on too.
During the test, your voice and face will be recorded. If you're not comfortable, this is probably not right for you.
Once you complete the test, you'll get paid within 7-10 business days.
---
How Does TestingTime Pay?
As mentioned, each test ranges in length and pay, but the highest paying ones are around $65. Once you complete a test, you'll get paid 7-10 business days after. They offer payments via PayPal or Direct Deposit.
---
Is TestingTime a Scam?
TestingTime is not a scam; it's a legitimate usability testing site that pays very well. The two big concerns are qualifying for studies, and some people won't like being recorded. As long as you're comfortable with it, this should be a good site to use giving your opinion.
If you'd like to learn more or to join, visit TestingTime.com.
Usability Testing not for you? Make sure to check out these easy ways I make an extra income online! Extra income not enough? Learn how you can start your own online business it's how I make over $13,000 each month online!
Do you think TestingTime is a scam? I'd love to hear your thoughts on this review in the comments section below!
Summary
Reviewer
Review Date
Reviewed Item
Author Rating