Survey Den Review Don't Pay For This Scam!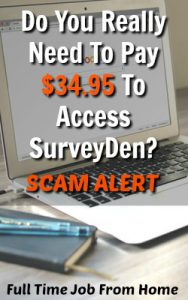 Survey Den is another one of those list of survey site scams. I have reviewed a few in the past and this one is no different from the rest.
What Survey Den is doing is promising you a way to make more with survey sites and they have a secret way to do so plus surveys that pay more than anyone on the internet.
Truth is, all of that is a lie, but don't worry in this Survey Den Review we will be taking a look at exactly what they are doing to make you fall for this scam.
---
Survey Den Review

Website: SurveyDen.com
Price: $34.95
Score: 10 Out Of 100
Verdict: SCAM!
I gave Survey Den a very low score and have come to the verdict that Survey Den is a Scam. The reason for this is they are very misleading in what you're actually getting when buying and what you get is information that is found for completely free all over the internet.
Survey Den is a complete scam and I would recommend staying far away from this company or any survey site that requires you to buy a membership to take surveys.
Last Month I Made

$13,841 Online
I Bet You're Tired Of Making Pennies Online. No More BS. If You're Serious About Making A Full-Time Income Online You Need To See The TRUTH. Stop Wasting Your Time With The Next Big Thing When There's Already A Proven Method That Works!
---
What You Get With Survey Den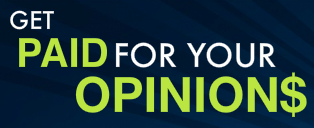 When purchasing survey den you're not really getting what they promise. The promise is a way to make more money through online surveys and access to surveys they give you that pay more than any other site on the internet.
The truth is your paying for a few helpful tips and a list of survey sites that don't pay any more than other sites and is found for completely free anywhere on the internet and even on my site here. 
---
Why Survey Den Is A Scam
Sales Page
With most scams on the internet their sales page has some pretty misleading information. Survey Den's sales page actually isn't that bad, but I was able to find some false advertising which you can see below.
You can see that the picture sales that you can earn anywhere from $5-$175 an hour taking online surveys. That is simply not true. Most surveys pay anywhere from $.50-$5. With the higher paying surveys usually taking over an hour. This means that usually the most you could make is about $5 an hour.
That is base case scenario, most people won't make more then a few bucks an hour. I bet you wouldn't do any other job for that pay!
Whole Concept
Survey Den is very misleading with what you will actually receive when buying and the concept is bogus. Basically what they are doing is selling you a list of survey sites.
Survey Den will never send you a survey or pay you for taking surveys. You will have to join the sites on their list, and those are the sites that actually send you surveys and will pay you for taking surveys.
So basically your paying money for a list of surveys that is found for free!
Training
One promise Survey Den makes is that they can teach you how to make more with surveys and have the highest paying surveys online. We already know that the survey sites they recommend are normal sites that are found anywhere so what about this secret training.
Here is what's included in the training:
Set up a separate email
Download Robo-Form
Join all the sites on the list
As you can see there is nothing in the training that is a secret way to earn more. That is because there is no secret.
Survey List
Survey Den has about 100 sites on their list. I know that there are only a few really good legit survey sites out there so that means that their list has a ton of sites that aren't worth a crap.
They do include the few good sites that I actually recommend like PaidViewpoint, CashCrate, and Swagbucks. Other than that the survey site list is full of crappy sites.
Not to mention you just paid for a list that is found for free!
Stealing From You Twice
One thing that most people don't realize is not only are they charging you to get access to their list, but when you join a site on their list you become their referral.
This means if you earn $10 from taking surveys they are earning some sort of commission on your survey income.
Why would you want to pay the people who scammed you twice! I sure wouldn't!
---
Should I Buy Survey Den?
Within this Survey Den Review we have covered a lot of information about this product. I have come to the conclusion that Survey Den is a scam and have shown you why.
I highly recommend that you stay away from this product because it will be a complete waste of your time and money.
Please keep in mind not all survey sites are scams. There are a few that I actually recommend which you can see on my All Scam Free Jobs Page along with other scam free opportunities.
Also all survey sites that require you to pay for a membership are complete scams. All the scam free survey site are completely free.
I hope you enjoyed my Survey Den Review please share with your friends and leave comments if you have any questions.
Don't forget to check out how I make a full-time income online by visiting Start Your Own Online Business and my Wealthy Affiliate review!
Summary
Reviewer
Review Date
Reviewed Item
Author Rating