I've been looking at this company since May 2018, and it kept showing no openings. But they have openings now! Once called Book in a Box, now Scribe Media, they have two open freelance positions: Manuscript Proofreader and Scribe (writer.)
Landing a writing job can be difficult if you're looking for experience, you might be interested in the course at 30 Days Or Less To Freelance Writing Success. They will teach you how to find high-paying jobs to gain experience and make a solid income in the process!
Freelance writing at Scribe Media seems to be a great gig, but I prefer to make a large passive income writing for myself. If you're interested in making a full-time income writing, check out My #1 Recommendation, it's how I made over $13,000 online last month!
In this review, I will talk mostly about the Scribe opportunity, the requirements, how to apply, the pay, and the feedback from current and past scribes.
---
Scribe Media Freelance Jobs
The proofreader for Scribe Media is responsible for finding every little spelling error, typo, and irregular punctuation. It is your job to ensure a perfect manuscript.
The job they call Scribe is also known as a ghost-writer or co-writer. I think they're really proud of this job offer. They refer to it as a dream job for experienced editors and writers. You'll have the opportunity to work with and learn from world-class writers.
You only spend time on the things you like – interviewing, writing, and editing. You don't have to find your own clients, negotiate pay, or talk about the project scope. Scribe Media handles all of the administrative tasks.
Several times a week, you'll see new book projects that you can bid on. You'll only bid on what you are interested in working on. When you get a project, you'll work within the boundaries of the Scribe Media process, but other than that, you'll have a great amount of flexibility to do the writing work. With four months to work on each project, you'll become a mini-expert in the topic.
---
Scribe Media Requirements
Here's what Scribe Media thinks are the necessary skills to be a scribe:
High-level book experience:

To be considered, you should have at least 10 years high-level writing and editing experience
Your experience should include positioning and structuring books
You should have experience working on several successful books
While credentials are not required, they will be helpful in your application

You need to be an excellent writer and editor (an obvious requirement, but they want to be clear, you should be a really good writer and editor)
You need good people skills (since you'll need to interview the authors, it's very important that you have good people and interview skills)
Since you'll be on the phone regularly with the authors, you'll need to be comfortable on the phone
Able to listen carefully and understand what the author is trying to convey
Ability to ask pertinent questions to help pull relevant details from the author
Willing and able to help the author fully explore and explain their ideas
You must be organized and detail oriented
---
Scribe Media Application Process
Scribe Media admits that the application process is long and drawn out. They have worked with thousands of writers, and at this point, they know what they are looking for and what is needed to make a good scribe. So be patient and follow their process.
If you want to apply, go here and scroll down to the Apply to Position button. If this isn't right for you, but you know someone who would be perfect, refer them and get a $2000 referral bonus!
But about the application. Here's what you will give them:
Name, email, and phone number
Experience summary
Upload resume
Have you ever written a book proposal that a publisher bought (if so, link to the finished product on Amazon)
Have you ever ghost-written or co-written a book (if so, link to the finished product on Amazon)
Have you ever been the editor for a published book (give Amazon link)
If you have an online portfolio, give them the link to it
They will get back to you within two weeks. They ask that you don't follow up any sooner than that, to give them time to review your application thoroughly.
---
How Much Does Scribe Media Pay?
Scribe Media pays $60-70 per hour. Yes! Actually, they claim that this "low" hourly rate is because they are doing all of the dirty work, finding clients, and doing other necessary administrative tasks that would otherwise cut into your paid work time if you were doing this on your own.
---
When Does Scribe Media Pay?
Your pay is based on the hours you work, and you get paid regularly throughout the project. When you're done with a project, you move on to the next one. They guarantee that you get paid quickly.
---
Scribe Media Schedule
You can work anytime you want with Scribe Media. As long as you're meeting deadlines and producing quality work, they are happy to let you work anytime you want.
---
Scribe Media Feedback
I read the word "bullshit" at least twice on the Scribe Media website. You don't need to write or talk this way, but if that makes you uncomfortable, just be prepared that they have this no-nonsense, casual writing style on the website.
I found very thorough feedback on Glassdoor from 3 current freelancers. Two of the reviews basically think it's the best gig out there! The other one feels like there's some shady stuff going on. It's still a new company and it sounds like there are frequent changes that could create an unfavorable perception. Here are some of the pros and cons.
Pros:
Steady work
Excellent pay
Exciting culture
Conference calls monthly, email updates weekly, and constant contact via Slack
Rewarding projects
Cons:
Because they are new, many processes are still evolving and changing
One review says they are rushing to grow
---
Freelancing for Scribe Media a Scam or Legit?
Based on my research, freelancing for Scribe Media is not a scam. If you're a skilled writer and meet the qualifications listed above, you should totally check out this opportunity! Go here to apply. If I were qualified, I would have applied while writing this post!
Landing a job at Scribe Media can be difficult, in the meantime, if you're interested in building your resume with high-paying freelance projects make sure to check out the course at 30 Days or Less to Freelance Writing Success!
If high-level writing isn't your thing, check out these helpful links for some other work at home ideas:
Where I Learned To Make Over $13,000 Blogging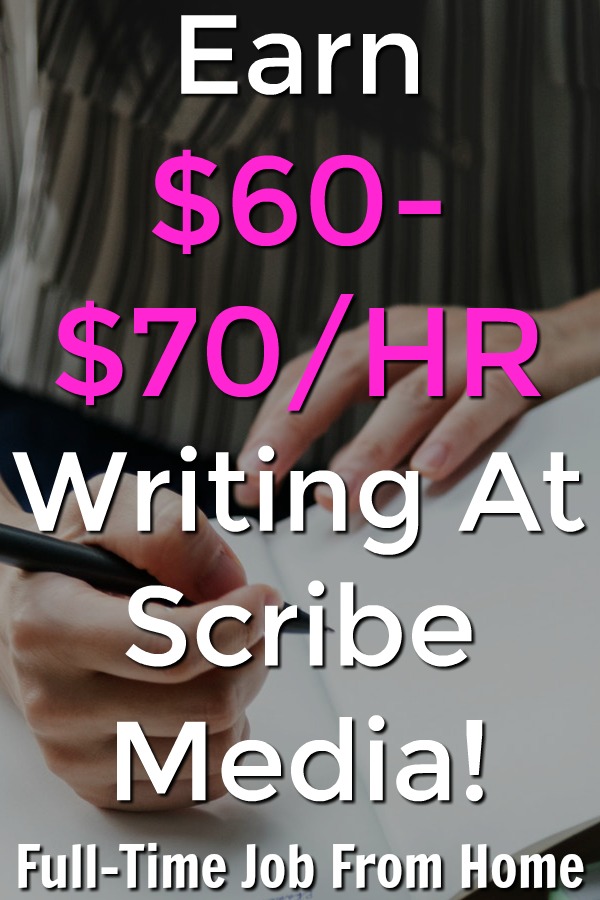 Summary
Reviewer
Review Date
Reviewed Item
Author Rating