Today I'd like to cover the RunBet App; it's an app that you can use to help stay motivated to reach your fitness (running) goals and make a bit of extra cash in the process.
Please understand that you do have to pay money as a bet to participate, but the whole point is to give you some extra motivation to meet your running goals.
One cool part of RunBet is that you can run outside with a run tracking app or on a treadmill (more on this later.)
Make sure to check out the other ways you can get paid to workout and even lose weight!
In this RunBet App Review, I'll be giving you a brief overview of how it works and sharing my experiences because I have completed a game and won!
---
RunBet App Review
Site: RunBet
Type: Paid To Run
Verdict: Legitimate
In this RunBet App Review, I marked them legitimate. I've completed a game, met my goals, and was paid by the app. From my experience, the chance of losing $40 did help me reach my running goals. There were three days that I would not have worked out if I didn't have to, just to meet my goals.
I can't say that this will work for everyone, but in my case it did. Overall the app is extremely easy to use, and I really like that you have the option to run outside with an app or indoor on a treadmill (all my runs were indoor on a treadmill).
RunBet processed the game, and I was paid within 24 hours of the game ending. My bet was $40, and I only made an extra $2.94, but overall it was worth it.
If you're looking for extra motivation to run, this app is for you. If you're looking to earn more money from running, the small amount you'll earn probably isn't worth it!
---
How Does RunBet Work?
1) Sign-Up For Free
You can download the RunBet app for completely free inside your phones App store. Once you have the app, you can see all of the available Games that are starting within the next few days. (You do have to pay to compete in a game)
2) Find a Game and Pay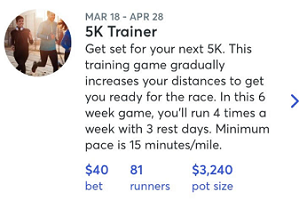 Inside the app, you'll see all of the games starting within the next few days. Each Game has different requirements for you to meet your goals, but the bet seems to be $40 for every game.
The game I did, was four weeks long and required me to run four times each week for at least 30 minutes, while keeping an 18 minute per mile pace or better. After winning my first Game, I joined another that's a 5k training. It's 6-weeks long, requires you to run four times each week, but the distance each day is different (ranging from .5-4 miles), and you have to keep a pace of 15 minutes per mile or better.
There're several other types of games, such as a 10k trainer, games that have faster per mile rates, and runs that vary the time and distance you run each day.
Once you find a game you'd like to join, you can click on it and click Join Game. From there you can pay your $40 with a credit/debit card or through PayPal. (It's important to note the only way to get paid is PayPal so you will need an account)
3) Log Your Runs
Once you choose your game, you'll need to start logging your runs. Depending on the game, you'll most likely need to run at least four days a week. You can only submit one run per day, and your 4 runs need to happen in one Monday-Sunday week.
There're two options to log your runs, Outdoor and Indoor.
Log Outdoor Runs
To log an outdoor run you can link your RunBet app with Garmin, Runkeeper, or Strava. At this time, these are the only apps that will work for outdoor runs.
Once you link your app, RunBet will automatically sync and receive data from your runs, so there's nothing more to do.
Log Indoor Runs (Treadmill)
This is by far my favorite feature of RunBet because I do run indoors on a treadmill mostly, so I'm glad that I can participate too. The process of logging a run on the Treadmill is completely different. No need to connect an app. Just run and at the end of your run submit a "sweaty selfie" and take a picture of the readout on your treadmill.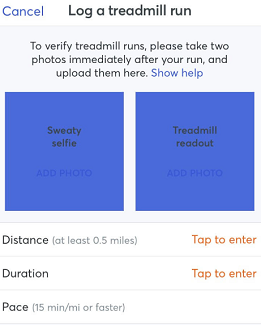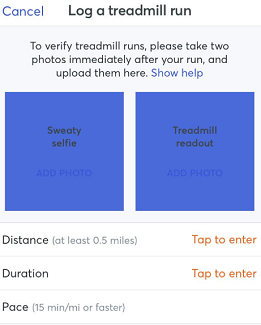 Within a few hours, a referee will approve your run.
4) Meet Your Goals & Win!
As long as you meet the game's running goals, you'll win your bet back plus split the pot with the rest of the winners (minus RunBet's 15% fee.) If you do not meet your goals, you will lose your bet.
One thing to note is RunBet has a No Lose Guarantee, meaning if everyone meets there goals in a game, they will not take a cut, so you'll always at least win your bet back.
---
How Does RunBet Pay?
Once your RunBet game is over, it will take 24-48 hours for them to process all the winners. Once everything is processed, you'll see how much money you earned for meeting your goals and the funds will be available to cash out inside the app.
The only way to get paid is via PayPal. Once I cashed out, I received payment within about 3 hours.
---
RunBet App Payment Proof
As mentioned, I did a 4-week game where I needed to log four 30-minute runs each week. My bet was $40, I met my goals, and was paid $42.94 so really only earned an extra $2.94. Here's payment proof:


---
RunBet App Complaints
Your Running To Get Your Bet Back
From my experiences, most people are meeting their goals, which means that there's not much extra money in the pot. In the first game I did I think 111 of 130 people met their goals, which only made me win an additional $2.94.
RunBet is not a great way to make extra money, but the app can do what it's supposed to, which is help you stay motivated to run.
---
Is RunBet a Scam?
By no means is the RunBet App a scam, if you're looking for a way to stay motivated and meet your running goals, betting some money might be a great way to do it. But based on my experience this is not going to be an app to use for easy cash. If RunBet becomes more popular and there are more people in each game, you could win more in the future. But for now, it's all about meeting your goals and getting your money back.
If you'd like to learn more or to join, visit RunBet.com!
I hope you enjoyed this RunBet Review, but getting paid to run won't be for everyone, make sure to check out these other ways to earn money from home:
Work From Home Jobs Hiring Now
Extra Income Sites That Pay Me Each Month
How I Made Over $13,000 Online Last Month
Do you have experience with the RunBet App? I'd love to hear your thoughts on this review in the comments below!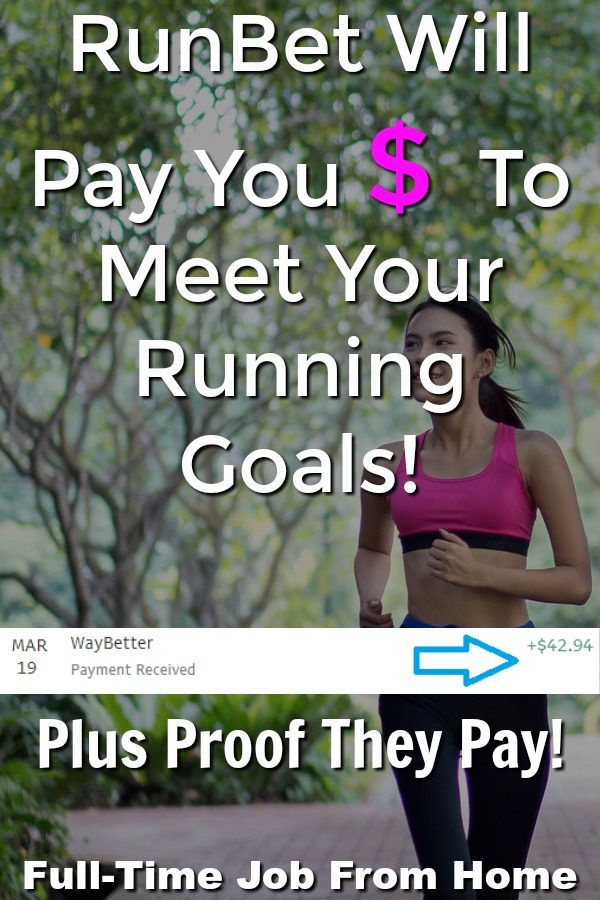 Summary
Reviewer
Review Date
Reviewed Item
Author Rating