Today I'd like to cover a rewards site called PiggyBankGPT that clearly says they've been paying since February 2010 but is that really the case.
Once you join, PiggyBankGPT seems to be legitimate, offers plenty of ways to earn, and has a pretty good rewards system. But in this review, I'll cover all of that and see if it's really a site worth using or if it's a complete scam.
---
PiggyBankGPT Review
Site: PiggyBankGPT
Type: Rewards Site
Verdict: SCAM!
In this PiggyBankGPT review, I marked them a Scam. It seems that at one time this was a great site to use, but they've changed ownership several times and are no longer paying.
Make sure to stay far away from PiggyBankGPT and join one of the legitimate sites that pay me each month!
---
How To Earn At PiggyBankGPT
Here are the ways to earn, but most likely you won't get paid!
OfferWalls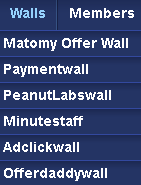 Once you're inside PiggyBankGPT, you'll see tabs across the top that open different offer walls. Each offerwall contains ways to earn from 3rd party providers. On each offer wall, you'll find a ton of ways to earn like offers, surveys, watching videos, visiting websites and more.
Most offers pay from $.20-$2.50. Most surveys pay $.25-$2.50. Watching videos and visiting websites usually pay a cent or less per click or video.
One thing I really like about the offers is it shows you exactly what you need to do, the payout, rating from other users, and how many time other members have received credit.
Refer Friends
One way to earn is through the refer a friend program. Which I have to say is pretty good (too bad they don't pay.) You'll earn 25% of your referrals earnings plus a $.50 bonus once they earn their first $.25.
You also earn 5% of the earnings of the people your referral refer and 1% of the people they refer.
They give you your own referral link and several banners you can add to a website.
Contests
PiggyBankGPT has daily, weekly, monthly, and referral contests. Most of the daily, weekly, and monthly contests have to do with being the biggest earner and completing the most offers. Most of the daily contest pay $1 and less, while the winners of weekly & monthly contest earn $10 or less.
It looks like they have a monthly referral contest where you'll earn $5 or less for being a top referrer.
---
PiggyBankGPT Rewards
PiggyBankGPT has a few different reward options including gift cards and cash payments. Most gift cards start at $5 and include Amazon, Skype, and a few other options. Cash payments include PayPal, Bitcoin, and Skrill. Cash payments start at $1.
In their FAQs, they mention that if it's your first cash out, you'll get paid within 24 hours. After that, they pay twice a day so you should get paid rather quickly!
Unfortunately, none of this matters because the site has stopped paying!
---
PiggyBankGPT Complaints
Stopped Paying Members
PiggyBankGPT has been around since 2010 and has changed ownership several times. In that time frame, they have paid and have also not paid their members. In my opinion, even if the new owners get back on track, it's not working with a site that has stopped paying their members before.
You might as well use a trusted site that actually pays. Here's a list of all the sites that pay me each month.
Just An Extra Income
Please keep in mind that using PiggybankGPT is not going to make you rich or give you a big income. It's just an extra income site where you can expect to make an additional small income. As long as you know that going in you should be happy with extra income sites.
If you're looking for a larger online income, check out My #1 Recommendation.
---
Is PiggyBankGPT A Scam?
Overall, PiggyBankGPT seems that it used to be a great reward site but after multiple changes in ownership, they've stopped paying their members. At this time I don't recommend working with this company, even if they start paying members, there's always a chance that they will stop paying again.
If you're looking for a legitimate way to earn some extra cash online feel free to check out the Extra Income Sites That I Use here.
If you're not looking for an extra income make sure to check out these helpful links:
Work From Home Jobs Hiring Now
Do you think that PiggyBankGPT is a scam? I'd love to hear your thoughts on this review in the comments section below!
Summary
Reviewer
Review Date
Reviewed Item
Author Rating