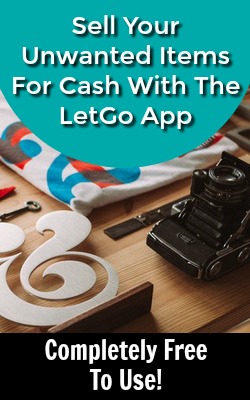 LetGo is an app that lets you sell your unwanted items in your local area. The process is similar to selling on Craigslist but is done completely through the app on your phone.
The app seems to be completely legitimate, and they do not handle payments in any way, so there's no way of this being a scam. Since LetGo doesn't handle payments, there's no fee for selling on this app!
The purpose of this app is to bring buyer and sellers together, not to provide a safe way to handle transactions.
Selling used things is a great way to make extra cash, but if you're looking for a full-time income, check out My #1 Recommendation, it's how I made over $13,000 online last month!
In this review I'll cover how selling on the LetGo app works, the complaints, and if this app is a scam.
---
LetGo App Review

App: LetGo
Type: Local Selling
Verdict: Legitimate
In this LetGo App Review, I marked it legitimate. As I already mentioned, LetGo serves as an app to bring buyers and sellers together; it does not handle any transactions.
If you have items you no longer want and would like to make some extra cash, this is a good option. I like that it's all done on the app because Craigslist is limited on a mobile device.
You're still required to meet with the buyer, and you're limited to your local area, but it's worth a shot if you'd like to handle all communications on your phone.
---
How Does LetGo Work?
1. List Your Item
Once you download the app and join through Facebook, Google+, or Email. You can list your first item.
The first step is to take detailed pictures of the item. You can easily do this inside the app. Next, you'll list the name of the item, give a description, and choose a category.
You can set an asking price if you'd like.
2. Negotiate With Buyers
Once you complete your item listing, it's posted inside the app to local buyers. The best part about LetGo is customers can chat with you inside the app.
Buyers can ask questions about the item, negotiate price, and even schedule a time to meet, all inside the app.
3. Meet & Collect Payment
Once you find a potential buyer, set up a time to meet and collect payment. Let me make it clear that LetGo does NOT handle payments. It's your job to agree on payment terms with the buyer.
Once you've sold the item, make sure to mark it sold inside the app. Repeat the process with other unwanted items!
---
LetGo Payments
As mentioned, LetGo does not handle any payments nor does it have a way to pay through the app. They recommend meeting with the buyer in person and collecting payment in cash or another secure form of payment.
Again, LetGo does not process payments or back/refund any purchases that initiate through their app. This means there's no fee for listing and selling items on the LetGo App.
---
LetGo Complaints
App Issues
The LetGo app is still relatively new, and they have had app issues in the past. On their FAQs, they bring up some of the known app issues, like pictures being out of order on listings.
They say they're working to correct the issues, but you may encounter small bugs with the app.
Spam Buyers
I've seen a few buyers leave reviews in the app stores mentioning this complaint. Both buyers said they've sold things on Craigslist and many other services.
They stated that they've never received so many contacts about the items and had a few people set times to see the items, without ever showing up and would not respond.
Of course, this will vary on your location, but I thought I'd mention it.
Location Based
With the LetGo app, you'll be selling your items in your local area. The only issue is the app isn't popular in some areas. In the small town I live in, there're only a few products listed.
Of course, if you're in a big city there should be plenty of items for sale and tons of buyers using the app!
Safety Concerns
There's not any way around this, but you'll meet with potential buyers before they buy any items. If you're not comfortable with this, selling your stuff in your local area isn't for you.
I always recommend meeting at a different location than where you live if at all possible.
---
Is the LetGo App a Scam?
The LetGo app is not a scam, I do have some complaints about the app, but overall it seems to work well if there're a lot of buyers in your area.
Please keep in mind that payment is handled by you and not the LetGo app, as long as you're comfortable meeting strangers to sell items, you should enjoy this app.
To learn more or to join visit, LetGoApp.com.
Selling unwanted items in your local area isn't for everyone. Make sure to check out the ways I make an Extra Income Online.
Don't forget to see more WAH job leads in my Work At Home Job Directory!
If you're looking for a full-time income online, check out My #1 Recommendation, it's how I made over $13,000 online last month!
Do you think the LetGo App is worth using? I'd love to hear your thoughts in the comments below! 🙂
Summary
Reviewer
Review Date
Reviewed Item
Author Rating