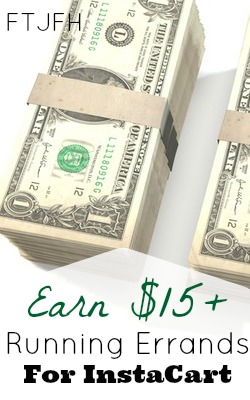 If you're looking for InstaCart Careers you're in the right place. Today I will be sharing with you my InstaCart Review.
InstaCart is a company that will deliver groceries to people who can't get out or just might not have enough time on their hands. This is where you come in, InstaCart needs people to do the grocery shopping, so they will actually hire you to pick up groceries and deliver them.
At this time the locations are pretty limited, but you might be lucky enough to live where they are currently hiring.
Delivery jobs are a popular way to make money right now, but I prefer a much more passive way of working from home, check out My #1 Recommendation, it's how I made over $13,000 online last month!
In this InstaCart Job Review, I will cover the requirements, how much you get paid, and exactly what you will be doing as an InstaCart Shopper.
---
InstaCart Job Review
Having A InstaCart Job seems like a pretty cool job to have. The process is pretty simple. Basically, once you're accepted to work you wait for orders to come through on the InstaCart App, claim the order, then go do the necessary shopping, Deliver the order to the client, and get paid!

---
InstaCart Job Requirements
To get an InstaCart Job you will need to meet a few requirements.
18 Years Old
Newish Smart Phone
Ability To Lift Heavy Objects: 25 Lbs.
Able To Work Some Nights and Weekends
One thing they make clear is this job does not require you to have a vehicle, but it does make it easier of course. If you do have a vehicle you will need to provide proof of valid drivers license, auto insurance, and have a good drivers record.
The only other requirement they don't state on their site is living within one of the locations InstaCart is available!
---
InstaCart Application Process
First you will need to apply on their website. After you apply InstaCart will run a background check, just like most offline jobs would. If everything checks out fine and they are hiring you will be called back for an interview. Since they do have local offices in the cities they are available I'm assuming it's a face to face interview, but I could not find any exact information on this portion of the application process.
If the application goes well you will be required to complete a little bit of training, but nothing too crazy. After training, you're free to set your own hours and begin shopping to make money.
---
Where Is InstaCart Available?
InstaCart is now available in most of the United States. You can see if they are hiring in your area on their website.
---
How Much Does InstaCart Pay?
You actually won't be getting paid hourly by InstaCart, you will actually get paid by the job. There are a few different factors that go into how much you will get paid like how many items and if there are any difficult items to handle.
There have been some people who said they can make $25 an hour with InstaCart, but I don't think that is very realistic for most. You don't get paid while your waiting for jobs to come in and there if a delivery is far away that really isn't taken into consideration.
I'd say it's more of a minimum wage-$12 an hour unless you can build up some clients that are near to you that put in orders regularly.
---
InstaCart Complaints and Concerns
The general complaints I have with InstaCart is it's not available everywhere and that you only get paid when you complete a job, not for time spent waiting on jobs. I was pretty surprised when doing some research that a lot of the people that are already shoppers are thankful for the job, but aren't that happy with it.
They complain that the app doesn't take into consideration how far you might have to drive to deliver groceries, which can really cut into your bottom line after you start spending money to drive out of your way.
They also complain that some customers don't tip and are very unappreciative of your work, but believe me, that's the case with every job.
---
Are InstaCart Careers Legit Or A Waste Of Time?
From what I've come up with in this review, I'd say that InstaCart is completely legit, but depending on your area it might not be the best use of your time. I was pretty surprised to see all the complaints from the current workers, but there are some people who are very satisfied.
I think if you can keep your deliveries local and not have to spend much on gas this could be a good way to make a side income. From what I've found there are some people making a full-time living, but it's not extremely lucrative.
Either way, the company is legit and if you're interested in getting paid to deliver groceries InstaCart can be an option for you. To get started fill out the application on their website.
Delivery jobs are in demand right now, but I prefer to make a passive income online. If you're serious about making a full-time income online, check out My #1 Recommendation, it's how I made over $13,000 online last month!
If delivery jobs aren't for you, check out these helpful links:
Extra Income Sites That Pay Me Each Month
How I Made Over $13,000 Online Last Month
Work From Home Companies Hiring Now
I'm still in the dark on a few things about this job so if you've worked as a shopper or have any information about InstaCart Careers please leave comments!