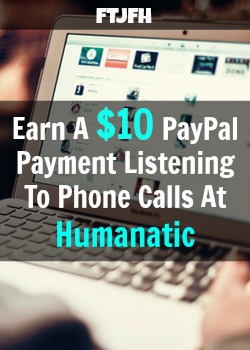 Humanatic is a company that helps other companies by recording calls and putting each into categories. They happen to hire a work at home position to help with the large volume of calls coming in each day.
This WAH Job seems to be unskilled, has flexible hours, and available to almost anyone. With that being said this is not a high paying job. It should be used as a supplementary income and not a full-time income.
Since it's a pretty unskilled job, Humanatic doesn't pay much, if you're serious about making a full-time income online, check out My #1 Recommendation, it's how I made over $13,000 online last month!
In this Humanatic Review, I'll cover how this job works, how much you're paid, and some complaints members have had with this position.
---
Humanatic WAH Job Requirements
The requirements for this job are basically nonexistent other than being an English speaker and having access to a computer. If you meet this you can apply to work at Humanatic. The application process is incredibly simple.
You'll need a verified PayPal account to start the application process after you'll enter your name, where you live, your current employment, and agree to some non-disclosure terms.
After you submit your application, Humanatic will get back with you if they're interested. There's not much training to go through so you should be ready to work shortly after being hired.
---
What Do You Do?
The job is pretty simple. You'll be listening to recorded phone calls and putting them into categories. This makes it easy for the businesses paying for this service to track and listen to different calls based on their purpose.
Most calls are pretty easy and only take a few seconds to figure out what category they fit in, but others take a bit longer since some customers don't disclose exactly why they're calling up front.
No matter how long a call takes to categories, you're paid the same rate. You'll get quicker the longer you categorize calls, but there will always be calls that take a bit longer.
---
How Much Does Humanatic Pay?
From what I can see there are a few different types of calls that have different pay rates, but all calls fall into the $.01-$.04 range. I know that the rate seems very low, but most of the calls take under 30 seconds to complete so you can get through quite a few calls in just a few minutes. They also say that as you get better and have completed more calls you'll occasionally get bonuses.
Humanatic pays once a week on Monday via PayPal. You must have $10 in your account to get paid, but if you fall short earnings roll over to the next week.
---
Humanatic Schedule
The awesome thing about this job at Humanatic is the schedule is completely flexible. You can work as much or little as you'd like. There's no requirements for when or how much you work.
They do say that they have the most calls during the 8 am-7 pm time frame during the week. Although the schedule is flexible to get a lot of calls you'll probably need to work during those peak hours most of the time.
---
Humanatic Complaints & Concerns
Low Pay
As with most work at home jobs that don't require much skill the pay is pretty low. I'm not saying that you can't make a decent income in your spare time, but this is not a site that's giving you a full time income.
Most of the calls you complete pay under $.05 so it takes awhile to make much money. With that being said, it's easy work, so if you have the spare time give it a go.
Where's the Calls?
I mentioned that Humanatic does have peak hours when most of the calls come in, but still sometimes there's not enough work to go around. Along with having peak hours, it seems at some points during the year there's not much work.
The primary concern with the occasional lack of work is that there's no way to make this into a full-time job. You should use this site as extra income and to monetize some spare time.
---
Is Humanatic A Scam?
Humanatic is not a scam; it's a completely legitimate work at home job with a lot of positive feedback. Yes, there's some complaints out there, but as long as you know this won't be a huge income, you should be pretty happy with the work.
I like that pretty much anyone can do this job and that they pay weekly via PayPal. I think Humanatic is an excellent way to make some extra cash.
To learn more or to apply, visit Humanatic.com to get started.
Again, Humanatic is going to be a small income, if you're serious about making a full-time income online, check out My #1 Recommendation, it's how I made over $13,000 online last month!
If you didn't find what you were looking for here, check out these helpful links:
Extra Income Sites That Pay Me
Work From Home Companies Hiring Now
How I Made Over $13,000 Online Last Month
Have you worked for Humanatic before? Is it a Scam?