I'm a huge fan of making money on my phone, and one thing I've been trying to do is earn money by receiving text messages. I finally found a way to do so that's incredibly easy to do and you'll earn $.25-$.50 for every text message your receive and respond to from a site called 1Q.
Over the last month or so I've earned over $5 from using this site, so I wanted to share with you how it works and how you can get paid to receive text messages from 1Q.
Although 1Q is legitimate please understand that this is going to be a tiny income. If you're looking for a large online income, check out My #1 Recommendation, it's how I made over $13,000 online last month!
Continue reading to learn how it works, how to sign up, and see proof that 1Q pays you to receive text messages!
---
How Does 1Q Work?
1. Sign Up For 1Q On Their Website
The first step is to visit 1Q.com and click on the sign up now button. You can quickly sign up with email or Facebook. You'll need to enter your name, email, phone number, and PayPal email.
2. Complete Your 1Q Profile
Once you sign up, you'll need to complete your profile. This asks general information about your household, demographics, and employment. After you fill out all of the required information, click the blue button that says done.
3. Verify Your Phone Number
Once you click the blue done button, you'll need to verify your phone number. You should receive a text message with a six-digit pin. A pop-up will appear on your screen; you can see an example below:
Just enter the pin to complete your profile and start earning.
4. Wait For Text Message Polls and Respond
Once you've signed up and completed your profile, it's time to wait for polls to come in via text message. I've included an example poll below: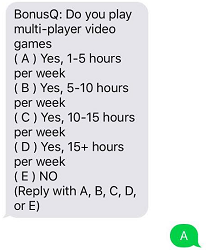 It's always a multiple choice question, all you need to do is respond with the answer.
5. Get Paid $.25-$.50 instantly via PayPal!
Once you've responded to the poll, you'll immediately see another text message that lets you know that you received payment! Within a few moments, you should see the payment in your PayPal account!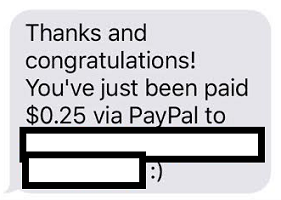 ---
Does 1Q Really Pay?
1Q sounds great, and it's awesome that they send you a text message saying you've been paid, but that really doesn't matter unless you can see proof of payment. Below I've included proof of payment directly to my PayPal account a few moments after answering the poll.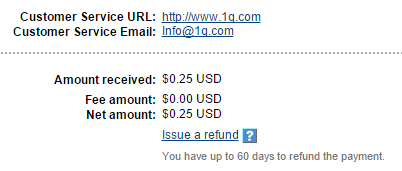 ---
1Q Is Legitimate: How Do I Join?
Now that you know how 1Q works, exactly how to join, and that they pay, you're probably wondering how do I Join 1Q? It's incredibly easy, just click the button below and go through the exact steps I laid out above on this page. 1Q is pretty awesome, and I've been using it over the last year to make some extra cash receiving text messages and now you can too!
[thrive_link color='blue' link='https://fulltimejobfromhome.com/1q' target='_self' size='big' align='aligncenter']Join 1Q Now![/thrive_link]
Getting paid to receive texts is great, but please understand this is going to be a tiny income each month. If you're interested in a full-time online income, check out My #1 Recommendation, it's how I made over $13,000 online last month!
Thank you for checking out how you can get paid to receive text messages with 1Q, but now I want to hear your feedback!
Have you joined 1Q yet? Made $.25 for every text message you've received?