How To Add A Click Here To Subscribe Button On Your YouTube Videos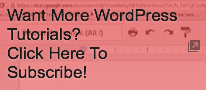 If you have your own YouTube channel you probably check how many subscribers you have everyday! It is a natural thing to do when you're looking to grow your YouTube channel. I wanted to share with you one way you can get more YouTube subscribers and that is by adding a click here to subscribe button somewhere during your YouTube video.
Read on to learn exactly how to add a subscribe button to your videos, how the process works, and tips on where to place the button.

---
How To Add A Click To Subscribe Button On A YouTube Video
First, I want to tell you how the process works. Once a visitor to your video clicks on the subscribe button in your video, the video they are watching will pause. A new window will open that redirects to your channel. A light box ad will appear with your channels profile image and a subscribe button. This is perfect because a visitor can subscribe to your channel without losing their place on the video they were watching!
First go to YouTube, Visit your video manager. Choose the video you would like to add the subscribe button to and click on edit.
At the top of the page there is a toolbar. Click on Annotations.
Click On Add New Annotation as a Speech Bubble
Type the text you would like to appear in the box. I like to use Want more WordPress Tutorials? Click Here To Subscribe. Oblivious you enter what your channel is about!
You can customize the font size, font color, and background color.
You can choose how long the annotation by using the start/end function or by dragging under the video
Now we need to link to your channel. Check the link box. In the drop down menu click on subscribe.
Go to your channel homepage and highlight the end of the URL. Or the part that identifies your channel. See picture below!
Then jump back to the video and paste the link in.
Click on save and then publish!
I hope this tutorial helped everyone if your confused at all please watch the video! If you have any questions please comment below. I think you'll be surprised how many more subscribers you can pick up just my adding the click here to subscribe button to all your videos! Check back often for more YouTube Tutorials and click on the YouTube logo at the top right of this page to subscribe to my channel!
Thank you for reading this tutorial on how to add a click to subscribe button on your YouTube Videos. I hope you enjoyed this tutorial and recommend you checking out the link above. It's how I grew my YouTube Channel and how I get my videos ranked on the first page on YouTube and Google.