4
GPT Planet Review: Is It A PTC Scam?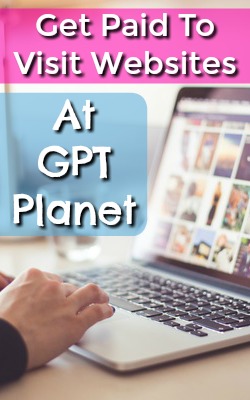 GPTPlanet is a traffic exchange website that lets you earn by viewing ads and websites.
It seems to be a legitimate site, but please know this is a very small income. You'll earn under $.01 per ad you view, so a low income is what you should expect.
Although it's legitimate, I have several complaints, but if you'd like to get paid to view ads, this is a legitimate option.
Again, please understand that GPT Planet and other paid to click sites pay under $.01 per click so you'll never make much and most people give up before they reach the cashout amount. If you're serious about making a large online income, check out My #1 Recommendation, it's how I made over $13,000 online last month!
In this review, I'll cover how to earn, how they pay, the complaints I have, and if this PTC site is a scam!
---
GPT Planet Review

Site: GPT Planet
Type: PTC, Extra Income
Verdict: Legitimate, Not Recommended
In this GPT Planet review, I marked it legitimate. They do pay their members, and I like that the cashout amount is $1. With that being said, this isn't a site I recommend. You'll be earning $.001 or less per ad, and I don't think the small income is worth your time.
Last Month I Made

$13,841 Online
I Bet You're Tired Of Making Pennies Online. No More BS. If You're Serious About Making A Full-Time Income Online You Need To See The TRUTH. Stop Wasting Your Time With The Next Big Thing When There's Already A Proven Method That Works!
I do recommend some extra income sites, but PTC isn't my favorite. You can see all the extra income sites I recommend here.
Again, it's a tiny income, if you're looking to make more, check out My #1 Recommendation, it's how I made over $13,000 online last month!
---
How To Earn At GPTPlanet
View Ads
The main way to earn is by viewing ads. You'll see a long list of ads to view. Click on an ad, and it opens in a new tab. Stay on the page for the required time and enter the captcha to earn. Once you're done, click on another ad and complete the process.
Most ads pay $.001 or less and require you to stay on the page for 10 seconds or less. They usually have 30-50 ads available all the time.
GPT Grid
This is a game where you click on a square, view an ad, and have the chance of winning up to $1. Viewing the ad is the same process described above, but you won't always earn money.
As a free member, you'll get ten chances a day.
PTSU
PTSU stands for Paid to sign up and is similar to offers on other sites. You get paid $.25-$2 to sign up for survey sites and mailing lists. Some of the offers require you to make a purchase or sign up for a trial. These usually pay $2-$10.
---
How Does GPT Planet Pay?
GPT Planet pays once you have $1 in your account. You can get paid via PayPal, Payza, and Perfect Money.
Once you request a cashout, it can take 5-7 days to show up in your account.
You do have the option to exchange earnings for advertising, but I'll cover why I don't recommend using the traffic exchange in the complaints.
---
GPT Planet Referral Program
GPT Planet does offer a referral program, and you can also buy and rent referrals. You'll earn 10% of all of your referrals earnings for life. They give you a link to share or use one of their banners on your website.
You can pay money to buy and rent referrals, but it's not something I recommend.
---
GPT Planet Complaints
Small Income
As mentioned, you'll earn under  $.01 per ad, so this is just extra income. Luckily they have a low cash out amount, but it still won't be a big income.
If you're interested in a small income, you should be happy and make sure to check out the other extra income sites I recommend.
Paid Accounts
For some reason, most PTC sites offer paid memberships, but it's not a requirement. You can make money with a completely free account and get paid.
The paid accounts are not an advantage if you're just clicking on ads. There're advantages if you plan on buying and renting referrals, but either way, I don't recommend paying for an extra income site!
Rent/Buy Referrals
Again, most PTC sites let you buy and rent referrals. It can be profitable, but there's a chance the referrals you pay for won't earn you enough to break even.
I don't recommend renting or buying referrals. Just refer your friends and others for free.
Traffic Exchange
If you plan on using this site to drive traffic to your website, make sure to take this into consideration. If you're struggling to get traffic to your site, PTC sites may seem like a good option, but they're not.
You'll send untargeted traffic to your website, which has no interest in what you say or promoting. They just want to stay on the site for a few seconds and earn money. Almost all the traffic you send won't interact with your content, which means you won't make money.
Check out Wealthy Affiliate to learn how to drive traffic to your site for free, and they'll actually earn you money!
---
Is GPTPlanet a Scam?
GPT Planet is not a scam, but it's not a site I recommend either. To me, PTC sites don't pay enough to be worth it.
If you're interested in making extra money, check out some of the other ways I make money online.
If you're serious about making a full-time income online, GPT Planet is 100% not for you, check out My #1 Recommendation, it's how I made over $13,000 online last month!
Do you think GPT Planet is a scam? I'd love to hear your thoughts on this review in the comments below! 🙂
Summary
Reviewer
Review Date
Reviewed Item
Author Rating