Website: Get-Paid.com
Price: Free
Score: 90 Out Of 100
Verdict: Legit
Welcome to my Get Paid Review. Get Paid is basically a "paid to do" site that pays you to do a lot of different tasks. Some sites similar to this is SwagBucks and CashCrate. If you're familiar with those two companies you know exactly how Get Paid works.
Get Paid is completely legit site that will pay you your earnings. It's one of my favorite paid to do sites out there and I highly recommend it to anyone looking to make a few extra bucks online each month. There are some special features that Get Paid offers which I will go over in this review. To me they are not necessary, but it does make it like a game where you're trying to level up, which is fun!
In this Get Paid Review you will learn more about how this company works and what I liked and disliked about the company.
---
How To Earn With Get Paid
Get Paid breaks this down into two separate categories, earning coins and winning coins. I have listed all the ways to do both right below.
Earning Coins
Offers
Surveys
Videos
Tasks
PayPerClick
Business Cards
PayPerCall
Referrals
ToolBar
Here are all the ways that you can earn with Get-Paid.com. You should have a pretty general idea of what Offers, Surveys, Videos, Tasks, and PayPerClick are, but here is an explanation of the rest.
Business Cards: Basically this portion is just data entry. You get paid to transfer people information into a file. Super easy way to earn some points
PayPerCall: Get paid to answer surveys and call companies. Again an easy way to earn points.
ToolBar: You can download the Get Paid Browser Tool Bar and make money every time you use it!
Winning Coins
---
How To "Get Paid" by Get Paid
Get paid offers a bunch of different options for payments. They offer the easy ones like PayPal, but they also offer gift cards if that's what you're looking for. Here is all the ways to get paid.
PayPal
Payza
WebMoney
PerfectMoney
BitCoin
Gift Cards
Prizes
In my opinion, PayPal is the way to get paid by this company. To me it's the easiest and has a $1 minimum cash out amount. Once you cash out, payment will be in your account within 48 hours, but usually much sooner. For the physical rewards it can take up to 3 weeks to receive your prize so I like to stick with the easy PayPal Payment.
---
Referral Program
Get Paid does offer a referral program that is pretty good. Basically it's a two tier program where you earn 30% of your direct referrals earnings and you also earn 10% of all earnings that your referral's referral earns. Now you can't count on other people to refer others, but getting 30% of your direct referrals earnings is pretty high in the industry so this should be a pretty good program to have some good earnings from referrals.
They do give you a unique referral link that can be placed on a website or social media. They also provide you with banner ads, and built-in email invite system.
Here is a screenshot that explains the program really well.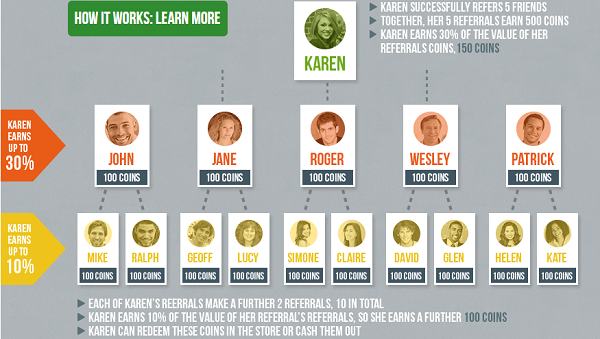 ---
Get Paid Special Features
I have covered the meat and potatoes of most "paid to do" sites above, but now let's take a look at some of the extra features that Get Paid has that most other sites don't.
XP
XP stands for experience points and you earn it by completing any tasks that earns you money on Get-Paid.com. This is completely different from the points you earn that can be redeemed for cash. You do not exchange XP for cash it's just a measure of how active you are within the site.
As you earn XP you level up and unlock new features, which I will talk about in the next section.
Levels
When you join Get Paid you start out at level one. As you complete offers, surveys, and other tasks that gives you points you will earn XP. Levels are important because each time you level up your earning potential increases and you get bonus points. Also with each level there are new features that are unlocked. Some of the features included faster payments, premium offers, and daily bonuses.
Every time you earn 200 XP you level up and get bonus points plus unlock a cool new feature!
Badges
Badges really don't have any monetary value within Get Paid, but for some people they like to get rewarded for accomplishments. You can receive badges for loging in everyday for 5 days or more, cashing out for the first time, and other achievements. Like I said Badges don't earn you extra points, but they can be showed off within the community.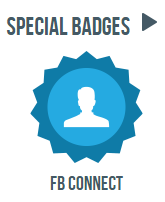 Community
One cool thing about Get Paid is you actually receive a profile page that you can customize when you join. You can add other members as "buddies" and chat on the website. There is no real advantage of having a community, other you can show off your earnings, badges, and chat with other members making money online.
---
What I Liked & Didn't Like
Liked
I really liked that Get Paid offers multiple ways to earn. If you wanted to spend all day earning you could and never run out of things to do. I also liked that they have a low cash out amount of $1 and offer payments via PayPal.
They offer a really good referral program which is where most of my earnings come from and give you the tools you need to promote the site.
I am usually not a fan of sites that have levels, because it makes it more difficult than it needs to be, but with Get Paid I actually really like the extra features they include. I like the level system and XP because it makes it more like a game and makes it fun.
Didn't Like
The only thing that I don't like about Get-Paid is they have a point system, but they do show you how the points convert to US dollars which makes it pretty easy to know how much cash your actually earning and have to withdraw.

---
Final Verdict
I do recommend Get-Paid.com to any one looking to make some extra money completing offers, surveys, and tasks. This is one of the better "paid to do" sites out there and I highly recommend you joining. I really liked the multiple ways to earn and easy PayPal cash outs. Not a huge fan of the bonus features they included, but they aren't features that hurt this site. Some people may really like them, but if you don't you don't have to worry about them and can just focus on earning money.
If you're interested in joining, you can do so by click here Join Get Paid. If you would like to learn more about similar sites I recommend checking out SwagBucks and CashCrate.
If you would like to learn how I make a full-time income online visit Start My Own Online Business. This page will show you exactly how you can start your online business and start working from home.
Thank you for reading this Get Paid Review. If you have dealt with this company in the past I'd love to hear about it in the comments section below. Don't forget to share and use the links above to find a great opportunity that can make you some money online!
Summary
Reviewer
Review Date
Reviewed Item
Author Rating