Once again I have another Binary Options Scam to report to you. The German Binary Robot is one of the many binary option scams out there.

The German Binary Robot is similar to all the other binary scams.  They tell you they have a secret software that makes winning trades, they want you to deposit money into your account, and eventually lose it all over time.
In this German Binary Robot Review we will take a look at why this product is a scam and why you should stay far away from this system.
---
German Binary Robot Review
Website: GermanBinaryRobot.com
Price: Free Trial, $250 deposit, or $2,400
Score: 5 out of 100
Verdict: Scam
In this review I have given the German Binary Robot a very low score and marked it a scam. The reason for this is the false claims they make on their sales pages and the system just doesn't work.
Nothing about this program will help you make money with Binary Options. Most likely it's going to help you lose it all!
---
Why Is German Binary Robot A Scam?
Sales Page
The sales page for this product is similar to most binary scams out there, they feature a video showing you nice cars and luxurious things and say it all came from using this system. They then go on to showing you some proof of live trades people are making money on, and then have some testimonials from customers.
Of course these are all false claims and I have included a few screenshots below.

The first major claim they make on the sales page has to do with turning a huge profit with this system. Honestly with most programs the dollar amount is much higher, but still a good income in a few days from this system.
The problem is the system doesn't work.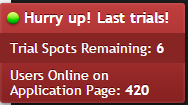 All over the sales page they have these type of countdowns. This one shows the amount of visitors on the page right now, which is not true. The top potion shows how many trial spots they have left. I went ahead and actually let the count down get to 0.
Meaning I should not be able to join with a free membership anymore. Of course although it showed no free memberships left they let me join without any complications.
Free Trial Isn't Free
On the sales page there are two different options for access the system. One you can buy the software for $2,400, this doesn't seem to be the main goal of the sales page, but I guess they offer it to see if anyone is a sucker and will buy.
The second option is a one month free membership. The reason they are able to offer this is because the owner of this site gets paid from you depositing money into your account.
There is a minimum $250 investment into your account to get started, meaning it's not free. When you deposit your money the owner of this site is earning a commission and making money even if you don't buy the system for $2,400.
The Secret System
If you have done some investigating into these binary options scams you know that they are all offering the same thing. Basically a system or piece of software that trades for you on auto pilot, low to no risk, big profit potential, and no experience needed.
First off let's get it straight that this system does not work. Why yes large companies have computer systems that can trade for them, but why would some give you that software for free just to make a small commission on your deposit?
Because it's a scam, I have a lot of other Binary Scam reviews on my site and not one person has commented saying they have made money.
The next issue with the system is its advertised as no to low risk. If you know anything about trading or investing you know that there is always some sort of risk. There is no guarantee you will ever make money and not even a guarantee that you will have any money left.
---
Should I Buy German Binary Robot?
I think you have figured out that this program is a complete scam. I do not recommend this system to anyone or any other binary options system.
Don't get me wrong binary options is a legit way to trade and invest, but the system and software that they are putting out are not legit and just set up to give you fall hopes and take your money.
Go ahead and stay away from this program and I guarantee you will be happy you did.
---
Legit Ways To Make Money
Like I said above, Binary Options is a legit way to invest and trade. I don't partake, but if it's something your still interested in find yourself a trusted broker and trade away.
If you're interested in making money online I do have a few options for you to check out. First here is a list of all the scam free jobs I have reviewed.
The best way to make money online is by starting your own online business and building up traffic and income overtime. To see how to do this visit Start My Own Online Business.
I hope you enjoyed this German Binary Robot Review. We figured out this product is a complete scam and I hope you found this review before purchasing the product!
Summary
Reviewer
Review Date
Reviewed Item
Author Rating