Today I'd like to review a new app called Fetch Rewards that pays you to buy items from your favorite brands. It's similar to Ibotta, but Fetch Rewards pays you for any item of a specific brand.
For a long time I've always used Ibotta, but after using Fetch Rewards to write this review, I think I'll be using both from now on.
Please understand that Fetch Rewards is not going to make you rich, you'll be earning pennies for scanning receipts. If you're interested in a large online income, check out My #1 Recommendation, it's how I made over $13,000 online last month!
In this Fetch Rewards App Review I'll cover how it works, the rewards available, and if it's a scam or a legitimate way to earn money.
If you have any questions, feel free to leave comments below this review.
---
Fetch Rewards App Review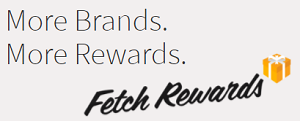 App: Fetch Rewards
Type: Cash Back/Loyalty
Verdict: Legitimate
In this Fetch Rewards app review, I marked them legitimate and overall it's a pretty good app that I think I'm going to continue to use. One thing that I like is you do not have to buy specific items to earn money.
For example, you can buy any Oscar Mayer product and earn points. The rewards are decent; I like that you can cash out starting as low as $3, but the only cash payments begin at $10 and cost more than normal $10 gift cards do.
Overall, it's a pretty good app that will hopefully continue to expand and add more brands and rewards.
---
How Does Fetch Rewards Work?
1) Sign Up For Free – $2 Sign-Up Bonus
Signing up for the Fetch Rewards app is free, and you can do so by visiting FetchRewards.com to earn a $2 sign-up bonus after you scan your first receipt.
Once you download the app, it should just take a few minutes to join.
2) Brand Offers
Once you're inside the app, you can see a few different ways to earn. The main way is through brand offers. At this time, Fetch Rewards gives you points for purchasing over 180 brands. Some popular brands include Quaker, Kraft, Oscar Mayer, Klondike, OreIda, Cheetos, Lay's, Planters, and many more. When you purchase a participating brand, you can expect to earn 100-500 points ($.10-$.50.)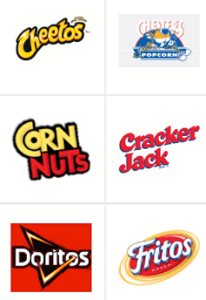 3) Special Offers
Special offers are very similar to what the Ibotta app offers. You need to purchase a specific product or products of a brand. Special offers are more specific but pay much more, 500-2000 points.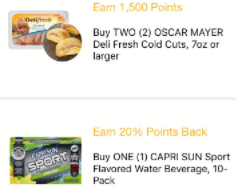 4) Scan Receipt
Every time you make a purchase at a grocery store, you should upload your receipt inside the Fetch Rewards app. This is easily done by allowing access to your camera and taking a clear picture of the receipt inside the app.
Within a few hours, Fetch will process your receipt, and you'll find out how many points you earned. You'll receive points for every Brand and special offer you complete along with bonus points for uploading your receipt inside the app!
5) Earn Points
Once you scan a receipt, Fetch will notify you when the receipt is done processing. You'll see a detailed breakdown of what you purchased and what points were rewarded for the purchased products.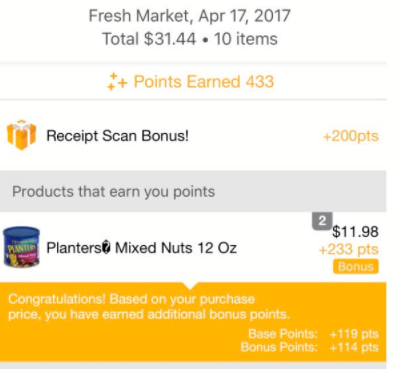 Once you earn 3,000 points, you can cash out for popular gift cards!
---
Fetch Rewards App Rewards
Once you earn 3,000 points, you're eligible for your first reward. Some of the $3 gift cards include Amazon, Target, CVS, Panera Bread and a few more. You can also donate your earnings to charity starting at $3.
Most rewards start at $5 and cost 5,000 points. They have over 55 different gift cards to choose from starting at $5, so I'm sure you can find a relevant reward to you.
It looks like the only cash rewards available are Visa/Mastercard reward cards starting at $10 but cost 11,500 points instead of 10,000.
Once you redeem a reward, they send you the reward via email, and it can also be accessed inside the app!
---
Fetch Rewards App Payment Proof
Before I promote any site or app I make sure that they pay! Below is proof that I cashed out a $5 Amazon gift card from Fetch Rewards: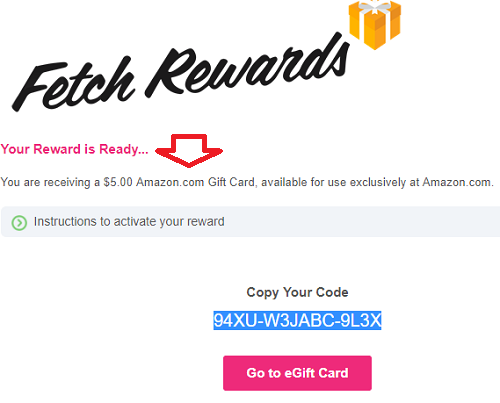 I've been getting paid by Fetch Rewards for several months now, here're some more screenshots of gift cards I've received: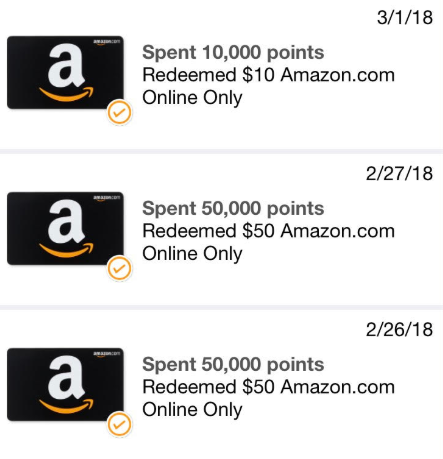 Join Now to earn $2!
---
Fetch Rewards App Complaints
Still New
At this time the Fetch Rewards app is still relatively new but seems to be becoming more popular. At this time they have 188 brands available for points which is a lot, but hopefully, they continue to grow and continue to add more brands!
---
Is the Fetch Rewards App A Scam?
The Fetch Rewards app is not a scam, and it turns out it's a pretty good rewards app. The main benefit I see is it works at any grocery store, and you don't have to buy specific products just specific brands.
I wish they offered payments via PayPal, but since you can get popular rewards starting at $3, it's still a pretty good rewards system.
If you'd like to learn more visit FetchRewards.com to earn $2 after you scan your first receipt.
Thank you for taking the time to read my Fetch Rewards review, if you have any questions or experience with this app I'd love to hear about it in the comments section below!
If reward apps aren't for you, make sure to check out these other helpful links!
How I Made Over $13,000 Online Last Month
Summary
Reviewer
Review Date
Reviewed Item
Author Rating