Eureka is an app and website that pays you to give your opinion via short surveys. Eureka reminds me of PaidViewpoint, a survey site that I highly recommend. All the surveys are short, you're always paid for your time, and the app is easy to use.
Please keep in mind that taking surveys will never be a significant income; even legitimate survey sites will be a small income. If you're looking to make a large passive income online, check out My #1 Recommendation, it's how I made over $13,000 one month!
In this Eureka App review, I'll cover how to earn, how to get paid, and if this app is a scam or a legitimate way to get paid to take surveys!
---
Eureka App Review
App: Eureka
Type: Surveys
Verdict: Legitimate
In this Eureka App review, I marked them legitimate. Overall the app is straightforward to use, and you'll earn a decent amount for giving your opinion. Although it's legitimate, it's not an app that will make you rich or even be a large income.
Eureka will send you push notifications when surveys are available, and you'll be able to take a survey that pays $.25-$1. You can expect 3-7 surveys a week, and that's it. If there are no surveys available, you can't earn, you'll have to wait until more surveys come up.
Eureka is a good option if you're looking for an easy-to-use app to earn a few bucks a month. If you're looking for an earn anytime app, check out some of the Extra Income Sites that pay me. If a small extra income isn't for you, check out My #1 Recommendation for earning a passive income online.
---
How Does the Eureka App Work?
1) Download the App & Sign Up 
To start with Eureka, you can download the app from your device's app store or visit Eurekasurveys.com. Enter the code: 2FYDPD to earn $1 just for signing up.
2) Complete Profile Surveys

Before you have access to all of Eureka's surveys, you'll need to complete your profile surveys. There should be at least three surveys that pay $1 each. After completing your three profile surveys, you'll have access to a few surveys and will need to wait for survey invitations.
3) Wait For Survey Invitations
Once you complete your profile surveys, you might have a few surveys that you can take. When you begin a survey, you will be asked a few screening questions to ensure you qualify. If you do not qualify, you'll be kicked out of the survey, but Eureka will reward you a few cents for trying. If you qualify for the survey, you continue the survey, and when you're done, you will be redirected back to Eureka to claim your reward.
4) Answer Daily Polls
Each day you can earn more by answering the daily poll. This takes a few seconds and asks you to share your opinion with multiple-choice answers. You'll earn $.01 each time you complete a daily poll.
5) Refer Friends to Earn More
Eureka has a referral program that can help you earn more. You'll earn $.50 for every friend you refer, plus 10% of their earnings for life. When a referral joins with your referral code they will automatically earn a $1 sign-up bonus!
6) Get Paid!
Once you earn $5, you can cash out via PayPal and several gift card options. According to Eureka's FAQs, you should receive your payment within a few hours of cashing out.
---
How Does the Eureka App Pay?
Once you earn $5, you can cash out your earnings at Eureka. They currently offer payments via PayPal, Visa Card, Bank Transfer, and many gift cards such as Walmart, Target, Amazon, and many more.
When you have over $5 in earnings, click on the reward you want and redeem it. You will be asked to enter your email. Most rewards will be sent to your email immediately, but some might take up to 3 business days.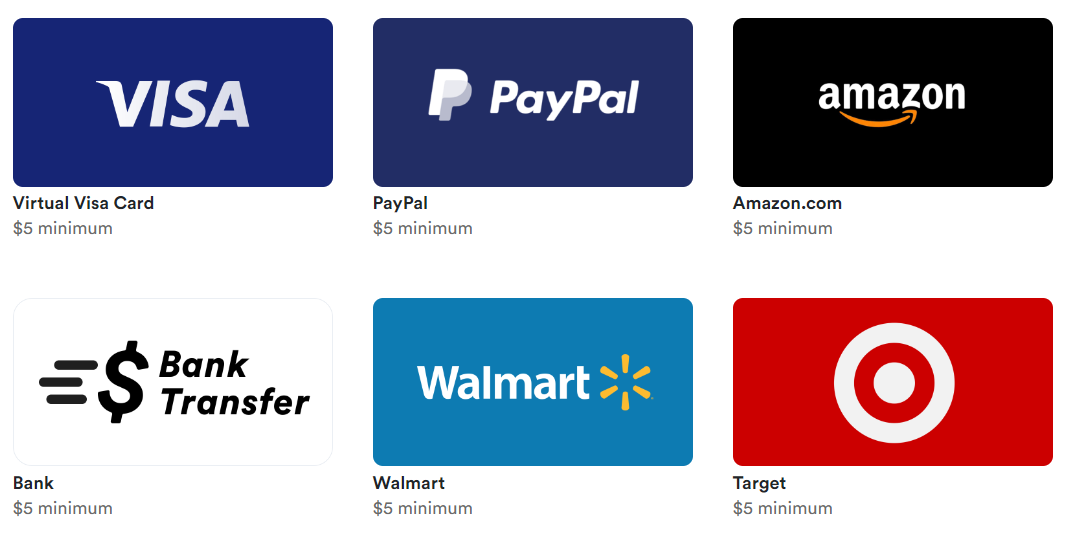 ---
Eureka App Complaints
Slow Earning & Small Income
It's no secret that taking surveys online won't earn you much money, but it seems like readers forget this often when a new survey site pops up. Survey sites like Eureka and other legitimate options will never make you rich.
You can expect to make around $5 a month with this app. Is it an okay way to spend some free time for some extra cash? Yes, but it's not much more than that.
Not Many Surveys
A common complaint with extra income sites is being unable to earn when you want to. For example, waiting at a doctor's office is a great time to spend a bit of time on your phone making some cash, but with Eureka, you can only take surveys when they are available. If there are no surveys to take, you can't earn on the app at that time.
Their FAQs mention that the amount of surveys you receive is not affected by how close to the cashout amount you are, but that is common with some survey sites. In my experience, this hasn't been an issue; know that there will be fewer surveys some weeks, depending on the time of the year.
---
Is the Eureka Survey App A Scam?
In my opinion, Eureka App is not a scam, I found the surveys pretty enjoyable, but you need to understand that this will be a tiny income. You can only take surveys when they are available, and the surveys don't pay much.
If you take surveys when they come in, you can expect to reach the $5 cash-out amount each month but not much more. If that sounds good enough, you can download the app by visiting EurekaSurveys.com and use my code to earn $1 instantly: 2FYDPD.
If you're interested in the surveys at Eureka, you'll enjoy PaidViewpoint; it's the only survey site I highly recommend! Make sure to check out my PaidViewpoint Review next!
If Eureka doesn't sound like the app for you, check out these helpful links:
Extra Income Sites That Pay Me Each Month
Work From Home Jobs Hiring Now
How I Made Over $13,000 Online Last Month
Do you think the Eureka App is a scam? I'd love to hear your thoughts on this review in the comments below!
Eureka Surveys App
Summary
I like that the surveys are short and can be easily completed on your phone; the minimum cash-out amount is only $5, and they pay via PayPal.
Please keep in mind that no survey site is going to make you rich.
Overall, Eureka is a decent option for taking surveys on your phone.
Easy To Join

Number of Surveys

Easy To Earn

Income Potential

Reward Options

Minimum Payment

Payout Timeframe

My Overall Impressions
Pros
Short Surveys
Web Based or App-Based
$5 Minimum Cashout Amount
Earn when you don't qualify
Cons
Tiny income
You won't qualify for all surveys