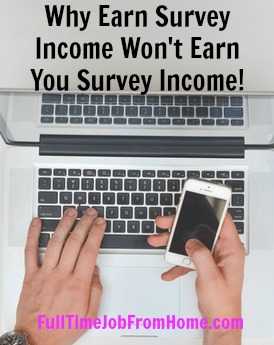 Earn Survey Income is no longer available, check out these Extra Income Sites That Pay Me
Lately I have done a lot of reviews on companies that are straight up scamming people. What they do is lead you to believe that they have the secret to making more money with surveys. That is not the case, most of these companies don't even offer training and if they do it's worse than bad.
Earn Survey Income does exactly this. They lead to believe you can make more money than ever with surveys and then make you pay for a list of survey sites that you can find anywhere on the internet.
Do not buy this product because in this Earn Survey Income Review I will be showing you exactly how this company is scamming you and the free options you have to get the information they will charge you for!
---
What Is Earn Survey Income?

Earn Survey Income is a site that promotes the secret to making more with surveys. They sell that promise to you by giving you unrealistic expectations on their sales page. When you buy the product all you will receive is what they call training and a list of survey sites to sign up for.
They say they are helping you find legit survey sites online, but the truth is they are taking your money twice. I will explain in the next section.
---
How Does Earn Survey Income Work?
I mentioned above that Earn Survey Income is taking your money twice and now I will explain why. Whenever you buy Earn Survey Income your paying them $19.97 for their product. Once you get inside you will be given a list of survey sites to join. I believe they have their list up to more than 250.
Now not only did they just make the $19..97 from you, but when you sign up for any of the survey sites such as survey savvy . They will get commissions on what you make because they referred you.
On the sales page it says that Earn Survey Income will pay you, but that is not the case you will be completing surveys from the companies that you join. If you do earn enough to cash out you would be paid by that company not Earn Survey Income.
---
Earn Survey Income Review
Earn Survey Income is no longer available, check out these Extra Income Sites That Pay Me
Website: EarnSurveyIncome.com
Price: $19.97
Score: 5 out of 100
Rating: SCAM!
I gave Earn Survey Income a 5 out of 100 because I found nothing worth paying for within the members area. Everything that can be found in the members area can be found for free.
Also the site was terribly put together. The navigation is terrible, the text is hard to read, and it took a long time to load.
I would not recommend this product to anyone and you should start running away now!
---
How Much Is It & What Do You Get?
To gain access to Earn Survey Income you will be charged $19.97 for a lifetime membership. This can be paid with a credit card or PayPal. The product is bought through Click Bank so there is a 60 day money back gurantee
Survey List
Within the members area you will have access to a list of over 250 survey sites. Some reputable survey companies and some that I  have never heard of before, but who is really going to sign up for that many survey sites… no one. I am not against the reputable survey sites at all which is why I have compiled a list of the 30 best survey sites for Free.
Bonuses
The bonuses don't get better than the survey sites. Once again they are all sites that pay commission on referrals which means your just giving Earn Survey Income your money twice. The bonuses included are paid to drive, mystery shopping, and selling on eBay E-book.
---
What I Found Wrong With Earn Survey Income

Survey List:
We have already went over that there is just way to many sites for you to sign up for all, but the other things I didn't like about the survey list is there is no indication of which ones rank highest and no way to sort. Also I found that a lot of the links to homepages of survey sites did not work and even found a few survey sites that have since gone out of business and are no longer available.

Bonuses: 
I mentioned just a few of the bonuses above just because those are the only ones that really have any meaning at all why there is a bonus for Free Government Grants on a paid survey site I am not really sure, but when you click on the other bonuses your taken to a sign up form. Once you enter your information you get a lot of some email.
Design and Navigation:
Other than Earn Survey Income scamming you into paying for their product, the next biggest problem is the design of the site. It is very poorly put together and once you leave the main page of survey sites it almost impossible to get back there without using the back button. There is navigation at the top, but when you click on home it takes you to the sales page, just a poorly designed website.
---
Final Verdict
I believe the Earn Survey Income is  a complete scam and is not worth any of your money. Although they did promote some highly reputable survey companies that information can all be found for free here.
I found nothing within the Earn Survey Income members area that is worth paying for so stay far away from this company and others like it!
I don't recommend purchasing Earn Survey Income, but check out my #1 recommendation. It's how I learned to make money online. You can see the comparison below.

---
What To Do Now?
Earn Survey Income is no longer available, check out these Extra Income Sites That Pay Me
As you have figured out by now, I do not recommend you purchasing this product. I do recommend some survey sites though. To see the sites I recommend joining visit All Scam Free Jobs.
If you would like to learn how I make money online visit Start Your Own Online Business.
Thank you for reading my Earn Survey Income Review. As you know, do not buy this product! I hope you enjoyed this review and if you have had experiences with any scams I'd love to hear about it in the comments section below!
Summary
Reviewer
Review Date
Reviewed Item
Author Rating