Over the last year, I've been searching for cashback apps that pay you automatic cashback, meaning you don't need to scan receipts, but a few weeks ago I found an awesome app that pays you to scan any receipt and does not have a minimum cash out amount, so I had to cover it!
The app is called CoinOut and was actually featured on an episode of SharkTank. The app pays you a few cents for every receipt that you scan. All you need to do is take a picture of the receipt inside the app to earn. This works in the US and CA and all you need is a valid phone number and smartphone to earn!
Please understand that although CoinOut is legitimate it's going to be a tiny online income. If you're serious about making a large income online, check out My #1 Recommendation, it's how I made over $13,000 online last month!
In this CoinOut Review, I'll cover how it works, how you can get paid, show you proof they pay and cover the complaints with this app!
---
CoinOut App Review
App: CoinOut
Type: Receipt Scanning
Verdict: Legitimate
In this CoinOut App review, I marked them legitimate. First off, this app is just an extra income and won't make you rich. You'll earn $.04-$.10 per receipt. But there are a few big reasons why I recommend this app.
First, you can scan any receipt that has the business name, date of the transaction, itemized list, and total price. Which pretty much any store gives so you can basically earn by making purchases anywhere.
Second, there's no minimum cash out amount, so if you only remember to scan a few receipts each month you can still get paid, and you won't be waiting to reach the cashout amount.
Overall, it's a pretty good app that I will continue to use, but it is a small income so some might not feel like it's worth it.
---
How Does the CoinOut App Work?
1) Sign Up For Completely Free
Signing up for CoinOut is completely free, you can do so by visiting CoinOut.com and entering your phone number. You'll need a valid phone number to join and a smartphone to upload pictures of receipts inside the app.
2) Scan Any Valid Receipt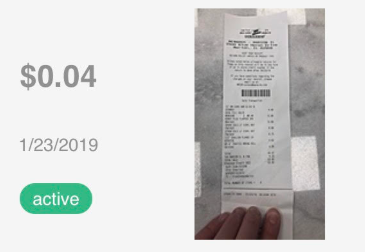 Once you join CoinOut, it's time to start earning. The awesome thing about CoinOut is you can earn for scanning any itemized receipt; it does not have to be from a certain store to earn. All the receipt needs are Date of Transaction (Must be within 2 weeks of uploading,) Store Name, Total Amount, and Line Items. Really as long as it's not a mom and pop store your receipt will include all of this information.
You can take a picture of the receipt directly inside the app. Once you do, you'll immediately earn cash. The amount that you earn is completely random (it does not matter how much you spend) and usually ranges from $.04-$.10.
There's no minimum cash out amount, so after scanning one receipt, you can get paid via Amazon gift card!
3) Shop Online To Earn More

CoinOut does pay you cashback for online shopping to a few stores. Some of the stores include eBay, Sam's Club, Walmart, Game Stop, Groupon, Macy's, Overstock, JCPenny, Hotels.com, and a few others.
They will pay you 1%-4% of your total purchase price, and you'll need to visit the store through the link inside the app to earn.
Honestly, there're better options for online shopping so I wouldn't use this portion of the app. I recommend either using Rakuten or Swagbucks!
4) Complete Badges To Earn More
The next way to earn more is through completing badges. These appear on the main screen of the app and can either allow you to scan more receipts, so you can earn more, or are an offer that pays $2-$10.
These are not required, but you usually complete a few just by scanning receipts inside the app or earning cash back online shopping.
5) Refer Friends To Earn More
If you like the CoinOut App, you can share it with your friends to earn more. You'll earn $.75 for every valid referral that you refer. I contacted their support (they responded in under 30 minutes) and they let me know a valid referral is a unique referral that has a valid phone number. If a referral is using a VOIP number, you will not receive credit.
Update: Now Pays $1 Per Referral
6) Get Paid!
Once you scan one receipt, you can get paid via Amazon gift card or Direct Deposit. You can also get paid via PayPal once you earn $10!
---
How Does the CoinOut App Pay?
CoinOut pays via Amazon gift card, PayPal, and Direct Deposit. Once you scan your first receipt, you can earn get paid via Amazon or direct deposit because there's no minimum cash out amount. But if you want to get paid via PayPal, you'll have to wait until you earn $10.
Once you cash out, it can take up to 24-48 hours to receive your gift card or PayPal payments. It says that direct deposit could take longer depending on your bank (3-5 days.)
One thing to note is that they limit you to one cash out per week.
---
CoinOut App Payment Proof
Since CoinOut claimed to have no minimum cash out amount, I went ahead and cashed out the $.04 I earned for my first receipt via Amazon gift card. You can see a screenshot of that payment below:
Here's another screenshot of my latest monthly payment where I made $14.34 via PayPal:
---
CoinOut App Complaints
Daily Receipt Limit
One thing to note is that CoinOut does have a daily limit on the number of receipts you can scan. In the FAQ's it states that this daily limit is random and changes every day. I know that the first day I downloaded the app that I scanned four receipts without any issues and one day I scanned at least eight receipts without any issues.
I feel like as long as you're just scanning your receipts, you should be good on never hitting the daily limit. I would say that the daily limit is in place so you can't just scan receipts all day and earn.
Just an Extra Income
Obviously, this won't be a huge income. If you can remember to scan most of your receipts, you can expect to make $5-$10 a month. But since there's no minimum cash out amount, if you earn less you don't have to worry about getting paid.
With that being said, don't expect this app to help you quit your day job. It's just an "extra income" app that can earn you a few bucks per month with little work.
---
Is the Coin Out App A Scam?
The CoinOut is not a scam. I know they are legitimate because I've been using the app and have already been paid by them several times. No, this app will never make you rich, but we all buy things and have receipts. If you can remember, you can make some extra cash just by scanning those receipts. The main reasons I like this app are they let you scan any receipt and they have no minimum cash out amount. A lot of similar apps restrict what stores you can upload and have a $10 minimum cash out amount, which can take forever to reach.
If you have any interest in making extra money online by scanning your receipts, I feel like CoinOut is a great option.
To learn more or to join, visit CoinOut.com to get signed up for completely free!
If Coin Out doesn't sound like it's for you don't worry, here're some other awesome ways you can make money online:
All The Extra Income Sites That Pay Me!
Work From Home Jobs Hiring Now
How I Made Over $13,000 Online!
Do you have experience with the CoinOut App? I'd love to hear your thoughts on this CoinOut App Review in the comments below!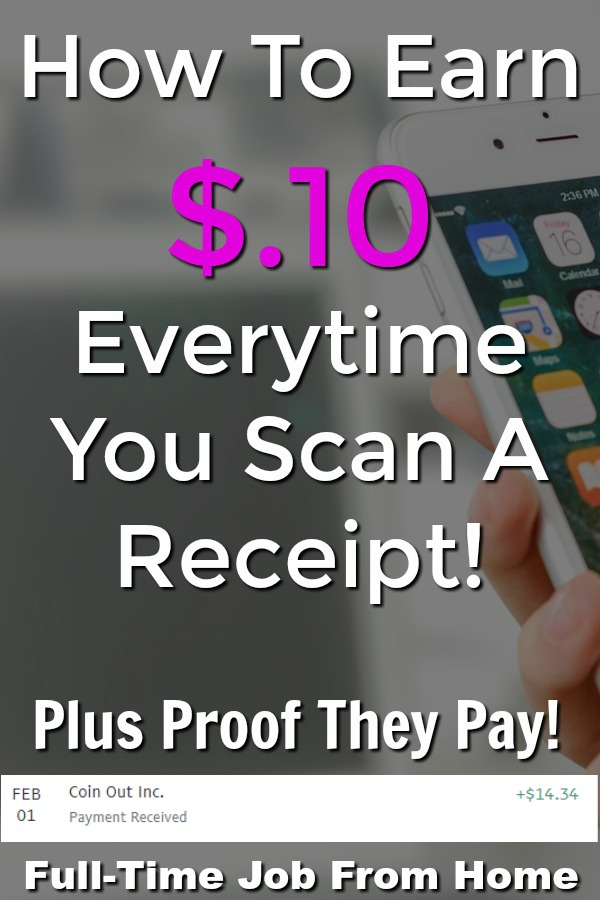 Summary
Reviewer
Review Date
Reviewed Item
Author Rating