Avon is a Direct Sales company from my list, 193+ Direct Sales Companies. I will review many of the companies from the list individually. As I review Avon, I have fond memories of growing up, and the Avon lady who was our backyard neighbor would come over and show my mom and I samples. With Avon's 130 year history, no doubt you might have some memories too.
Avon fell under poor management and found themselves in financial difficulty. They found the right partner to help them rebuild and in 2016, a new company was formed, New Avon LLC, which is the company that operates in the US, Canada, and Puerto Rico. Avon Products is the original company which operates around the world. Together, they make the same great company that we all recognize.
From now on, when I say Avon, I am referring to New Avon LLC. In this post, I will talk about the opportunity with Avon.
Direct Sales works for some people, but I prefer a much more passive way to earn an income with my own business! If you're serious about making a full-time income online, check out My #1 Recommendation, it's how I made over $13,000 online last month!
---
How to Sign Up to Sell Avon
If you want to join Avon, start by going here. Fill out the form and use "hollyvoss" as the reference code. Holly is a friend and Avon representative. Or you can use a reference code from an Avon rep who you know. But if you don't know any Avon reps, join under Holly and I know you'll be taken care of!
Here's what the form asks for: 
Name

Address

Email

Phone

English or Spanish communication

Agree to the privacy statement and conditions of use

Confirm you are at least 18 years of age

Now you get to pick out your kit (my favorite part of joining a new company!)
Enter your payment info for the kit
Review your order and submit!
---
What Does it Cost to Join Avon
There are three starter kits to choose from, ranging in price from $25 to $100.
---
What's in the Avon Starter Kit?
The Quick Starter Kit is great to get started with a low investment. For $25, you'll get free shipping and everything you need to start making money. Here's what's included:
4 full-size products

4 mini products

20 samples

43 catalogs

Plus more! Over an $80 value!
The Advanced Starter Kit is $50 and contains everything from the Quick Starter kit, plus additional products. Here's what you get:
7 full-size products

7 mini products

35 samples

43 catalogs

Plus all the sales tools you'll need! Valued over $140!
The last kit choice, the Premium Starter Kit, will cost you $100 and has a value of over $400. Here's what you get:
20 full-size products

2 minis

50 samples

Getting started booklet and catalogs – everything you need to get started!
---
What is the Avon Commission?
Commission for Avon ranges from 20-40%. When you purchase, you get a discount of 20-40%, which means you can turn around and sell it to make a 20-40% profit. On your first order, you're guaranteed to get 40% off. After that, your discount is dependent on the amount that you order.
Orders of Core products from $0-$149 is 20%  (Core products are ones that Avon manufactures)
$150-$299 = 30%
$300-$499 = 35%
$500 & above 40%
20% on Fixtured products (these are items that Avon purchases from outside vendors; fashion, bras, shoes, holiday products, and toys)
Once you reach $10,000 in sales, you get promoted to President's Club, and you begin to receive 40% on core products and 25% on fixtured products, regardless of the size of your orders.
Avon pays commissions on the 15th and 30th of each month.
---
What Else Can Avon Representatives Earn?
When you join Avon, you have the opportunity to have healthcare, education, and retirement benefits. This is the first time I've seen these types of benefits offered by a direct sales company.
Insurance benefits are administered through the ICBA (Independent Contractors Benefits Association). ICBA offers a free WellCard discount program, as well as health insurance options starting at under $32.51 per month, including wellness visits, major medical, dental, vision, and disability.
In  2018, Capella University started offering Avon representatives and their families a variety of discounted services and benefits to help in furthering their education. Capella University is a fully accredited university that services more than 37,000 students virtually. Here's what they are offering to Avon reps and their families:
$8,000 Learner Success grants for full-time Undergraduate degree programs
$4,000 Learner Success grants for part-time Undergraduate degree programs
Overall 10% tuition discount and waived application fee
Free professional development webinars
Last, Avon offers Representatives a savings plan to help them meet their retirement goals. The Avon Independent Representative Retirement Program (AIRRP) allows Avon reps to choose how much they will contribute to their retirement plan from eligible earnings each campaign.
---
Does Avon Have a Quota?
Avon does not have a quota. If you want to stay active, you'll need to place an order within nine weeks. But you can reactivate if you place an order within 26 campaigns, which is 1 year. Fortunately, there is no minimum order.
---
Does Avon Have Any Fees?
There is no fee for the Avon website. Yay! This is a really great benefit because most direct sales companies charge a monthly or yearly fee for technology.
---
Is Avon the Right Direct Sales Company for Me?
We know that Avon is legit because it's been around for over 100 years, and also because I personally know Holly Voss! If you're interested in direct Sales, Avon is a reputable company to try with a low cost to join and no monthly fees. If you want to join, go here and find the "Enroll Now" image and get started! 
Direct sales is a legitimate option to earn some money, but by no means is it for everyone. If you're serious about making a large income online, check out My #1 Recommendation, it's how I made over $13,000 last month, and I didn't have to sell a damn thing!
Do you like the sound of Direct Sales, but not so sure about Avon? Check out my list of over 190 Direct Sales Companies to see what else is out there! Not into Direct Sales at all? Check out these helpful links for some other ideas:
Work At Home Companies Hiring Now
All The Extra Income Sites That Pay Me Each Month
How I Made Over $13,000 Online Last Month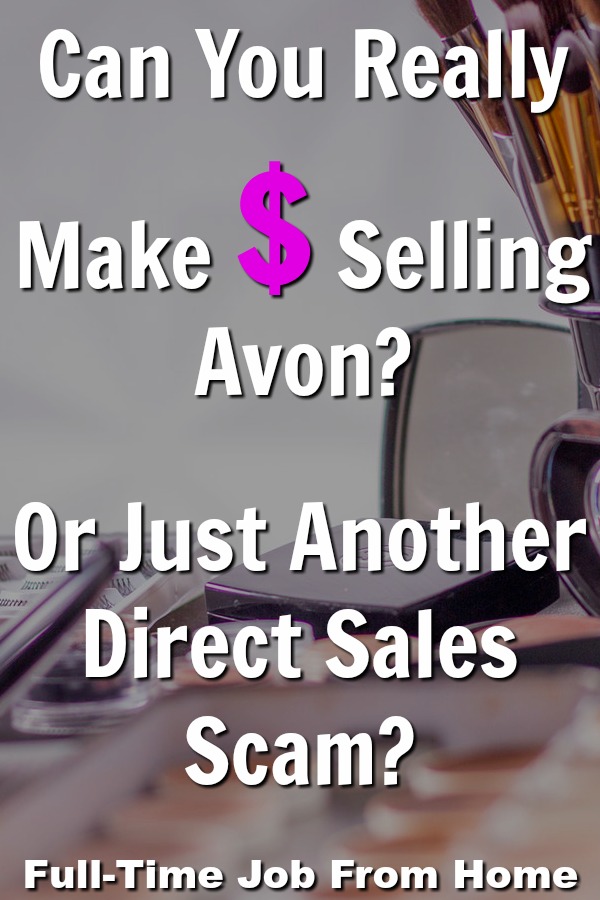 Avon Direct Sales
Comments Rating
( reviews)