7 Ways To Make Money With Amazon!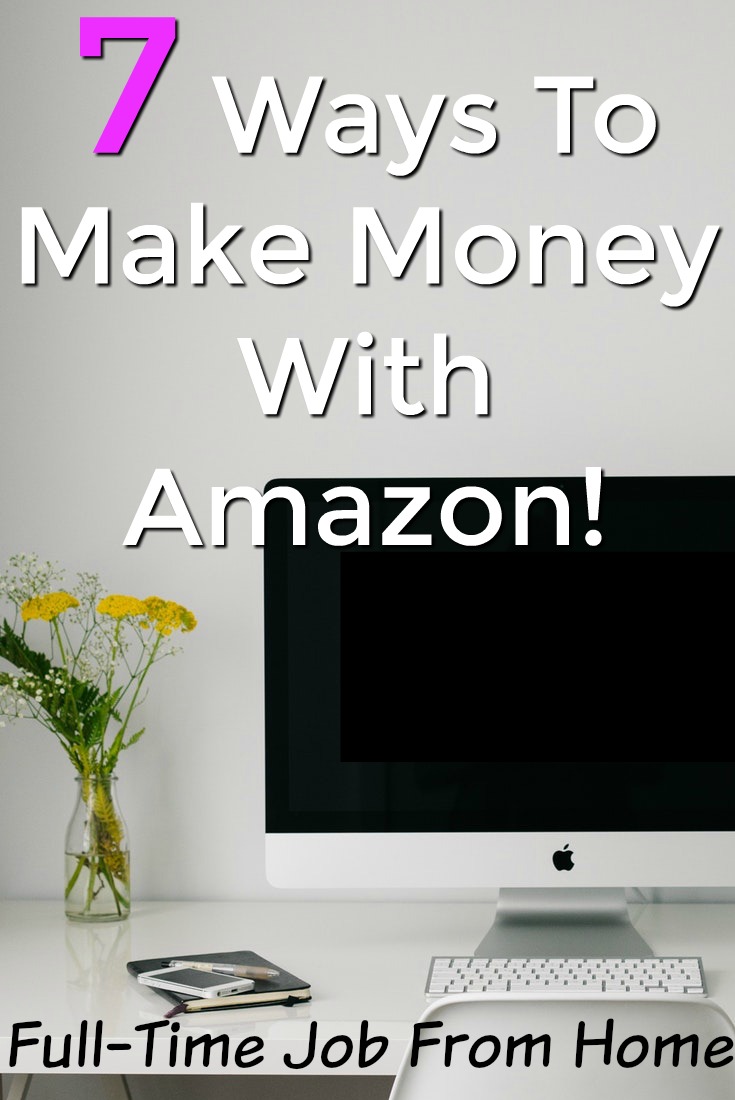 By now pretty much everyone knows about Amazon.com, and you've probably spent plenty of money online shopping there. But today I'd like to cover seven ways you can use Amazon to make money. I'll include a variety of ways to earn with Amazon that differ quite a bit, so you should be able to find one that suits you.
I'll make a few recommendations throughout this post about sites/products you should check out to learn more. They're all resources that I trust and can help you be successful making money with Amazon.
If you have any questions about the methods on this list, feel free to leave comments below this post!
Let's get started, here're seven ways you can make money with Amazon.
---
7 Ways To Make Money On Amazon
By far my favorite way to make money on Amazon is through their affiliate program called Amazon Associates. If you're not familiar with affiliate marketing, it's promoting other people's products and earning a commission when someone makes a purchase through your link. You don't need to ship the item or handle any customers, just earn by sending consumers to make a purchase.
Amazon Associates pays commissions on most categories on Amazon and offers higher percent commissions based on volume. It can be a very profitable affiliate program if you can send high-quality traffic that's ready to buy.
You can sign up for Amazon Associates for free here.
If you'd like to learn more about affiliate marketing, I highly recommend checking out Wealthy Affiliate. It's where I learned how to start a website, drive traffic to my site, and make money with affiliate marketing. The key is having traffic, and you need a website to do that. Wealthy Affiliate will teach you all you need to know to be successful promoting products on Amazon!
Last Month I Made

$13,841 Online
I Bet You're Tired Of Making Pennies Online. No More BS. If You're Serious About Making A Full-Time Income Online You Need To See The TRUTH. Stop Wasting Your Time With The Next Big Thing When There's Already A Proven Method That Works!
Another popular way to make money on Amazon is through Fulfillment By Amazon and selling your own products. If you already have your own product that's great, but you can also get products made overseas for a fair rate and selling them on Amazon for profit. Having your own product isn't required, you can also sell used items on Amazon for profit.
Once you have items to sell, you can use Fulfillment By Amazon. Ship your items to Amazon, and when your products sell, they'll handle all of the packaging, shipping, and returns for a small fee.
This makes it a great opportunity for passive income, as long as you keep your items in stock at Amazon, you can be making a profit with Amazon doing most of the work.
If you're interested, I highly recommend this Ebook about selling on Amazon.
To learn more visit Selling on Amazon to find out how to get started.
Selling an Ebook online has never been easier with Amazon and Kindle. Pretty much anyone can list their Ebook for sale on Amazon in the Kindle Store. You can choose your Ebook price and earn a commission on all of your Ebook sales.
If you're already writing Ebooks and trying to sell them on your website, I highly recommend listing it in the Kindle store to earn more and reach a much larger audience.
If you'd like to learn more about creating Ebooks and selling them on Amazon, I highly recommend this highly rated Ebook on Amazon.
You can learn more about self-publishing ebooks at Amazon here.
Amazon Trade-In is an easy way to get some money for your unwanted items. You can exchange 1,000s of items including video games, books, DVDs, CDs, and other electronics.
You can easily search for your product and Amazon will let you know if it's eligible and give you an immediate trade in value.

If the price seems fair, you can accept the offer and get a free shipping label to send the items to Amazon.
They'll review the item, and if everything checks out, you'll get an Amazon gift card for the trade-in value. I've been able to get rid of some old DVDs and books, I didn't earn much, but the process was extremely easy and was a lot easier than selling the items individually on eBay!
To learn more visit the Amazon Trade-In Program!
Amazon MTurk is a site that you can get paid to complete Human Intelligence Tasks. Companies that have easy repetitive tasks can post jobs on this site and turkers can complete the work for cash.
Most of the available jobs are easy, repetitive, and only take a few seconds to minutes to complete.
These jobs are easy, meaning they don't pay much, but it's an easy way to earn a few bucks in your spare time.
To learn more visit Amazon Mturk.
If you know how to create apps, you can list your app for sale across several app stores. You can make money by charging for the app, offering in-app purchases, showing ads, and even taking payments for products.
They offer plenty of APIs that can help you integrate your app with their platform.
This one requires more knowledge than the other methods, but it can be done. To learn about the process check out this Ebook.
To learn more about listing your app visit Amazon Apps.
Amazon hires work at home positions throughout the world including customer service. They hire full-time, part-time, and even seasonal workers.
Visit Amazon.Jobs to see availability. You can search Work From Home in the location bar to only see the work at home positions.
---
More Ways To Make Money Online
I hope you enjoyed this list of ways to make money with Amazon. I really like the Amazon associates and selling on Amazon because they can be a passive income that requires a lot of work up front, but once you get it going, it can earn you money with little work. If you have any questions about making money at Amazon, please leave comments below.
Making money on Amazon isn't the only legitimate ways to make money online. Here're some helpful links to other ways to earn:
Thank you for taking the time to read my list of ways to make money on Amazon. If you have questions or experience with these ways, please leave comments below!