Day 1: How Am I Going To Make $5,000 A Month Online?
An Inside look At Making A Huge Income From Home!
Welcome!
Thank you for joining my 5 Day Making Money Online Course. Before we get started I would like to introduce myself and tell you a bit more about what to expect for the next 5 days!
My name is Brok and I am the owner of Full Time Job From Home (the website you signed up for this course at), that's me on the right! Over the last two years I have tried to make money online. I have seriously tried everything. I tried survey sites, MLM systems, Social Media Marketing, Freelance work, and many get rich quick schemes only to be disappointed. About 7 months ago I came across something called Affiliate Marketing and it has forever changed my life.
I started this website and course to give back and help people who are just like me when I was lost. My goal from this course is to guide you down the right path and help you start making money online!
---
Course Information
I want to go over a few things about this course. As you know this course will be 5 days. For the next 4 days you will receive and email from me that looks like the picture below. It will say Day # Training 5 Day Make Money Online Course.

Make sure to look for these emails for the next four days! Within the email you will find a description of that days course along with a link to the actual lesson. See example picture below.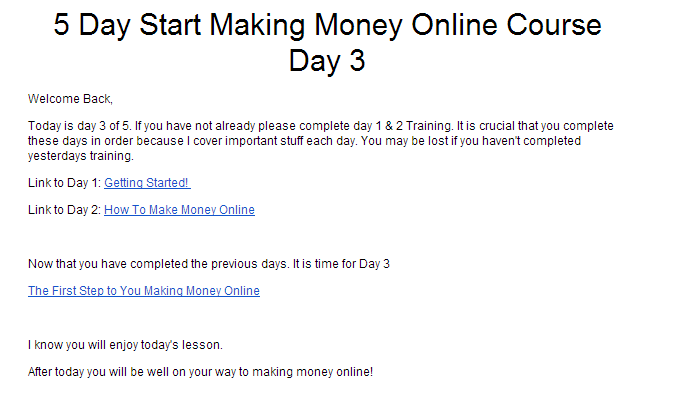 In each lesson I will touch on the previous lesson and then cover some new topics. At the end of each lesson I will assign a few short tasks to help you get started. I will also include a few optional bonus tasks that have to do with other ways of making money online! You can see an example of today's task at the bottom of this lesson!
Below is the outline for this 5 day course!
Today Day 1: How Am I Going To Make $5,000 A Month Online?
Cover the #1 way to make money online
Explanation of Affiliate Marketing
Wealthy Affiliate
Tips To Get Started
Day 2: What Is Affiliate Marketing
In depth explanation on how to make money with affiliate marketing
Example of Affiliate Marketing Website
Day 3: Step 1 To $5,000: Choosing A Niche
What is a Niche
How To Find A Niche
Day 4: Step 2 to $5,000: Building Your Website
How to Choose A Domain Name
Setting Up Your Website with Wealthy Affiliate
Day 5: Step 3 to $5,000: Mentor & Training
How to get help from me
Best Affiliate Marketing Training in the World
SPECIAL BONUS!
1 More Thing and Then We Will Get Started Learning!
Special Bonus:
On day 5 of this course I will be giving you 3 different special bonuses, just for completing all the tasks at the end of each lesson. Of course I am not going to tell you exactly what they are, but I guarantee you won't be disappointed. Just know you will have to complete the course each day and complete all tasks!
---
Day 1 Training! A look at  Affiliate Marketing!
Sorry to bored you all with information about the course, but it really is important for your online success. But now we are going to begin the training.
The #1 Way To Make Money Online is With Affiliate Marketing!
Go ahead and read the line above again. The best legit and consistent way to make money online is with affiliate marketing. From my experiences it is the only scam free way your going to make $5,000 a month anywhere on the internet. I know that personally because affiliate marketing is where 95% of my online income comes from each and every month!
That is why it's my #1 recommendation for making money online and why I built this whole 5 day course around Affiliate Marketing.
I know most of you have no idea what Affiliate Marketing is so we will cover that below!
---
What Is Affiliate Marketing?
Affiliate Marketing is really a very simple process. Basically you promote a companies products on your website, visitors to your website click on a link and buy the product. When this happens you earn a commission of the sale! For you visual learners check out the picture below!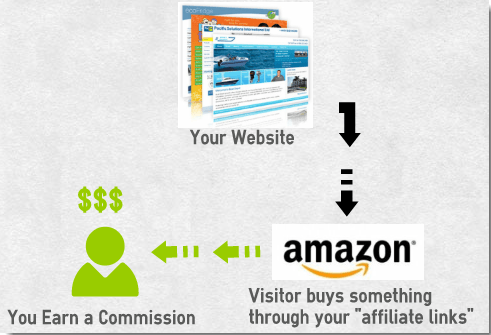 The picture above shows the route a visitor will take to buy a product. Your website to the affiliate site (company website) and then you get paid!
Just to show you how profitable affiliate marketing can be I included a picture from one of my affiliate programs earnings!
You can see that affiliate marketing can make you good money online and the best thing is it's legit!
---
What You Said I Need A Website?
I know, having your very own website sounds extremely intimidating. But trust me when I say to make a full time income with affiliate marketing you need a website. Luckily for you within this course and through a company you will learn about a little bit farther down this page, you will learn exactly how to build your very own website and make money with it!
---
So How Will I Make Money With This Website?
Well I have already told you that the best way to make money online is through Affiliate Marketing, but how else will you make money with your website.
Watch The Video To Find Out!
As you can see having a website not only gives you a great way to drive traffic to your affiliate links, which means making more money with affiliate marketing, but you can also earn money with your website through a few other ways!
Continue On To Learn About Wealthy Affiliate. Wealthy Affiliate has the best affiliate marketing and website training on the internet. Everything you will learn in this course was taught to me by Wealthy Affiliate. Wealthy Affiliate will help you continue your training after this 5 day course and will go right along with my 5 day training. So go ahead read on!
---
Get Started With Affiliate Marketing
You already know that affiliate marketing is the #1 way to make money online. I am living proof of it and if your going to be successful with affiliate marketing there is tons to learn. Unfortunately I can't cover everything in this 5 day course!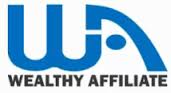 This is where Wealthy Affiliate Comes in! Wealthy Affiliate is an online university that will teach you exactly how to make money online with affiliate marketing step by step. Wealthy Affiliate is where I learned about affiliate marketing and is the reason I am successful at it today.
The training at Wealthy Affiliate is so good I actually developed this course to go right along with the Wealthy Affiliate Training!
For you to complete this course you will need to sign up for a completely Free (no credit card required) membership at Wealthy Affiliate!
MUST HAVE AN ACCOUNT TO COMPLETE THIS COURSE!
MUST COMPLETE PROFILE PICTURE & BIO
---
What To Do After You Sign Up For Wealthy Affiliate
Now that you have a free Wealthy Affiliate Course you need to complete your profile. Completing your profile is extremely easy and I will show you how below. All you need to do is upload a picture (or choose a stock photo) and complete your bio!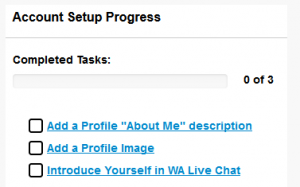 Step 1: Fill in your About me section. This doesn't have to be long. Just tell everyone your name and a bit about yourself. You can always update this later!
Step 2: Upload a profile picture. You can choose from stock photos to get started or upload your own picture or something that means a lot to you. Whatever you want it is your profile!
Once you complete these two steps you can introduce yourself in chat and then jump back over to this lesson!
---
Affiliate Marketing Tips
At first I was going to include this on the last day of training, but when it comes to making money online I feel like 95% of people have unrealistic expectations of what it's going to take to be successful. That is not your fault you have just been misinformed by so many people!
I have included it here on day 1 so you hear the honest reality to making money online!
Take it Slow: when you begin your affiliate marketing journey there

is going to be

so much to learn that it will be overwhelming. It is easy to go to fast and miss important information. I recommend re-reading all training that you complete!
This is not a get rich quick scheme: If you found this website you were looking for some time of online job opportunity. My guess is that you ran into multiple get rich quick schemes along the way. Well affiliate marketing is not a get rich quick scheme or even a secret system. It's a proven way to make money online!
It takes Time: I already said this is not a rich quick scheme, but I have to touch on it again. Making money with affiliate marketing will take time. You will have to learn how

to be

successful, apply the techniques, and wait for the traffic and cash to roll in. It took me 5 months before I saw a consistent check come in. It could be sooner or longer for you. Everyone is different.
Hard Work: My last tip is expect to put in hard work. You will have to spend sometime with this, especially when starting out. This is not something that happens over night or even in one month.
Don't get me wrong although it will take time and hard work it's 100% worth it. I stuck with it and now am a successful internet marketer.
---
Day 1 Recap
I hope you have enjoyed day 1 of this course. There is much more to come in the next four days. Tomorrow we will take a look at an example of an affiliate website and start to talk a little more about how this affiliate marketing stuff will all work. But for now you have some homework. Make sure to complete all the tasks below to be eligible for my bonuses on day 5! I have also included a bonus tasks. Feel free to take advantage of it!
If you are extremely excited to get started I understand, but please remember there will be a lot of information to absorb so take it as slow as you can!
---
Day 1 Tasks
Day 1 Tasks:
1) Sign Up For A Free Wealthy Affiliate Account Click Here!
2) Complete Your Profile: Upload Picture & Write Bio
3) Visit my Wealthy Affiliate Profile Click Here! Leave me a message saying that you joined and introduce yourself!
4)  Complete lesson 1 of the Get Started Course at Wealthy Affiliate. Click Here!
5) Visit and Read my Affiliate Marketing 101 Post. Click Here!
BONUS
6) Earn $5 Just By Signing Up For Fusion Cash And Confirming Your Email! CLICK HERE TO JOIN
---
YOUR DONE WITH DAY 1!
Congratulations on taking the first step to making money online! Make sure to look for my email tomorrow because we will be digging deeper into affiliate marketing and I will be showing you some examples of how it all works!
I will see you tomorrow,

Brok Webb
Full Time Job From Home