6
TopTenz Review: Get Paid $50 Per List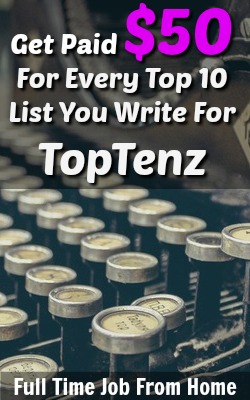 TopTenz is a site that posts top ten lists on their very popular blog. Recently Top Tenz has started to pay writers $50 for every list post they submit that's accepted.
I recently wrote a review on a similar site called Listverse, they seem to only except "off the wall" lists though. From what I can see Top Tenz accepts lists that aren't as unusual.
For this reason I decided to write a review and show you how you can make money writing lists for TopTenz.
In this review I'll cover how it works, what type of lists you should submit, and how you're paid.
Make Sure To Check out Write Your Way To Your First 1K! It's an Awesome course that will teach you everything you need to know to become a successful Freelance Writer!
---
How TopTenz Works?
1) Write A Top 10 List

The first step is writing your list post. I go into more detail below, and they do a great job of telling you exactly what they look for on their website, but in general, lists should range from 1500-2000 words and count down from 10 to 1.
2) Submit & Get Approved
Once you have a list complete that meets the guidelines, you can submit it via email as an attachment. Within 2 weeks they'll get back with you either way.
3) Get Paid
If you list gets accepted it will be published on their site immediately and you'll get paid $50 via PayPal within 24 hours!
---
What Type Of Lists Get Accepted?
Like I mentioned above, they do a very good job of describing all the details of formatting, research, and general writing tips on their website, so I won't get into detail. But here's some general information you need to know.
All lists need to be around 1,500-2,000 words and should list in order from 10 to 1. It seems that they accept lists in categories such as culture (food, religion, politics, sports), Entertainment (games, movies, TV), Science (health, technology, nature), and bizarre facts.
From what I can see most lists are about facts you didn't know or cool facts about popular industries. Really anything that isn't well known or a bit unusual seems to do very well on the site.
There really isn't a concrete answer for what get's accepted, but this should give you an idea of what's popular. They say you can email them with ideas if you're not for sure if it's something they'd be interested in, but I wouldn't expect a super quick response.
---
Will They Let Me Know If I'm Accepted?
TopTenz does a very good job of letting you know exactly what they require in their lists and also made acceptance information available so I wanted to cover it.
Typically you'll hear back within 2 weeks of submitting your list. Even if you're not accepted you'll hear back and can publish or submit your list elsewhere.
---
TopTenz Payments
As mentioned TopTenz pays $50 for every approved list. Payments are made via PayPal within a few hours of acceptance.
This is obviously not a full time income, TopTenz only accepts 30 or so posts a month, so this is a site that can be extra income or a portion of a larger freelance writing income.
---
How Many Lists can I Submit?
They clearly state on their website that there's no limit to how many lists you can submit, but at this time they only pay for 30-40 lists per month.
They do say that they have some long term writers that get a few lists approved every month so there's not a huge amount of spots open. Also if you have a topic idea you can email and ask if they think it's something they're interested in.
---
Is TopTenz Legit or a Scam?
Writing lists posts for TopTenz is legit. There's nothing about this freelance writing opportunity that makes it a scam.
If you submit a list and it's approved you'll get paid $50 via PayPal. Really the catch is writing a list they're interested in and getting it approved.
It seems that they're limited on how many lists they accept each month so don't expect to get 10 lists accepted each month. If you have a good topic and write well you should be able to get a list or two approved every couple months.
With that being said, TopTenz is not a full time writing job by any means. It's a good place to submit a bit of writing each month if you're looking for some extra cash or already have a freelance income. The good thing is if your list is not approved you still own it, which means you can submit it elsewhere to get paid.
If you'd like to learn more visit TopTenz, there's much more information about actually writing the list that you should check out.
Want To learn how to make money as a freelance writer? Check out Write Your Way To Your First 1K!
Freelance writing isn't your thing? Here's some other work at home jobs and extra income sites that I recommend.
Tired of getting paid a few bucks for your writing? Learn how my writing makes me money forever with My #1 Recommendation!
Interested in TopTenz? Already had a list approved? Let me hear your thoughts on this TopTenz Review in the comments below.