Your Word Surveys: Is Your Word A Scam?
Your Word Surveys is a survey site I've been hearing a lot about lately because when you screen out of surveys you still get paid.
This lead me to take a little closer look at this program and see how good of a survey site Your Word really is.
Your Word is not a scam, but it's not one of the best survey sites you can join. Although they do pay you for not qualifying for a survey, the surveys pay pretty poorly and to me the rewards kinda suck.
In this Your Word Surveys Scam Review I will show you exactly what's going on with this survey site and some better survey sites to join.
---
Your Word Surveys Scam Review
Website: YourWord.com
Price: Free
Score: 75 Out of 100
Verdict: Legit (Not Recommended) 
I gave Your Word Surveys a decent score and marked it legit, because this company will pay you your earnings, but to me there are much better survey sites out there.
They do have some features that I really like, but they require a lot of information from you to join, plus there is no cash option and the gift cards available are kind of crappy.
Last Month I Made

$13,841 Online
I Bet You're Tired Of Making Pennies Online. No More BS. If You're Serious About Making A Full-Time Income Online You Need To See The TRUTH. Stop Wasting Your Time With The Next Big Thing When There's Already A Proven Method That Works!
If you're already a member of this site don't worry this site won't scam you, but you will probably want to check out some of the survey sites that are better here.
---
Your Word Surveys Positives
Paid When You Don't Qualify
The only positive that sticks out about Your Word Surveys is the fact that they pay you for trying to take surveys.
Whenever you take a survey, you will almost always be asked a few questions before you can start. These are screener questions to make sure you fit the criteria of what the companies looking for.
With most sites you're given a message saying you did not qualify, if you didn't meet the requirements and continue to try until you find a survey that you're accepted in.
With Your Word Surveys they reward you with a bit of cash for trying.
This is a really cool feature because you can make money without even taking a survey and you're not wasting all day trying to qualify with nothing to show for it.
You're not going to make a ton with this feature, but it does give you cash when it's usually time wasted.
---
Your Word Surveys Problems
Lots Of Personal Information
One major concern with any survey site is giving out personal information. Obviously taking surveys is giving out information about yourself and household, but when a site asks for more information than needed it raises concern.
To activate your account with Your Word Surveys you're required to enter your phone number.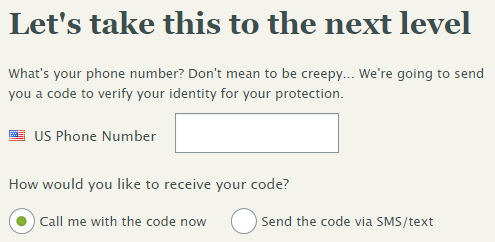 There is no reason for them to do this, but supposedly they only use your phone number to verify who you are. Still there is always a chance of you getting on a list and called repeatedly, which always happens to me when joining sites to review.
My recommendation is stay away from sites that require a phone number because most of them are giving out your information, even if they say they're not.
Surveys Don't Pay Well
Although Your Word pays you well for the surveys you don't qualify for, they don't pay well for the surveys you actually take. After reviewing the surveys that are available, almost all are under $1.
I'm assuming this has a lot to do with paying you for surveys you don't qualify for, paying you less for the surveys that you do take, just so they can cover the money needed to pay people who don't qualify.
Rewards Stink
One thing that I noticed right away about Your Word Surveys is the rewards available. Although I do like that they offer small $5 gift cards along with bigger amounts, but the stores are okay and there is no cash option.
Personally I'm a big fan of PayPal or Check, but with Your Word Surveys you're going to have to stick with store gift cards.
They do offer an Amazon Gift Card, which is basically the most enticing one, but if you're looking to get paid in cash Your Word Surveys is not for you.
---
Is Your Word Surveys A Scam?
Your Word Surveys is not a scam, but you can see that there are some things about it that make it an okay survey site.
To me there are much better survey sites out there then Your Word Surveys, but if you like what you see go ahead and join. You will get paid by this company and it's pretty cool they pay you for trying to qualify for surveys.
---
Alternatives To Your Word Surveys
Although Your Word Surveys is a pretty good site, I found that there are much better sites out there. Visit Top Rated Survey Sites to see what survey site I rank much higher then Your Word Surveys.
If you would like to earn more money online, you're probably not looking to take surveys. If you would like to learn how I make money online and how you can to visit Start Your Own Online Business.
Thank you for reading this post on Your Word Surveys. This site is not a scam, but hopefully you take my recommendation and join the sites above instead. As always if you have questions about this site leave comments and make sure to share this post with your friends!
Summary
Reviewer
Review Date
Reviewed Item
Author Rating