9
TestBirds Usability Testing Review: Get Paid To Find Bugs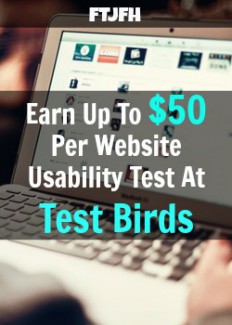 A while back I posted a list of 11 usability testing jobs, that everyone seemed to enjoy, today I'd like to cover a new usability testing site called TestBirds.
The awesome thing about TestBirds is that they accept complete beginners and experienced testers. Even if you don't have the ability to find errors in code, there's tests available for you.
In this TestBirds Review I'll show you how it works, how to earn, how to get paid, and the complaints I have with this usability testing job.
---
TestBirds Usability Testing Review
Site: TestBirds

Price: Free To Join
Verdict: Legitimate
In this TestBirds Usability Testing Review I marked it legitimate because there's quite a few members that are making great money with this site along with complete newbies making some extra side cash.
I really like that this site is available to people without experience and that payments seem to be pretty quick and easy. To be honest this is a hard site to cover completely because there's many variations in test, payment amount, and skill level. I've done my best to give you an idea of what joining TestBirds as a beginner would be like in the rest of this review.
---
What Is Usability Testing?
If you're not familiar with Usability Testing, it's basically viewing a website, completing some tasks, and giving your opinion about the site. For your time you're paid cash. Now some of the jobs on TestBirds get into much more detail, but that's the basic process of usability testing.
If you're experienced you can also find bugs and test apps, video games, and much more. It really all depends on your ability level, but know that there's very basic tests that almost anyone can complete.
---
TestBirds Requirements
You already know that any skill level can join TestBirds, this means complete beginners or experienced app testers. You will need to pass a test before any projects are available though. It seems that TestBirds is available in most countries and pretty much any age is accepted (parental consistent is required).
So far there's not really any requirements that knocks anyone out, the only other requirement is having at least a computer or smartphone. If you have both even better. Some tests might require you to have a webcam. I recommend this high-quality webcam.
---
Joining and How It Works
Pretty much anyone can create an account at TestBirds, but before you can complete tests you'll need to pass their test. From what I've heard the beginners test is extremely easy and they give you some pointers on what they expect before you start the test.
Once you've passed the test you'll need to add what devices you'd like to take tests on. Once you're done you'll start to receive test notifications from TestBirds. You DO NOT have to complete every test. You can review each test, see the requirements and payment before accepting it.
If you don't have the time, just ignore the test, but if you'd like to complete it, accept the test and complete it within 24 hours. Once you're done, your test will be reviewed and payment will be released.
---
How Much Does TestBirds Pay?
Here's the section that has pretty wide ranges, because test requirements vary. Most tests pay from $8-$50. Most beginner tests will pay around the $10 range. There's some more difficult tests that pay higher.
Most of the beginner tests will take around 20-30 minutes, with some of the more advance tests taking much longer. Once you complete your test and it's approved you'll get paid via PayPal.
*Based on other usability testing websites, most pay around $10 for a 20 minute test. So TestBirds is right around the industry standard for most beginning testers.
---
TestBirds Complaints
Just Extra Income For Most
I've seen a few sites out there that are promoting TestBirds as a larger income then it really is. You should know that beginners can't really turn this into a full-time or large income. The main reason is because there's not enough tests to complete. You'd need 15-20 tests to put in a full day of work with this site, but there might only be a few tests a week.
Also some tests do pay $50, but it looks like most beginner tests are around the $10 range. It's going to take you a ton of tests at $10 to build a full time income.
With that being said I know on some other sites that there's some full time testers, but they are very experienced and are sought after for very advance testing. A beginner won't have the opportunity for this.
---
Is TestBirds A Usability Testing Scam?
Usability Testing at TestBirds is not a scam, there's payment proof and some reviews across the internet with all good things to say about this site. I really like that they take complete beginners and that they let you take tests on your smartphone.
As long as you know the income you can make testing website, apps, and more at TestBirds is just extra income, you should be pretty happy as a member. If you're an experienced tester that completes advanced tests I kind of left you out of this review, but from what I've heard TestBirds is a great place for advance testers as well.
If you'd like to learn more or to join you can visit TestBirds.com to get started.
Usability Testing isn't the only way to earn money online. If you'd like to learn how to make a large online income check out My #1 Recommendation. If you're happy with a small supplementary income, here's some other extra income sites I highly recommend.
Have you tested for TestBirds? Think it's a Scam? I'd love to hear your thoughts on this review in the comments below.