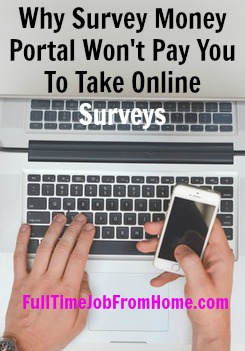 Survey Money Portal is no longer available, check out the Sites that Pay Me Each Month
Survey Money Portal is a site that promises you they have the secret system to making more money online. Their sales pitch tells you that you can earn a lot more with surveys than is really possible. I don't believe that you should buy this product and I am going to tell you exactly why in the Survey Money Portal Review.
Survey Money Portal and tons of companies just like it are ripping off beginning online money makers by charging them for free information that can be found all over the internet and I am here to make sure you don't waster your money!
In this Survey Money Portal Scam Review I will go in-depth on what Survey Money Portal is and exactly why this product is a scam and not worth buying!
---
What Is Survey Money Portal?

Survey Money Portal is a company that promises you the secret to making more with online surveys. Just like all the other companies like this they don't provide that information. Just information that can be found for free on the internet or here.
---
How Does Survey Money Portal Work?
Survey Money Portal works a lot differently than what most people think. You will actually never receive or be paid by Survey Money Portal ever. All Survey Money Portal does is give you a list of Survey Sites to sign up for. You will only receive surveys and be paid by the individual survey companies that you sign up for.
---
What You Get With Survey Money Portal?
When you sign up for Survey Money Portal you have two different options a $5 30 day trial or a $19 for LifeTime Access. No matter which membership you choose you will gain access to all of the information on Survey Money Portal. Everything you will receive is listed below.
Survey Training
Survey Site List
Bonuses
---
Survey Money Portal Review
Survey Money Portal is no longer available, check out the Sites that Pay Me Each Month
Website: SurveyMoneyPortal.com
Price: $5 30 Day Trail or $19 Lifetime Membership
Rating: 5 out of 100
Verdict: SCAM
I gave Survey Money Portal a 5 out of 100 and have called it a SCAM because this company doesn't give you any real information that is worth paying for. Everything that is quality information can be found for completely free on the internet and the company gives you false hopes with how much you can actually earn with taking surveys!
Landing Page
The landing page for this product goes into a story about how someone who was struggling with money and became financially free by taking surveys. On the landing/sales page I found a few spots that were very misleading. Not only does it give you unrealistic expectations for how much you can make a month, but the amount you will get paid for each survey is completely blown out of proportion if your familiar with surveys you know that an average survey ranges from $.25 to $5 not $10-$25.
Survey Training
When getting to the training portion of this product I was expecting to see on how they are making more money with survey sites like they promised on the sales page, but that was not the case. The training only covers a few things that are pretty obviously and also some things I completely disagree with.
Of course they recommend you signing up for all the survey sites they have listed, just because they are earning commissions on all of your survey earnings.
Survey List
The survey list provided on Survey Money Portal does actually have some great survey sites on it. In total there is about 200 different survey sites listed. Some survey sites on the list that I highly recommend is Survey Savvy, Cash Crate, Swag Bucks, and Paid Viewpoint.
The problem I have with the survey list is one you should not have to pay for this list it is available everywhere on the internet for completely FREE you can see mine right here. Second instead of putting the best survey sites first on the list all this company did was put all the survey sites with the highest paying commissions
Bonuses
The Free bonuses with Survey Money Portal are basically pointless, but I want to cover them anyways. You will receive 6 E-books when you purchase a membership. The E-books cover various topics such as writing books, paid to shop, and different secrets to making money online.
I would not recommend any of these E-books so stay away from this section.
---
Advantages & Disadvantages
Advantages
Disadvantages
Landing/Sales Page is misleading
Survey Training is poor
Tells you to sign up for all survey sites
Bonuses are worthless E-Books
---
Final Verdict
Survey Money Portal is no longer available, check out the Sites that Pay Me Each Month
I would not recommend buying Survey Money Portal because I feel like this program is a complete scam. The promise of a secret to earning more with surveys is never met, the training is very poor, the landing page is misleading, and there is no reason to every pay for a list of survey sites which is basically all you get with this product.
I think it would be a bad decision to join Survey Money Portal, but you should check out my #1 recommendation. You can see the comparison below.
---
What To Do Now?
Survey Money Portal is no longer available, check out the Sites that Pay Me Each Month
I am not completely against making money with surveys. I actually get paid every single month by multiple survey sites and recommend a handful. You can see my full list of recommend survey sites and what sites have paid me recently here.
You must be aware that you're not going to make tons of money with surveys sites. If you're wanting to make more you can learn how I make 95% of my online income, affiliate marketing here.
Hopefully you enjoyed my Survey Money Portal Review. If you have had any experiences with this company I'd love to hear about them in the comments section below. Don't be shy to tell me what you think and don't forget to share with your friends!
Summary
Reviewer
Review Date
Reviewed Item
Author Rating