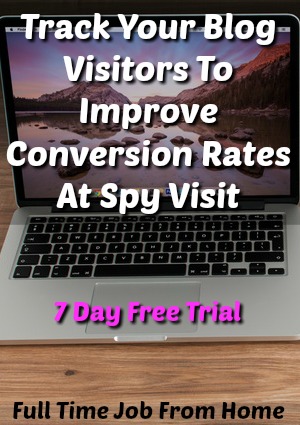 I recently purchased a product called SpyVisit; it's a new service that lets you track your visitors in a few different ways including a video of their whole session, entry points plus their path, and heat maps of clicks, eye-tracking, and scrolls.
The service is pretty awesome and is extremely beneficial to bloggers and website owners. You can learn a lot about your visitors and use the information to optimize your website and conversions. I've been using SpyVisit for a few months now and have already started to implement some changes and am seeing some major results.
I've already heard a few people say that they thought SpyVisit is a scam, but it's not and I'll cover some of the complaints in this review.
In this SpyVisit Review I'll show you how it works, some of the awesome features, and talk about the special free trial offer.
---
SpyVisit Review
Product: SpyVisit
Type: Blogging Tool, Visitor Tracking
Price: 7 Day Free Trial, Starting as low as $12 a month
In this SpyVisit Review, I'll be covering what features are helpful and how this program can help you increase conversion rates.
I've been using the product for a few months now, and it's amazing to see what each visitor is doing. Especially on your sales pages/monetized pages.
I was able to see exactly which affiliate links were being used and what portions of the content were being read and the parts that were just skipped over.
After using this service for just a few months, I've been able to make some much-needed changes that have made my sales pages convert much better.
---
How Does SpyVisit Work?
In this section I'll cover how to get started with SpyVisit and what you need to do before accessing the features and information.
1) Start a Free 7 Day Trial
The first step to getting started with SpyVisit is to start a free 7-day trial. The trial is limited to 500 recorded sessions, but it's enough to give you an idea of how all the features work and the data you can collect from your visitors.
2) Create A Project
Once you're inside the member's area, it's time to create your first Project. All you need to do is name and describe the project, for your free trial I recommend naming it your website's name and tracking all pages of your website. Next, you'll be given a piece of HTML code to place on your site.
3) Copy HTML into Head Section
The next step is to copy and paste the HTML code into the Head Section of your website. Some themes have an easy way to do this in the settings, while others will require you to visit the editor. They do include a tutorial that shows you how to use the editor and a plugin that can get you around the step of messing with code.
4) Wait For Traffic/Analyze The Data
Once you have the HTML in the head section of your website you'll start to see data tracked at SpyVisit. There're a few different features that are tracked, which I cover next, but you can log on at any time and get real-time data.
---
SpyVisit Features
User Sessions
This is by far my favorite feature of SpyVisit. Under user sessions, you'll see all the tracked visit to your website. You'll be able to see a screen capture video of exactly what the visitor did on your site.
Some of the information you can see is Date, Country, Type of Device/Browser, Traffic Source, Length of stay, and what pages they visited.

Just click on the play button to watch the users whole session!
Heat Maps
There're three different heat maps you can generate for any tracked page on your website, including Clicks, Eye-Tracking, and Scroll.
You have the ability to choose the type of heat map, any tracked page on your site, and date range you'd like to include.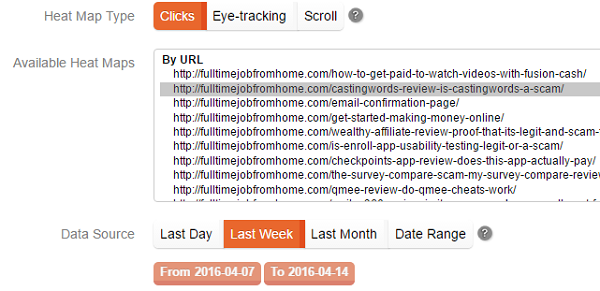 Once you choose the settings you'd like, you can generate your heat map and see exactly where visitors are clicking or looking on your pages. Here's an example below:
Popular Pages
The last feature is popular pages. Most likely you already know this information, so this feature isn't that useful, in my opinion. You'll see a graph and list of your most popular pages.

---
Why Would I Use SpyVisit?
I've covered the features of Spy Visit, but why and how can you use this data in a beneficial way for your website. I've listed a few ways I've used the information, and a few other ways they recommend on their site.
I've used SpyVisit for: If content needs to be removed/added, improving conversion rate on forms and sales pages, and above the fold testing.
Other Ideas To Use SpyVisit: During Website Redesign, A/B Split Testing Ideas, Screen Resolution Optimization, Navigation Changes, Comparing clicks on images, buttons, and links!
As you can see, there're quite a few situations that the information at SpyVisit can be helpful!
---
SpyVisit Price
Now that you know how Spy Visit works let's talk price.
7 Day Free Trial: 1 Website, Unlimited Pages, 500 recorded sessions. Perfect to give the service a test drive.
Basic $12/mo : 1 Website, Unlimited Pages, 1,500 recorded sessions. For a new website with little traffic.
Plus $27/mo: Unlimited Websites, Unlimited Pages, 40,000 recorded sessions. For established websites, most popular package.
Pro $47/mo: Unlimited Websites, Unlimited Pages, 100,000 recorded sessions.
Enterprise $97/mo: Unlimited Websites, Unlimited Pages, 250,000 recorded sessions.
The awesome thing about Spy Visit is you can start for completely free and upgrade accounts based on your websites needs and traffic. Start a SpyVisit Free Trial Now.
---
SpyVisit Complaints
"It's A Scam I Can't Log In"
I don't have any real complaints about the features and usefulness of SpyVisit, but there is one complaint I've seen all across the forums, but luckily it's an easy fix.
I've seen people posting that SpyVisit is a scam because they pay for the membership and say that can't log in. First off, check your email spam, there's a good chance there's an email from SpyVisit with a link to log in with your login details.
If you just visit the sales page, SpyVisit.com, there's no place to log in and access the product. There's a link that they send you in the email, you'll need to visit it to log into the program.
If you still can't find the email, make sure to contact their support. They respond very quickly and will get any issue with the login link and details solved!
---
Start Your Free Trial of SpyVisit
I've covered why you should use SpyVisit, showed the features and how it works, now it's time to cover how to get started.
If you think SpyVisit could be beneficial to your website or blog, you can get started for completely free.
To Sign Up For A Completely Free 7-Day Trail visit SpyVisit.com to get started!
Interested in how I build websites and blogs? How I make money with the sites I've created? You can learn how to build a profitable website for free with My #1 Recommendation.
Summary
Reviewer
Review Date
Reviewed Item
Author Rating