5
Is SaySo4Profit A Scam? My Say So 4 Profit Review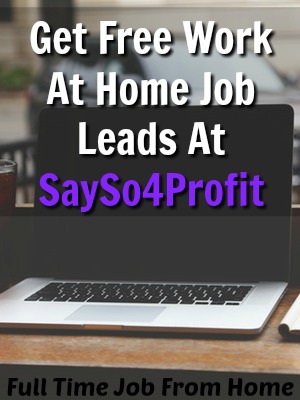 A reader recently contacted me asking if SaySo4Profit is a scam, so I decided to take a look and see what the site was all about. The site is built to collect emails and get you to sign up for survey sites and other making money online systems and sites.
SaySo4Profit is not a scam; there's nothing that they are doing that takes your money, but it's not a site that you need to join to figure out how to make money online. I would say go ahead and join, but there're some sites on there that I think are borderline scams, so I don't recommend any of my readers join this site.
In this SaySo4Profit Review I'll cover how the site works, the complaints I have, and if this program is a scam.
---
SaySo4Profit Review
Site: SaySo4Profit

Type: Survey/Extra Income Leads
Score: 45 out of 100
Verdict: Legit Not Needed
In this SaySo4Profit review, I gave them a bad rating but did mark it legitimate. The reason for the score isn't because it's a scam, it's just the idea of the site and the fact there's no real reason for you to join this site.
You'll get a ton of emails from them wanting you to join survey sites, extra income sites, and other make money online systems. Joining this site won't make you money, you'll just get lists of sites they think you should join.
In my opinion, there's no reason to join this site, especially when some of the opportunities they send you are a bit sketchy.
Last Month I Made

$13,841 Online
Make sure to learn how you can get started for free!
If you're interested in making extra cash online, visit the Extra Income Sites I Recommend, I use these sites, have been paid by them, and have detailed reviews showing you they're legitimate.
---
How Does Say So 4 Profit Work?
Sign Up Process
Signing up for SaySo4Profit is pretty easy, but it's also very annoying. At first, you'll just enter your name and email, but before you can complete the sign-up process, you'll be taken through 10 pages of offers that you have to decline to move forward.
Most of the offers have to do with joining survey sites that they have listed, but others get off topic. Some of the survey sites on the list, such as Swagbucks and PaidViewpoint, I recommend and use, but others are pretty crappy, and I'd avoid them at all costs.
Once you get through the ten pages of offers, you'll need to confirm your email.
Emails
There's no members area of SaySo4Profit; you'll be sent emails about other make money online opportunities that they're promoting.
Most of the sites are legitimate, but again some are pretty crappy.
You'll also receive quite a few emails from them. From what I've seen at least one email a day.
---
SaySo4Profit Complaints
Tons of Emails
My biggest complaint about SaySo4Profit is tons of emails. It wouldn't be a bad deal if they were sending great sites to my email, but I get a ton of emails from them that don't even have to do with surveys or extra income. Sometimes it will just be a page that wants you to enter you email for a chance to win a free iPhone.
You can expect to at least receive one email a day, but it's usually more.
Some Sites Are A Bit Sketchy
As I just touched on, I've received things that don't even have to do with working at home. Those landing pages that offer a chance to win something free are always just set up to collect emails.
Also, some of the survey/reward sites that they send are not very good. I haven't seen any sites that are full on scams yet, but they are sending you links to survey sites that are pretty crappy.
---
Is SaySo4Profit A Scam?
Honestly, Say So 4 Profit is not a scam. They promise you extra income leads when joining and that's pretty much what you get.
Really if you'd like to see survey site leads joining SaySo4Profit isn't a bad idea, but what concerns me is that some of the sites/systems they'll email you about aren't the best. Really when it comes to making an extra income online, you shouldn't join tons of sites, find a few that you like and stick with them.
If you'd like to see the sites, I use to make money online visit the Extra Income Sites I Recommend. As I mentioned, find a few sites that work well for you and stick with them!
Extra Income is awesome, but you might as well learn how to make a much larger income online with My #1 Recommendation. It's free, and you get direct access and help from me!
Already Receiving Annoying Emails From SaySo4Profit? Let me hear your thoughts on this review in the comments below! 🙂
Summary
Reviewer
Review Date
Reviewed Item
Author Rating