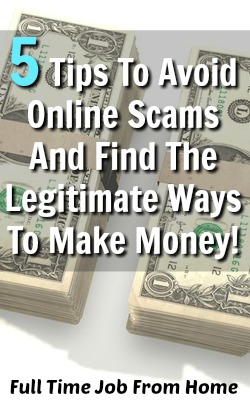 When you're looking for an online job, you will come across thousands of online scams. You need to know what these scams look like and how to avoid them. Avoiding online scams will save you tons of money and time. Online scams are all across the internet and I want to save you the time and hassle of getting scammed online. Here is a list of ways to avoid online scams!
Being able to locate scams online will save you a lot of time and money! I have lost $100s of dollars and tons of valuable time trying to earn money online through scams. Guess what it didn't work. I am going to be showing you what to look for in an online scam and what these scam sites are promising you.
---
What Do Online Scams Look Like?
Most online scams have the same format. Here are some things that most online scams have in common.
It's Easy/No Work! Making money online is not easy. You have to work very hard to earn online, there is no easy system to just make thousands of dollars online.
Guarantees you can make $1,000+ (or large dollar amount) a week/month by using this system. Let me be the first to tell you. If someone promises you can make thousands of dollars in your first month online they are lying. Never sign up, or give information to a webpage that guarantees you making money.
An Email Capture Page: saying they will send you the secret system. Now not all email capture widgets are scams, but if the website has an email capture page and promises you will make money it is a scam!
Claim to have a secret system. Make no mistake, they do have a secret system.  That system is scamming people online. If anyone claims they have a secret way of making money online stay away. Definitely don't pay for it!
Ask you to pay before you even get to try or see what you will be doing. If they are not willing to let you try their system for free they obviously know that you would not be interested in buying after you have seen the other side of the email capture page.
EXAMPLE SCAM #1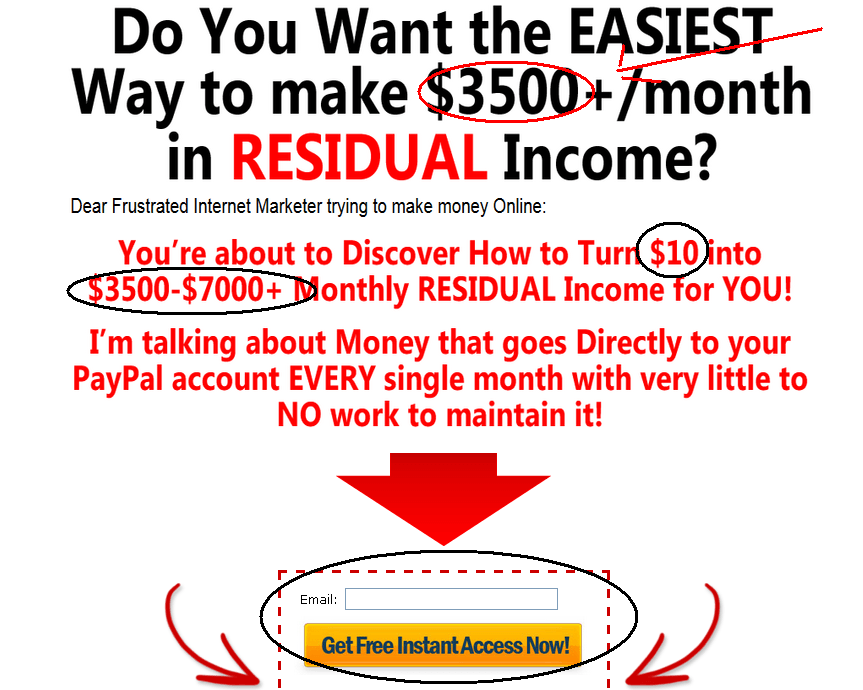 Example Scam #1 has almost
all of the

5 things listed above!
Things that jump out right away as scams:
Right off the bat you see they are already claiming this is the "easiest" way to make money online
You will make $3,500 a month
Learn how to turn "$10" (the amount they will make by scamming each person) into "$3,500-$7000" a month (once again guaranteeing you a large monthly income!
"Little To no Work"
An email capture that claims they will send you instant free access now. All they will do is spam your email!
You can see that example #1 has signs that show you this is a scam. The scary thing is there are a thousand more pages just like this online looking to scam you. Make sure to look for these signs!
Example Scam #2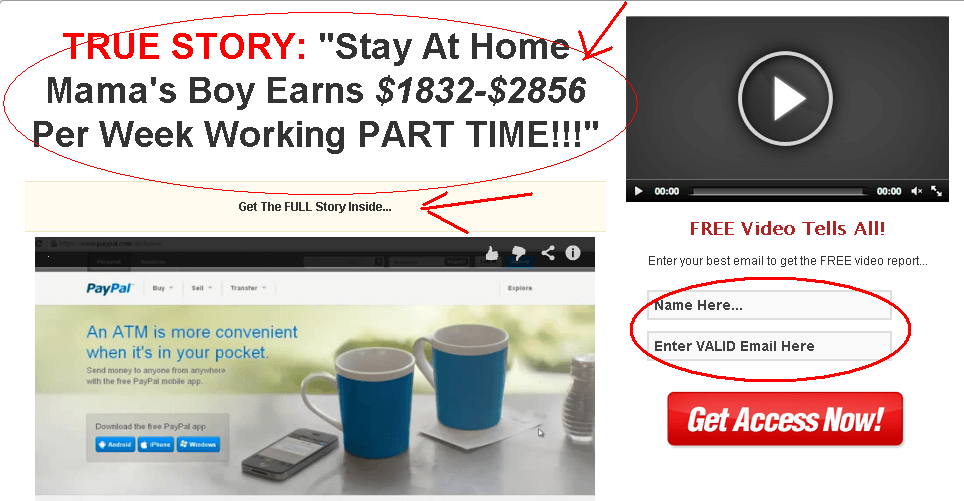 Things that jump out as scams:
Learn how to make "$2000-$3000" a month. Already promising you income
"Part Time" letting you know you don't need to do much to make money
"Get the full story inside" give me your email and I will spam it to try to get you to sign up.
They show a video that shows their earnings?!?
You can see that this scam is a little bit better disguised, but still a few things that jump out right away. I want to touch on one thing. This page actually has a video on it that shows someones Paypal account. It shows proof that they made $3000 in a week using this system.  Don't believe everything you see. This particular scam is getting people to sign up for credit card offers where you advertise everything as free, but really people end up having to pay for the "free offers". You may be able to make money from this system, but all you will be doing is scamming people!
---
Recap on Finding Scams!
Don't pay for a secret system
You can't guarantee an online income
If they don't let you try before buying. They are hiding something!
Hope this helped everyone. It is very sad, but you will see tons of scams when searching for an online job. Make sure to be careful. Before you sign up for anything make sure to do some research on it. But know that the review you read could just be someone trying to scam you as well! If you would like me to take a look at a possible scam for you please comment below!
To see all of the jobs I have marked SCAM FREE visit Legit online jobs.
If you would like to see how to build a full-time online income visit Start Your Own Online Business.