Get Paid To Take Polls Online at ICS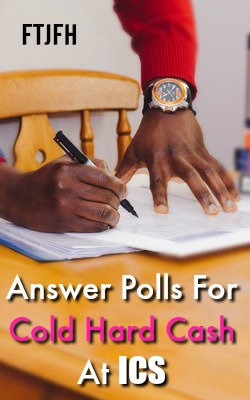 No Longer Available As of 2/1/2107. The company also owns a site I highly recommend called Paidviewpoint, which is still available. 
Instant Cash Sweepstakes is one of my favorite sites to take short polls on. You don't earn cash for every answer, but you do win tickets and coins that you can use for $50 & $2 drawing entries.
I've referred many people to this site, and although you don't earn cash for every answer, they think it's a fun site that's worth the time to make some extra money.
Today I'll show you how ICS works and how you can join and make a few extra bucks each month!
---
How Does ICS Work?
1. Join ICS For Free
The first step is joining for completely free. You can do so by visiting InstantCashSweepstakes.com!
2. Answer Polls
The next step is earning money, the way you do this is by answering 3 question polls. Each only takes a few seconds, and you'll see your reward after!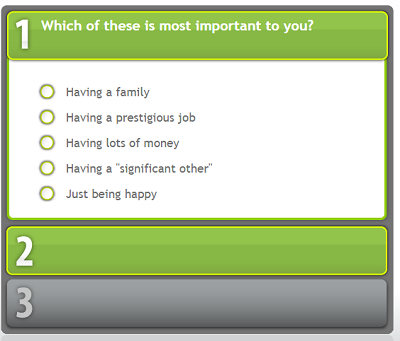 3. Earn Cash, Tickets, and Coins

Let me make it clear that you do not earn cash for every poll you answer. Based on using the site you'll earn $.01-$.10 every 5-10 questions.
Although you don't earn cash for every poll, you do earn tickets and coins.
Last Month I Made

$13,841 Online
I Bet You're Tired Of Making Pennies Online. No More BS. If You're Serious About Making A Full-Time Income Online You Need To See The TRUTH. Stop Wasting Your Time With The Next Big Thing When There's Already A Proven Method That Works!
Tickets are used as entries into the daily $50 drawing.
Coins are used to purchase entries into the $2 drawing every four hours. Tickets reset each day, but you can let coins build up and use them at any time.
4. Cash Out!
Once you earn $2 in cash, you can cash out via PayPal. Payments usually take less than 24 hours!

---
How Does ICS Pay?
Instant Cash Sweepstakes pays via PayPal once you earn $2. If you win a $2 or $50 sweepstakes, it's added to your account balance, and you can cash out at any time.
Payments usually show up in your account a few hours after cashing out!
---
ICS Payment Proof
Instant Cash Sweepstakes is one of my favorite sites, and I've been paid by multiple times. Here's a screenshot of one of my latest payments: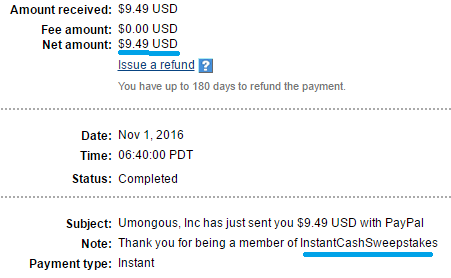 ---
How To Join ICS?
Now that you've seen how Instant Cash Sweepstakes works and that they do pay, it's time to join for free and start earning.
Visit InstantCashSweepstakes.com to sign up for a completely free account!
Join ICS For Free
If you have any questions about ICS, please leave comments below!