4
Transcribe at Go Transcript Review: Is It A Scam?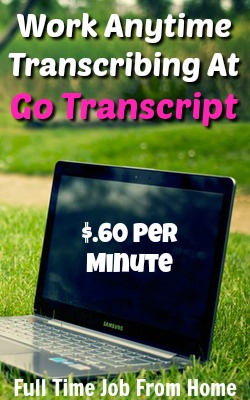 Go Transcript offers a work at home transcription job that does not require experience. Before you're accepted you need to pass their test, so some experience will obviously help out.
If you can get accepted, it's a flexible work at home job where you can pretty much work whenever you want.
In this Go Transcript review I'll cover the requirements, application, how it works, pay, and some feedback.
If you're interested in transcription work, I highly recommend checking out the Free 7 Day Transcription Course at Transcribe Anywhere. It will give you a great foundation and make sure transcription is right for you!
---
Go Transcript Requirements
You do not need transcription experience to apply at Go Transcript, but during the application, you'll need to pass a test. They say that it's not required, but they recommend a headset and foot pedal. Here's the Foot Pedal they recommend.
As long as you have a PayPal account (to get paid) and want to transcribe you can apply!
---
Go Transcript Application
The whole application process is centered around the transcription test. They have a very detailed word document that shows you their exact guidelines for transcribing. I highly recommend reviewing it completely before taking the test. It also gives more details about the transcription job.
Once you've reviewed the guidelines, you can take the test using their free transcription tool. The audio file is around 5 minutes long and of decent quality. It's not a hard file to transcribe, but you need to make sure you follow the guidelines.
Once you're done, you can save the file, upload it on their website, and enter your email. It says that it could take up to 10 days to hear back. If you passed, they'd contact you with information about getting transcription work.
---
How Does Go Transcript Work?
If all goes well and you're accepted, you can log on to Go Transcript and see all the work available. You can see the pay, type of file (audio/video), how long it is, and deadline.
If you'd like to work on the file, you can claim it. This is a flexible schedule job, you can work on your own time, but you need to meet all deadlines.
When you're done transcribing, you'll submit your file. A Go Transcript editor will review it before it's sent to the customer.
If your file is approved, earnings are added to your account balance. Editors will rate your work; it's important to get good scores to be able to keep working for the company.
They do say that if you keep a rating of 4.5 out of 5 you can apply to become an editor.
---
How Much Does Go Transcript Pay?
The rate per audio minute transcribed changes from project to project based on length, audio quality, and turn around time. From what I can see most projects pay $.30-$.60 per audio minute transcribed.
Again the pay is per audio minute transcribed not by minute you spend transcribing.
Go Transcript pays its transcribers weekly via PayPal on Friday. You have to invoice Go Transcript via PayPal to get paid.
---
Go Transcript Schedule
This is one of those log on and work at anytime opportunities. You can pick up work and complete it on your own time. All projects do have deadlines, as long as you meet them, you can work when you want.
From what I could find, there's no minimum or maximum amount of time you must work.
---
Go Transcript Feedback
I honestly can't find much information about transcribing at Go Transcript. But from what I found there's not any negative feedback.
On their website, they say that the higher paying files pay $.60 per audio minute, which is a pretty low rate per minute. Unfortunately, most of the transcription sites that accept beginners have a low rate.
I have to say that it's legitimate but know there's not much feedback or complaints from current and past transcribers.
---
Is Go Transcript A Scam?
Go Transcript seems to be a legitimate site to transcribe. I like that they have weekly payments via PayPal, and you do not need any experience to apply and take the transcription test.
There's not much feedback on the company, which usually means everyone is getting paid. If they were having issues paying members you'd be able to find terrible reviews all over the internet.
This is a flexible work at home job, but the pay is pretty low, just keep that in mind before applying. If you'd like to learn more or to take their test, visit GoTranscript.com to get started!
Are you interested in working at home as a transcriber? I highly recommend taking the Free 7 Day Course at Transcribe Anywhere! It will teach you the basics and even give you advice to increase your earnings!
Transcription not for you? Here's an extensive list of ways I make an Extra Income Online.
Extra income not your thing? Have you thought about starting your own blog? A profitable blog can be a much larger income than you think, My #1 Recommendation will even show you how for completely free!
Are you already transcribing at Go Transcript? Have feedback you'd like to share? I'd love to hear your thoughts in the comments section below! 🙂