1
Say So For Good Surveys Is This Company Really Charitable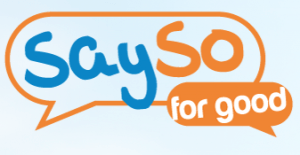 Website: SaySoForGood.com
Price: Free
Score: 5 Out Of 100 90 Out of 100
Verdict: SCAM  Legit
I came across Say So For Good a few weeks ago and wasn't really sure what it was. After a little research I figured out it's a company that will let you take surveys for donations to charities. Most of my reviews have to do with sites that are going to pay you for taking surveys, but I decided I would give this company a shot since it was for a good cause.
Honestly, I had no intention of giving SaySo For Good a bad score until I began to research the program and joined myself. And now I am here giving a company that says they will donate money to charity a bad score. But the question is, Is Say So For Good really Charitable or are they scamming us by taking our information from surveys and never letting us donate the money to charity.
Updated 4/10/15: Recently I was actually contacted by the owner of this site and was set straight on a few issues that I had with this company, so I've updated this review to show the honest and correct verdict of this site. You can't actually join this site anymore, but they do offer surveys through sites like SwagBucks.
You will see some old information marked out through out this review so it no longer applies!
---
How Does Say So For Good Work?
Say So For Good works about like any other survey site. You sign up, complete your profile, and wait for surveys to be emailed to you. Once you receive an email you click on the link and take the survey. After completing a survey Say So For Good makes a charitable donation to the company of your choice.
The business model looks fantastic for this company, but there are a lot of complaints that lead to this company being a scam.
Say So For Good doesn't actually let you join there site anymore, since 2012. What they do is provide third party surveys to sites like SwagBucks and other survey sites. When you see a survey from Say So For Good it usually is taken right on the site that you're a member of and operates just like any other survey does.
You will be paid for the survey through the site you're a member of and there is no other contact needed with Say So For Good.
---
Say So For Good Concerns
Never Complete A Survey
The #1 Reason why SaySo For Good is a scam is because they never allow you to complete surveys. If you're familiar with surveys you probably know that when you start a survey you have to qualify. Which kinda sucks, (PaidViewpoint Doesn't Make You Do This) but it's not a huge deal because you will spend a few minutes each time.
The big problem with SaySo For Good's surveys is that they have a bad reputation of telling people they aren't qualified at the very end of the survey. Let's say you take a survey, estimated time is 30 minutes. People are complaining when they get to the 27-29th minute or the last few pages of the survey they get to taken to a screen that says they did not qualify for the survey! Now that will piss you off.
This is a very dishonest way to run surveys because you just spent 30 minutes giving this company your information, which they still keep, and you don't earn a cent for it or in this case there is no donation made to a charity because you did not qualify.
This issue has been solved since they no longer let people join and surveys are taken through other survey sites.
Are They Really Donating
Honestly, I can't answer this question. I am not for sure if they have ever donated a cent, but since they have a terrible reputation for scamming people out of surveys when they are basically already done, it wouldn't surprise me.
Now don't get mad at me, but that is why I have never been a fan of companies that only offer charitable donations. You have no idea if they really are donating the money. If a company offers payments to you and donations, you can at least see if they pay you first. Most likely if they do they will also make the donation.
This was a major concern for me, but I was proven wrong in the email I received. Last year Say So For Good paid out over 2 million dollars to people taking surveys and donated over $120,000 to this charity. Here is some proof:

---
Final Verdict
I gave Say So For Good a terrible score and marked it a scam because that's exactly what this company is, a terrible scam. I do not recommend joining Say So For Good, because of the reasons I have talked about in this review. There is no reason to mess around with a company that is going to deny you at the end of your surveys, even if it is for charity.
This site is legit, you can't join it but I do recommend taking the surveys that you can find on other sites!
---
What To Do Now?
I do not recommend joining Say So For Good, but I do recommend some great survey sites that will let you donate to charity. The Best Survey site that allows you to donate is SwagBucks, if you would like to see the full list of Survey Sites I Like visit All Scam Free Jobs.
With survey sites you probably won't earn more than $10-$25 a month so if you would really like to earn money online that can be donated to charity check out  Start Your Own Online Business.
Thank you for reading my Say So For Good Surveys Review. I hope that you have not already wasted your time with this site and you let me help you make money online by using the links above.