16
Paribus Review: Is Paribus a Scam Or Money Saver?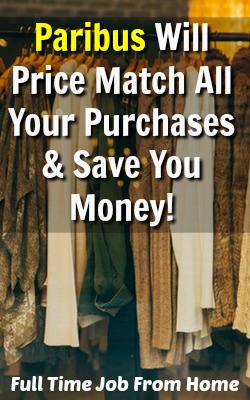 Paribus is a new site that can help you save money on your past purchases. I decided to write a review of Paribus because you do have to give them access to your email, so some people are concerned with privacy and this site being a scam.
Paribus is not a scam; it's pretty much an automatic way to make some money back on your shopping.
In this Paribus review I'll cover how it works, how much money you can earn, how to get paid, the concerns I have, and if this money saving site is a scam.
---
Paribus Review
Site: Paribus
Type: Price Match, Shopping, Cash Back
Verdict: Legitimate
In this Paribus review, I marked it legitimate because they do find price matching on all of your purchases and do pay you your earnings.
There're a few concerns with privacy when you link your email up to this site, but it's part of it. If you don't think the extra automatic cash back is worth it, then just skip this opportunity.
If you don't have an issue, then Paribus is an awesome way to make some money back on your purchases.
---
How Does Paribus Work?
1) Sign up & Sync Your Email
The first step is setting up your account and linking your email to the Paribus Receipt Fetcher. Paribus connects easily with Gmail, Yahoo, and Outlook. It does link with other email providers, but it may take a little more work. They say to contact them if you're using a different email provider before joining, just to make sure it will work.
Update: 1/17: Once you link your email account you'll be asked to link a debit or credit card. This card is not used for finding price matches, but it's used to pay the 25% fee of the price matches they find.
Optional: To fully link your account for as much price matching as possible. You can connect your Amazon account and your credit/debit cards. Again this is optional and if you're worried about safety just skip the step. I have all of my cards connected and have not had problems, but I can't guarantee anything.
2) Approve Receipts For Price Match
Once you sync your email, Paribus will automatically find purchase receipts in your inbox. Once they find a receipt, you'll have to approve it to make sure you'd like them to find a price match.
All you need to do is approve the receipt and Paribus will go to work for you. If for some reason you don't want price match on that receipt you can decline it.
3) Sit Back and Let Paribus Go To Work
Once you approve a receipt, Paribus will go out and look for price match offers for your purchase. If it finds a price match offer, it will automatically file for the price match on your behalf. Nothing else is required of you once you approve a receipt.
4) Get Paid Your Price Match Cash Back
Once the price match is approved, you'll get your earnings back in your original form of payment minus a 25% fee that Paribus takes. You'll get the full price match amount applied to your original form of payment, the 25% is calculated and paid with a card you provide monthly.
---
How Does Paribus Pay?
Paribus has a fee of 25% of the cash back value. The price match cash back will go directly back to your credit/debit card minus the fee.
No need to wait to reach a certain amount of cash back before getting your money, it's all taken care of automatically right after your price match is approved.
---
Paribus Concerns and Complaints
Link Your Email
The reason Paribus was brought to my attention is because you have to link your email. Of course, that raises some privacy concerns for some people.
Paribus will scan your inbox to find purchase receipts. Once it finds one, it's held for you to review. If there's a purchase, you'd like them to skip you can easily do so.
Paribus does have access to your email, but they're only looking for receipts, and you can control which receipts they send off.
My advice is if you're not comfortable with linking your email, then do not use Paribus. It is safe, but I understand that some people won't think the small income is worth giving access.
High Fee
Paribus takes 25% of the cash back they get you. All I can say is that everything is automatic. It's the price you have to pay for them to find your purchase receipts and file price match on your behalf.
If you think 25% is too high, then you can always go through all of your purchase, do the research it takes to find the price match offers, and file for the price match cash back on your own. To me, it's worth the fee!
---
Is Paribus A Scam?
Now that you know how Paribus works and the concerns some members have, it's time to join. Paribus is not a scam; they do pay.
As mentioned, if privacy is a concern for you, just skip this site, it's not worth you being uncomfortable. If you're okay with linking your email, then you can make some extra cash back by visiting Paribus.co to get started.
Paribus is awesome, and I've been using it for a few weeks now, but there're some other great ways to make money while you shop. I highly recommend checking out Ebates for cash back on your online shopping and Ibotta for cash back on your in-store shopping.
Making money while shopping is great, but you have to spend money. Here're some excellent ways to make extra income online for completely free!
Do you think Paribus is a scam? Let me hear your thoughts on this review in the comments below!
Summary
Reviewer
Review Date
Reviewed Item
Author Rating