2
OnlineWritingJobs.com Review: A Freelance Writing Scam?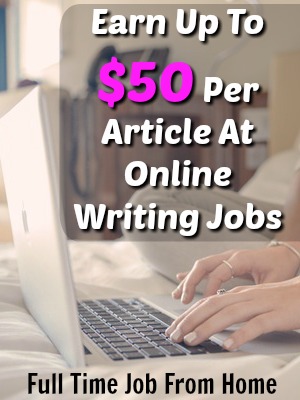 OnlineWritingJobs.com is a freelance writing website that accepts beginner freelance writers. The site's been around since 2006 but was formerly known as Quality Gal.
They do have an application process that you'll need to go through, but if you get accepted this can be a very flexible work at home writing job.
In this review, I'll cover the requirements, application process, what writing for them is like, pay, and feedback from the past and current writers.
Make Sure To Check out Write Your Way to 1K it's an Awesome course that will teach you everything you need to know to become a successful Freelance Writer!
---
Online Writing Jobs Requirements
The only real requirements to become a freelance writer at Online Writing Jobs is live in the US. Of course, you'll need to be a good writer and have a reliable computer with internet access.
If you can meet these, you can apply to become a writer at Online Writing Jobs.
---
Online Writing Job Application Process
Applying is straightforward. You'll start by filling out a form on their website. The form includes your information along with three topics of expertise, sample writing,  a w-9, and copy of a photo ID.
Once you choose a topic you're an expert in; you'll be required to write a 500-word post or provide a list of URLs of your writing about that subject.
If all goes well, they'll accept you as a writer. For your time you'll get paid $10 for the writing assignment during the application process (only if you're accepted).
It says that if they're not currently hiring, they will hold your application for 90 days. If you're not approved, you can re-apply in 6 months.
---
What's Writing For Them Like?
Once you're accepted as a writer, you'll have access to the writing assignments available. Each article has different requirements; you can see the type of article, topic, word requirement, and how much it pays before accepting a job.
Each assignment does have a deadline, so make sure you can complete it before the time limit is up.
Each writing assignment is reviewed by the staff before it's released to the customer. There's a chance they will deny articles if they're of low quality.
---
Online Writing Jobs Pay
There's no exact amount of pay per article. Pay is based on type, length, and your writing level. But Online Writing Jobs does give you an idea of what to expect on their site.
They say that most of the lower end articles pay around $15, with some articles paying $50. Luckily you can see the payment amount of any article before accepting it, so you can pick and choose higher paying articles.
Online Writing Jobs pays weekly on Fridays. You can get paid by mailed check, but they also offer PayPal payments. Checks can take up to 5 days to receive, so I highly recommend PayPal for faster payments.
---
Online Writing Jobs Schedule
Writing for Online Writing Jobs is a very flexible work at home job. You can log on at any time and pick up writing assignments, as long as you complete them by the deadline you're good.
It says that most deadlines are 48 hours from accepting the project.
It's pretty much a make your own schedule type of job as long as you pay attention to deadlines.
---
Online Writing Jobs Complaints
There aren't any major complaints about writing at Online Writing Jobs. The feedback seems to be overwhelmingly positive, which is something I don't see very often.
The pay seems to be pretty fair, and it's a "work when you want" type of job.
The only real complaints I found were for  "SEO" posts, these require you to link to numerous sources, which can be very annoying and requires more work.
---
Is Online Writing Jobs A Scam?
Online Writing Jobs is not a scam; it seems to be one of the more liked freelance writing websites out there. I like that they have weekly payments and offer fair rates for their writers. It's also great to see that they'll pay you for your application article if you're accepted. It just goes to show that they care about their freelance writers.
In my opinion, Online Writing Jobs seems to be a great place to pick up some freelance writing.
If you'd like to learn more or to apply, visit OnlineWritingJobs.com to get started!
Want To find out how to make money as a freelance writer? Check out Write Your Way To Your First 1K!
Freelance writing isn't for everyone, but if you're a good writer you could be making more money writing for yourself! Have you thought about starting a blog? You can write content and let it earn you money forever!
My #1 Recommendation will show you how to start a profitable blog for completely free. Stop writing for others when you could be making more writing for yourself!
Are you already freelance writing for Online Writing Jobs? Think it's a scam? I'd love to hear your thoughts in the comments below! 🙂